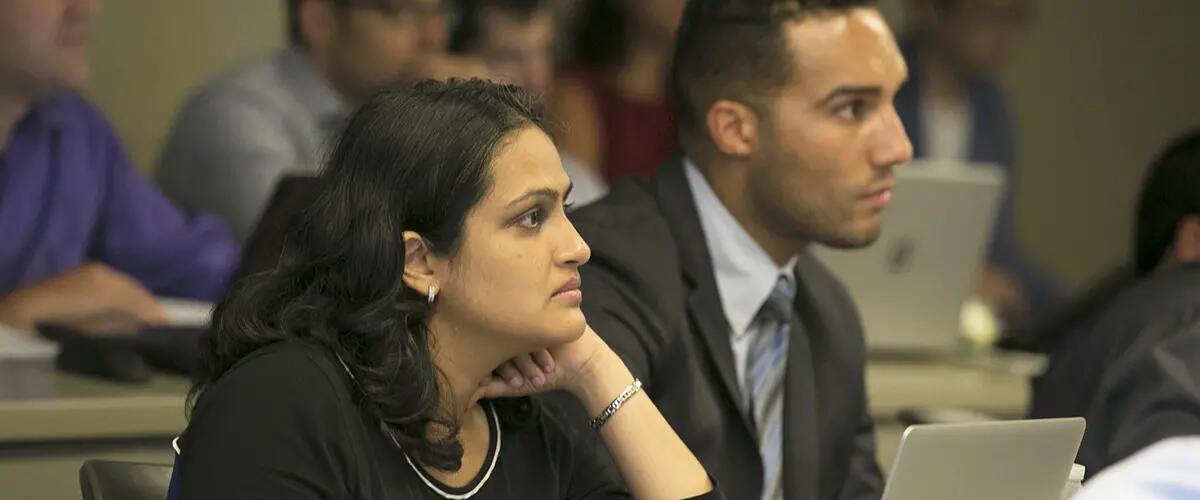 Rutgers is ranked among Top 50 MBA programs in the nation by U.S. News & World Report
No. 1 public MBA program in Tri-state Area
Rutgers Business School–Newark and New Brunswick rose into the top 50 MBA programs in the nation for both the Full-Time MBA and Part-Time MBA programs in U.S. News & World Report's latest rankings.
Over the past five years, Rutgers MBA programs have made significant progress in a wide range of business school rankings. In U.S. News, the Full-Time MBA moved to No. 50 in the U.S., up 11 positions from No. 61 in 2013; and Rutgers Part-Time MBA was ranked No. 38 in the nation, the highest ranking the program has ever achieved from U.S. News & World Report, moving up 31 positions from No. 69 in 2013.
Bolstering this trend, Rutgers Full-Time MBA was ranked for the first time this year by the Financial Times, landing at No. 37 in the U.S. and No. 70 in the world [see story]. Bloomberg Businessweek ranked Rutgers MBA No. 1 in MBA job placement and No. 52 overall in the U.S. In all three major rankings, Rutgers solidified its position as the No. 1 public business school in the Tri-State Area. (N.Y., N.J., Conn.)
"Rutgers Business School is dedicated to delivering a strong MBA program for our students through a relevant, constantly updated curriculum and access to top global companies in New Jersey and New York City," said Lei Lei, dean of Rutgers Business School – Newark and New Brunswick. "Our faculty, staff, alumni and corporate partners have been instrumental in achieving these milestones."
The rankings reflect the success of the MBA Office of Career Management's efforts to help students land full-time jobs within 90 days of graduation. In 2016, 96.3 percent of the students in the Traditional Full-Time MBA program were employed within the 90-day, post-graduation period. Rutgers Business School landed at No. 5 for post-graduation employment in the U.S. News & World Report's latest ranking of top business schools in the U.S.   
Among specialty rankings, Rutgers Business School ranked No. 9 in the nation for Supply Chain Management/Logistics according to U.S. News, moving ahead of Carnegie Mellon (Tepper) and Wharton from last year.
Student Success
In addition to recognition in the rankings, Rutgers MBA students have been excelling at case competitions against other top business schools in the country and world.
A group of Rutgers Business School MBA students captured first place at the North Carolina State Grand Business Challenge. The rigorous case competition, which was sponsored by Merck & Co., gave MBA students a chance to demonstrate their skills and knowledge to assistant chief informational security officers from Merck as well as the NSA, Intel and Cisco [read story]. Rutgers beat teams from Duke, Boston University, Florida State, TCU, Prague and Singapore to capture $16,000 in prizes.
Also, a team of five Rutgers Business School MBA students took third place in the school's annual bio-pharmaceutical case competition against 25 teams including Yale, MIT, Cornell, UCLA, Indiana and Johns Hopkins [see winners].  
MBA student Kashif Anwer finished fourth in the ETF Global Portfolio Challenge, an 11-week-long competition involving more than 250 schools across six continents that tested knowledge of Exchange-Traded Funds [read his story].
Press: For all media inquiries see our Media Kit