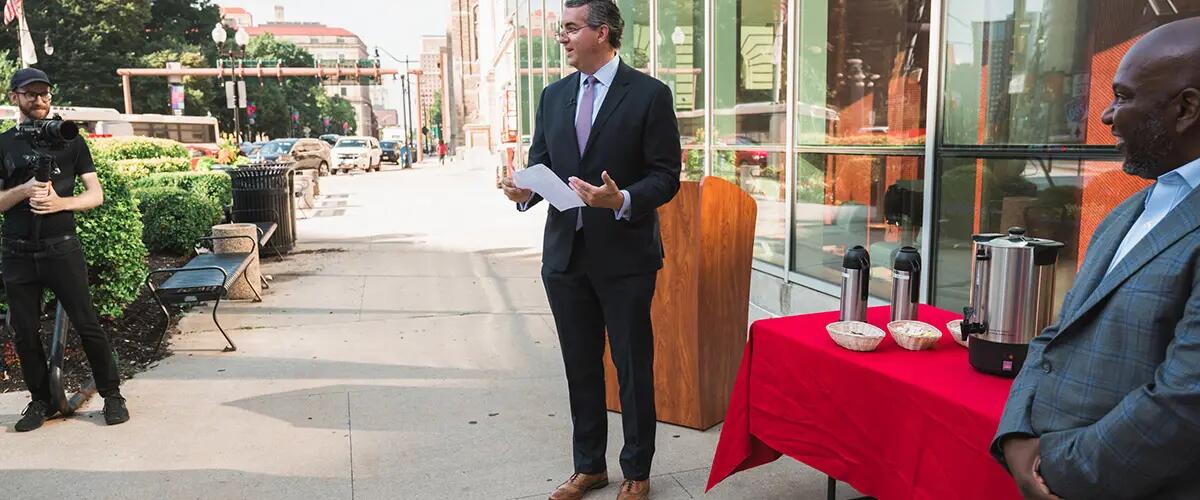 Black Entrepreneurs Survive and Thrive Fund supports second group of minority business owners
The Center for Urban Entrepreneurship and Economic Development will leverage an M&T Bank grant to provide coaching, accounting services and credit building expertise to Black-owned businesses recovering from the effects of the pandemic.
M&T Bank provided an additional $40,000 to the Black Entrepreneurs Survive and Thrive Fund run by The Center for Urban Entrepreneurship and Economic Development (CUEED) at Rutgers Business School.
A second cohort of the program will include 10 minority-owned businesses from across the state that are working to overcome challenges resulting from the COVID-19 pandemic and its effects.  
"Now more than ever, we need to uplift our communities through small business education and empowerment," said Tom Comiskey, M&T Bank New Jersey regional president.
"It's incredibly rewarding to foster stronger relationships with the cohort established last year," he said, "and we look forward to supporting the second cohort of businesses in the same way – building trust and better serving our community business partners."
CUEED is working to help Black-owned High-Impact Vital Enterprises recover from the economic turmoil of the past two years. The center's goal is to facilitate access to $1 million of capital by helping Black business owners build relationships with banks and community development institutions by the end of 2022. To date, Black small business owners in the CUEED program have received more than $515,000 in new financing.
As it moves into the second year of operating the BEST Fund program, CUEED plans to leverage the new grant dollars received from M&T Bank to provide coaching, accounting services and credit building expertise to selected Black-owned businesses.  
Vincent Myers, AIA president of DIGroup (DIG) Architecture, was among the first group of eight business owners to participate in the NJ BEST Program last year. The program provided support through the business challenges resulting from the COVID-19 pandemic and the firm found a new lending partner in M&T Bank.
When the pandemic hit, his New Brunswick-based architectural firm saw many of their larger projects in education, health care and senior living facilities come to a standstill. The firm's promising year-old expansion into Philadelphia also was stalled.
Myers said the firm was able to stabilize through the development of typically smaller, COVID response projects with its client base. It also helped that some major institutions, like the New York School Construction Authority, deemed their work in the continued development of schools in New York City as "essential," keeping important contracts running, he said.
The firm, which has 32 employees, remained operating through the pandemic with the help of PPE loans, coaching and a $10,000 grant made available through CUEED.
"We didn't want to leave any stones unturned," Myers said. "We decided for the longevity of the firm that we should look at every opportunity where people are trying to help."
Myers said the assistance helped to pay salaries and allowed the firm to continue vitally important marketing efforts. "It smoothed out the bumps," he said.
The firm emerged from the pandemic intact, and its business is "going gangbusters" in all sectors now, Myers said.
In addition to the initial financial help the company received through the CUEED program, DIG secured a $100,000 loan through its new relationship with M&T Bank. Myers said he expects to develop a "longer banking relationship" with M&T.
Lei Lei, dean of Rutgers Business School, commended CUEED's work to help small business owners, such as DIG Architecture, recover from the pandemic. "Our communities will continue to grow stronger as a result of CUEED's impactful programs and M&T Bank's commitment to support and empower small businesses," she said
"The impact of the BEST Fund builds on research done by a beloved Rutgers Distinguished Professor, Dr. Jerome Williams, who passed away in 2021," said Lyneir Richardson, executive director of CUEED.
Professor Williams researched lending practices and customer experiences based on 10 years of matched-paired mystery shopping tests in banks. The results demonstrated that Black people were treated poorly compared to their white counterparts. His research also made the case that banks were leaving profits on the table.
"We are taking a practical approach with the BEST Fund," Richardson said, "and showing that "system change" is possible."
About M&T
M&T Bank Corporation is a financial holding company headquartered in Buffalo, New York. M&T's principal banking subsidiary, M&T Bank, provides banking products and services in 12 states across the eastern U.S. from Maine to Virginia and Washington, D.C. Trust-related services are provided in select markets in the U.S. and abroad by M&T's Wilmington Trust-affiliated companies and by M&T Bank.
About Rutgers Business School
Rutgers Business School–Newark and New Brunswick (RBS) is an integral part of one of the nation's oldest, largest, and most distinguished institutions of higher learning: Rutgers, The State University of New Jersey – founded in 1766. For additional information, visit business.rutgers.edu.
Press: For all media inquiries see our Media Kit