M&T Bank helps to launch center's Black Entrepreneurs Survive and Thrive Fund
The Center for Urban Entrepreneurship and Economic Development (CUEED) has received $75,000 in seed money from M&T Bank to launch a new fund to help Black entrepreneurs recover from the effects of the pandemic.
CUEED will leverage the money from M&T to raise additional funding from other private and philanthropic sources. The center's goal is to raise $250,000 to pilot its NJ BEST Patient Capital Fund, which will make low-cost, non-dilutive capital, namely recoverable grants of $25,000 to $50,000, available to selected Black-owned High-Impact Vital Enterprises – retail and service businesses essential to the viability of their communities.
"The pandemic has exacerbated challenges for Black entrepreneurs, making it increasingly difficult to secure capital for their businesses," said Tom Comiskey, president of M&T Bank's New Jersey region. "Essential to the foundation of New Jersey's economy, M&T Bank is proud to support these business owners through the NJ BEST Patient Capital Fund."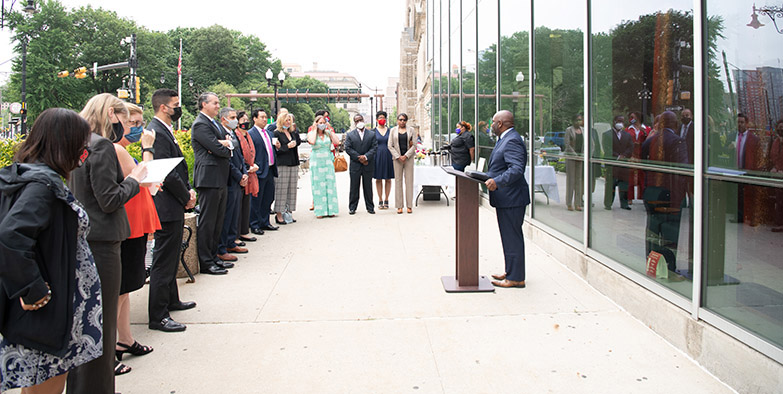 Rutgers Business School Dean Lei Lei expressed appreciation for M&T Bank's willingness to provide the funding to fuel CUEED's efforts.
"We are grateful for M&T's generous investment in a fund that CUEED has created to assist vital Black-owned businesses and to ensure that our communities remain economically strong," said Rutgers Business School Dean Lei Lei. "At Rutgers Business School, we believe we should play a role in helping to strengthen our communities. With the commitment of partners like M&T Bank, CUEED plays a critical role in our ability to have that social impact."  
The purpose of the new fund is to strengthen and enhance the efforts of NJ BEST, a program funded by the U.S. Cares Act to enable the Small Business Development Center offices and other community-based groups in New Jersey, to help 25 Black-owned High-Impact Vital Enterprises recover from the economic turmoil of the past year.
"It is well documented that Black business owners desperately needed financial resources in addition to technical assistance and entrepreneurial management consulting to survive the COVID-19 pandemic and position their businesses to thrive in the post pandemic economy," said Lyneir Richardson, CUEED's executive director.
"This work will create a path to recovery, long-term success and resilience for Black businesses and Black communities." - Lyneir Richardson, executive director, Center for Urban Entrepreneurship and Economic Development
While government programs to address the needs of small businesses were announced, including the Federal Paycheck Protection Program and the Small Business Administration's Economic Injury Disaster Loans, these resources have proven to be too small scale or prohibitively difficult for Black-owned businesses to access. Flexible capital from the private sector will be beneficial, Richardson said.
Interested in supporting CUEED's effort? For more information, contact Lyneir Richardson, executive director of the Center for Urban Entrepreneurship and Economic Development (CUEED) at Rutgers Business School at lrichardson@business.rutgers.edu
In addition to piloting the BEST Fund, CUEED will partner with the NJ BEST program to work with owners of HIVEs in creating plans to stabilize and grow their businesses. It will also collaborate with subject experts, professional service providers and the New Jersey Small Business Development Corporation offices with on-the-ground knowledge of the needs of HIVEs. These Black-owned businesses are considered "too small to fail" because they are essential to the vitality and stability of their local communities.
"This work will create a path to recovery, long-term success and resilience for Black businesses and Black communities," Richardson said.
Photos by Jason Martin.
The story of one NJ BEST Program participant
Rohan Campbell, founder and president
The Intervention Specialist
Rohan Campbell left the corporate world to run a substance abuse treatment agency because of the inspiring example set by his mother, a pediatric nurse at the height of the HIV epidemic. "I considered her a real-life Nightingale," he says. "I mimicked what she did, trying to serve."
Campbell is the founder and president of The Intervention Specialist, a haven in Elizabeth, N.J., where members of marginalized communities can seek therapeutic services for overcoming drug and alcohol addiction. Using a holistic approach, the company provides treatment for mental health and physical issues arising from substance abuse. "We care about you beyond being a number," says Campbell. "We give structure, meet them where they are and empower them to be better than they ever thought they could be."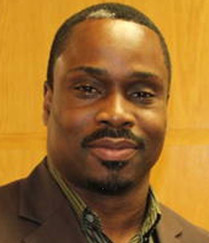 Campbell had volunteered in the past, with a focus on homelessness and hunger, but he kept seeing the negative impacts of substance abuse in so many areas of the user's life, plus the burden on the addict's loved ones. "I saw addiction as a burgeoning issue, especially in my community, and I had an opportunity to be a beacon of life, especially as a minority member," says Campbell.
In 2015, Campbell bought out the retiring owner of The Intervention Specialist. He supplemented some training from the previous owner with his corporate skills in tech and business analysis, and a passion for helping addicts. Campbell grew The Intervention Specialist, a 100% Black-owned business, to $710,000 in revenue in 2019.
It wasn't easy to build the business. "It's a constant process of thinking and planning. I'm immersed in it," says Campbell. "It's not a job of punching in and punching out."
Then COVID-19 hit. As he balanced ensuring the safety of staff and clients, Campbell vowed he would not close his doors, a promise kept. "We wanted to make sure we were there, not to mourn a life, but to save a life," says Campbell, who began offering virtual services too. Keeping the office open directly saved one life—in summer 2020, a client collapsed in the hallway outside The Intervention Specialist while arriving for an appointment; staff administered Narcan and revived the client. No doubt other lives were saved too as The Intervention Specialist offered vital treatment to an underserved population that was disproportionately impacted by the pandemic.
The coronavirus took its toll on The Intervention Specialist. Revenue dropped to $600,000 in 2020 at a venture that was already operating on thin margins. Some staff left but Campbell retained his counselors, and a PPP loan helped The Intervention Specialist continue its services, which include intensive inpatient and outpatient protocols.
Campbell wants to expand The Intervention Specialist to treat adolescents and help close a gap in substance abuse services. Besides having a personal passion to assist teens struggling with addiction, Campbell believes this is an underserved market. He projects the second office can generate $250,000, conservatively, and up to $400,000 in a best-case scenario. If he receives the $50,000 requested, Campbell plans to open a second location in Union County, after extending his license to treat teens. As the father of three teens, plus a 6-year-old, Campbell sees his children in the young people ravaged by addiction. His aim is to catch teens early in the cycle of addiction, helping to steer them away from bad behaviors and teach them to make better choices. "Can they see something else and be inspired beyond the guy on the corner? That became my concern," he says about his aim to help young people.
With funding to expand, Campbell could purchase the desks, equipment and computers to outfit the new location. He also would invest working capital in technical support to leverage technology so his counselors can be most effective. Improving the company's electronic medical records system is one area to gain efficiency. Campbell would also continue to rely on his most important asset: The Intervention Specialist's highly trained staff, which he credits for the company's success, and survival during COVID. "None of this is possible without a team willing to do the work. It's my family," he says.
Long term, Campbell also wants to add vocational services for his clients, who are often not prepared for the workforce. His goal is to partner with the New Jersey Department of Labor and Workforce Development to offer vocational training plus a mentoring alliance to address soft skills needed as an employee.
As he looks ahead, Campbell exudes the same drive he learned from his mother, and his father who was a truck driver. "You keep going, you find a way," he says. "I'm going to keep going."
Press: For all media inquiries see our Media Kit
Sign up for more Insights & News