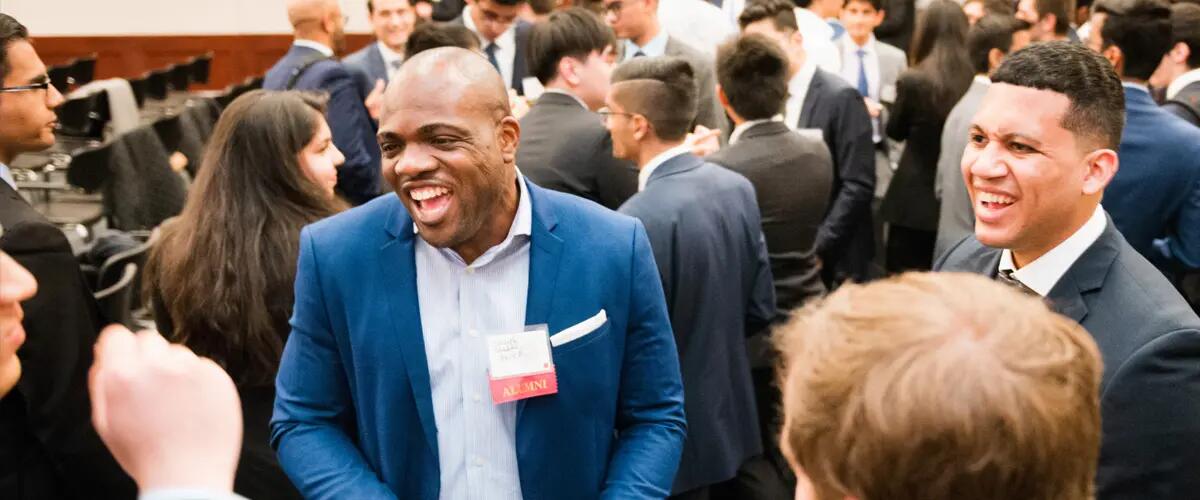 Build a powerful alumni network using exclusive RBSC3 platform
Graduating? Don't leave Rutgers Business School without joining RBSC3. It offers alumni a way to remain connected with RBS and fortify their professional networks.
Rutgers Business School offers its alumni, students and faculty the ability to strengthen their personal networks and fortify the collective power of the RBS community with RBSC3 – career, community, connect.
A platform that operates similarly to LinkedIn, RBSC3 is open exclusively to individuals with ties to Rutgers Business School. It offers members information about special events, job openings, lifelong learning opportunities, networking activities, and it will provide access to original, insightful content.
"This is a way for alumni to share with other alumni and to share with us," said Sharon Lydon, associate dean of alumni and corporate engagement. "We're hoping it will be an engaging environment."
Joining is easy. Register with email or through LinkedIn. RBSC3 also has an app that's available through the App Store or Google Play Store.
RBSC3 offers alumni a chance to promote their small businesses and share news about job openings in the companies where they work. Industry-based affinity groups will allow alumni to trade industry insights with students and one another.
"It's really about creating a community," Lydon said. "Especially in our current situation, people are craving connection. We couldn't be launching at a better time."
The power of RBSC3 rests with its ability to connect and engage an alumni network of more than 45,000 working professionals that spans the world. Graduates of Rutgers Business School can be found in hundreds of the world's leading companies and in every field, from marketing to medicine.
Ty-Lynn Johnson, who graduated from Rutgers Business School-Newark as RBSC3 launched in 2020, predicted that it would become an "amazing tool." Rutgers Business School students are advised early to begin networking, and Johnson said among the first people they connect with are alumni.
"This will definitely help build stronger ties," Johnson said. "The alumni network helps a lot of students find jobs. When you think about it, almost any company where a student might want to work, there's a Rutgers alum."
Like LinkedIn, the platform will focus on careers, connecting Rutgers Business School students with graduates in the work world and prospective jobs. It will also be an essential link for graduates who want to maintain ties with faculty and to remain close to Rutgers Business School whether they want to give back as mentors or to enrich themselves with educational programs and special events.
Amir Ismail, who finished his undergraduate degree in 2014, said at his current company, Bank of America, he sits on a committee to help recruit diverse talent. He said RBSC3 would give him a way to identify that talent at Rutgers Business School. He also sees it as a way to inform other alumni and current students about his career advising company, AIC Mindset.
Ismail explained another potential advantage of connecting on RBSC3. While LinkedIn allows RBS to connect as a group, it limits the size of the group. RBSC3 has the potential to be more powerful.
"Whatever we can do to building a stronger community is a good thing," he said.
The RBSC3 platform is managed by Rutgers Business School's Office of Alumni and Corporate Engagement.
- Susan Todd
Press: For all media inquiries see our Media Kit