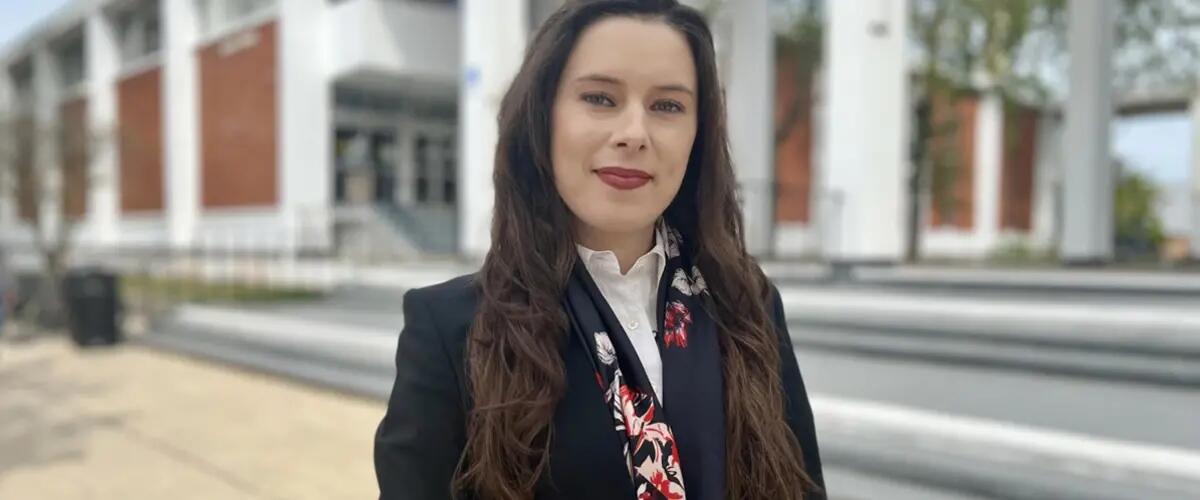 Career changer makes her mark as student leader in Rutgers MBA program
The leadership she demonstrated as president of the student government association earned her a 2023 dean's Distinguished Leadership Award.
While working as a photography teacher at a New York City private school, Sarah Ladyman watched a webinar featuring Rutgers Business School Professor Farrokh Langdana. "I was so impressed with his explanations of the economy. It reignited a passion for economics I'd had in high school," said Ladyman, now a second-year Rutgers MBA and president of the student government association.
The New Jersey native took a circuitous route to the Rutgers Full-Time MBA Program. Ladyman had studied film production, earning a Bachelor of Fine Arts. She was part of a cinematography team responsible for cameras and lenses on two major motion pictures, That Awkward Moment starring Zac Efron and Michael B. Jordan, and Blended with Drew Barrymore and Adam Sandler.
Ladyman worked two years for the film equipment rental company Panavision as a lens technician for television and movie productions, a role that combined her artistic and technical skills. She then accepted a position teaching photography and worked five years before deciding to start the MBA program.
"Rutgers Business School has a great MBA program. It's a good fit for me," said the 30-year-old, who lives in Englewood with her husband and takes classes in Newark.
Read more about Ladyman in a profile included in Poets & Quants annual Best and Brightest MBAs feature.
Ladyman made an impression on Professor Langdana last spring when she took his course, "Aggregate Economic Analysis" — one of her two favorite MBA classes so far.
"Sarah has a great presence and is a natural leader," Langdana said. "She didn't have to tell me she was class president: she stood out." During class, Ladyman announced upcoming programs arranged by the SGA and other opportunities for students. "She has strong presentation skills," Langdana said. "She knows how to speak to an audience." 
Ladyman's leadership also impressed others. In April, she was awarded the dean's Distinguished Leadership Award. The award was created in 2011 to recognize outstanding students from Rutgers Business School's graduate programs and its undergraduate programs in Newark and New Brunswick. The recipients are selected based on their outstanding academic achievement, service to Rutgers Business School and leadership potential. In addition to Ladyman, this year's award winners are undergraduates Tenille Grant and Katherine Perez.
"Leadership is a skill that has to be practiced." - MBA student Sarah Ladyman
Langdana has also been impressed with Ladyman's engagement and performance. "From her questions and comments in class, it was evident that she was an exceptionally bright student," he said.
Ladyman knew the student government association's (SGA) past president Marsha Fils and decided to run for the position last fall. "The teacher in me wanted to provide value to my classmates," she said. Last spring, she and the executive board hosted a gathering of 50 full-time and part-time MBA students at Topgolf in Edison. "Some of the students were meeting their classmates in person for the very first time," Ladyman said.
In mid-September, the SGA co-hosted an alumni/student gathering at Hyatt House Jersey City. About 60 MBA students and more than two dozen alumni attended. "It created instant connections," Ladyman said. One alumnus announced his company was hiring, she said, and another invited the students to an information session at their company.
As SGA president, Ladyman has gained experience in how to lead a team, including how to keep a team focused. "Leadership is a skill that has to be practiced," she said. The role has also widened her network, giving Ladyman opportunities to explore Rutgers beyond the MBA program, including the ability to meet Rutgers University President Jonathan Holloway.
Ladyman said Professor Kenneth Freeman's course, "Financial Modeling for Corporate & Project Finance," was not only a favorite, but gave her a leg up during an interview for a summer internship. She had learned to build a financial model from scratch. The interview was going only so-so when the interviewers reviewed the profit and loss statement Ladyman created. "They were impressed, and things turned around," she said.
Ladyman opted to take another offer with the pharmaceutical company Sandoz. She worked in change management and communication on the rollout of new internal software, interviewing stakeholders for their input.
The Sandoz interviewers "were very interested in my very strange background," she said with a laugh.
-Margaret McHugh
Press: For all media inquiries see our Media Kit