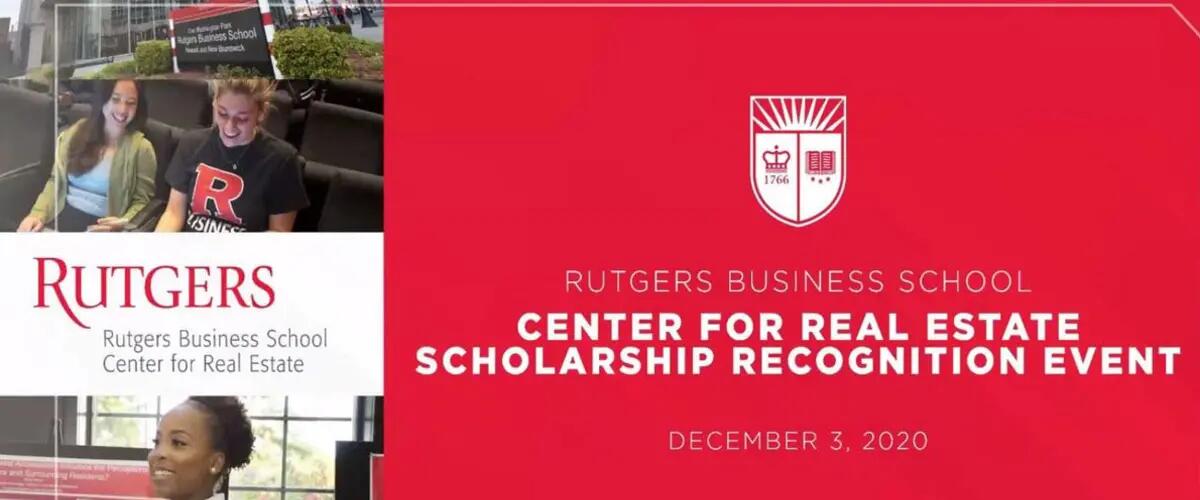 Center for Real Estate celebrates 2020 scholarship winners
The Center for Real Estate celebrated the success of its alumni and the students who are the newest scholarship recipients during an annual recognition event.
The event was held virtually as a result of the continuing effects of COVID-19, but a sense of gratitude was evident in a series of heart-felt video-taped student testimonials. It was also marked by a genuine warmth for the students and board members in the words Professor Morris Davis, the center's academic director, who moderated the ceremony.
Since its start in 2015, the Center for Real Estate has taught 1,000 students at Rutgers Business School's two campuses and given out more than $1 million in student scholarships. The center's board of influential real estate industry professionals are not only the donors behind the scholars, they also work to place students in internships and full-time jobs.
Davis described the philanthropy of the board as a "tremendous" achievement. "You've really made a difference," he said.
The student testimonials, a collection of self-made videos, expressed appreciation for scholarships and more. "Your generosity is really a blessing," one student said. A new graduate said the biggest benefit the center provided to him was a career trajectory. "I am where I am now because of the center."
As the ceremony came to an end, Davis said the center's efforts are continuing. "This pandemic is a speed bump, a weird one, but it's not stopping us," he said. "We're still going to produce the next generation of leaders."
Students who received scholarships at the end of 2019 (now alumni) were honored alongside current students who are the newest recipients of the center's generous donors.
The following received scholarships in 2020:
Center for Real Estate Scholarship: Arun Abraham, Sina Abrahim, Caroline Acosta, Hassan Ahmad, Zachary Alessi, Nicholas Bagwadeen, Gabriella Celik, Kevin Cifelli, Madeline Delayo, Gabriel DiMasi, Brian DiNicola, Gabriela Flores, Nicholas Gargiulo, Matthew Gleason, Matthew Gregory, Ryan Grenyo, Tom Heyman, Omar Hussein, Dante Iudici, Rishab Iyer, John Johnson, Grace Johnston, Alan Kandov, Arin Katchikian, Lorenz Komischke, Devin Kusmider, Nicholas LaBelle, Kevin Linker, Frank LoPiccolo, Muhammad "Zain" Mahmood, Rocco Mandarino, Thomas Margaritando, Abraham Matthew, Robert Mazura, Sofia Mezzasalma, Sri Narayanan, Jacob Nerenberg, Mustafa Pacha, Karan Panhal, Kishan Patel, Maulin Patel, Amanda Phu, Neidelyn Pina, Luis Pina-Rodriguez, Hansh Rana, Cassandra Rizkallah, Adham Sheira, Brandon Shepherd, Isaac Shohet, Aydin Sidali, Alisha Sood, Anthony Stella, Davin Tan, Sally Teran, Jamie Thelwell, Neal Udsen, Pascal Youssef.
Integra Management Corp. Scholar: Jessica Rosario
SIOR Scholar: William Lampe
Kokes Family Scholar: Biagio Caruso, Conor O'Neill
Glenn and Mary Rufrano/ICSC Scholars: Aurelia Del Rossi, Muhammad Dutt, Chelsie Edwards, Ray Paulino.
Wilf/Tanzman Scholars: Samantha Fellin, Eshan Kadam, Christina Kallinosis, Andrew Kushnir, David Roushdy, Amit Solomon.
Hampshire Scholars: Bhavin Doshi, Dante Intindola, Lindsay Kase, Stephanie Kawall, Jared Bianca Lopez, Rebecca Oprihory, Anthony Pontoriero, Karla Rivera-Jame.
And finally,
The Second Annual Mo Davis Award for Outstanding Achievement in the field of Excellence: Amit Solomon.
Press: For all media inquiries see our Media Kit