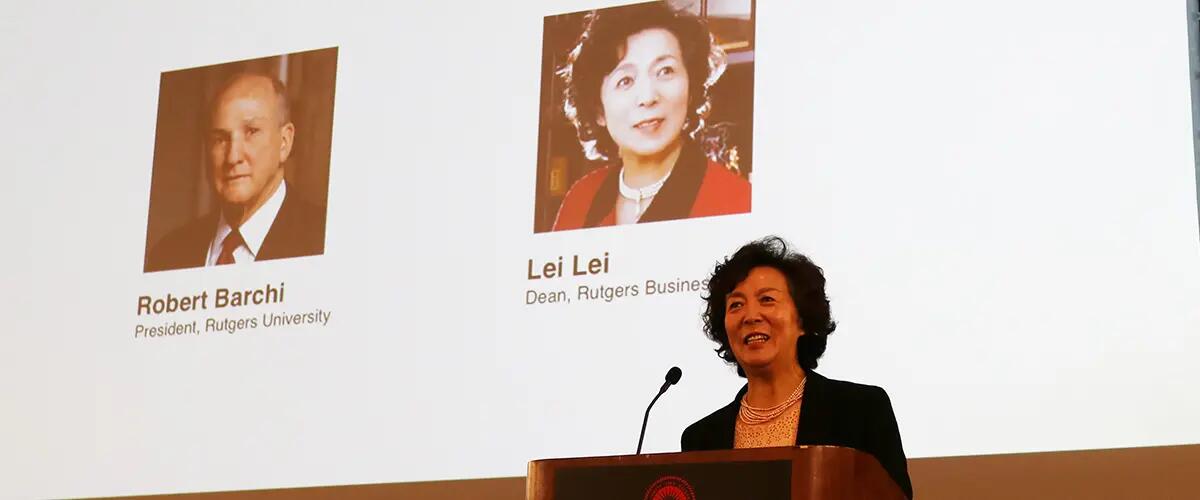 Changing business world inspires discussions on industry connections, innovative curriculum
Nearly 200 educators and representatives from industry spent several days discussing the changes transforming business education during a conference hosted by Rutgers Business School.
The discussions touched on how technology is impacting teaching and learning, how some business schools are re-imaging their cultures and the skills companies are demanding of graduates looking for jobs in a changing business world [watch highlights].
Innovations in Graduate Business Education was the second major conference hosted by Rutgers Business School in the past two years. Its ability to collaborate with other business schools and cultivate thought leadership represents another aspect of membership in the Big Ten Conference.
As a Big Ten member school, Rutgers also belongs to a consortium of academic resource-sharing. Formerly known as the Committee on Institutional Cooperation, the consortium was recently renamed the Big Ten Academic Alliance.
"Many deans from leading business schools in the country, from inside and outside the Big Ten, attended the conference at Rutgers Business School," said Rutgers Business School Dean Lei Lei. "Their presentations, discussions and participation were integral to promoting informative and insightful interchange that we hope will serve as a catalyst for future innovations and best practices in the graduate business education space."
On the first morning of the conference, Rutgers University President Robert Barchi welcomed the participants. "We're not known for being a nimble business," he said, "but we have to be willing to change."
The audience heard from speakers such as Richard Lyons, dean of Haas School of Business at the University of California-Berkeley, who is changing the culture at Haas. Lyons described a culture of shared values and the idea of creating chief purpose officers.
Other keynotes were delivered by Jeffrey Selingo, author of There is Life After College, Rick Levin, CEO of Coursera and past president of Yale University and R. Glenn Hubbard, dean of Columbia University's business school.
Impressive panels of deans and executives tackled discussions on a key issue to business schools: tightening its connections to industry so students are prepared to excel and lead in a changing business world.
On one panel, Donde Plowman, dean of the University of Nebraska's College of Business Administration, stressed that advisory boards need to play a role in actively building mutually beneficial industry-academe partnerships together.
"We have so much to offer from research and industry leaders have much to offer from practical experience," she said. "We must demonstrate the reciprocal benefits of partnerships to our faculty and work to encourage their buy-in." 
Over the course of two days, other panelists discussed innovations in curriculum and the lessons tied to online programs and building a sustainable business school.
Sanjay Gupta, dean of the Eli Broad College of Business at Michigan State, moderated a panel discussion on industry hiring trends and challenges, from whether an MBA is mandatory to the importance of soft skills in job candidates.
One panelist, Michael Seneski, Ford Motor Company's director of corporate strategy, said he has adapted his own litmus test for job candidates called the "airplane seat test" that he uses to gauge a person's interpersonal and social skills.
"The ability to fundamentally understand what others are saying and put that into action is a skill," he said.
The panelists also discussed the importance of business school graduates being able to work cross-functionally, to handle pressure and an awareness of the world.
Panelist Art Certosimo, former senior executive vice president and head of global markets at The Bank of New York Mellon, said he believes it's important for job candidates to be able to talk about the lessons they've learned from their failures.
They are painful, but powerful lessons, he said. "And a little bit in jeopardy in today's world."
The last panel of the conference – composed of Michael Bodson, president and chief executive officer of DTCC; Len DeCandia, Johnson & Johnson's chief procurement officer; Stephen Klasko, president and CEO of Thomas Jefferson University and Jefferson Health; Glenn Lurie, president and CEO of AT&T Mobility and Consumer Operations; and Joseph Ucuzoglu, chairman and CEO, Deloitte & Touche LLP – offered interesting perspectives on the future of business education.
Moderated by John Byrne, founder of PoetsandQuants.com, the panel tackled hard questions about who they would rather hire, an MBA or an undergraduate, and what business schools have to do to improve their relationships with industry. "Schools have to go as fast – or faster – then technology," Lurie said. "That's what's going to drive value for us."
Phyllis Siegel, senior associate dean for graduate programs at Rutgers Business School, said she received lots of immediate positive feedback from speakers and attendees.
"One of the primary objectives we had for the conference was to generate meaningful conversation at the academe-industry interface around current trends, challenges and innovations in graduate business education that, in turn, could serve as a catalyst for future B-school innovations," Siegel said. "The tremendous feedback we received from speakers and attendees suggests we were successful."
Press: For all media inquiries see our Media Kit