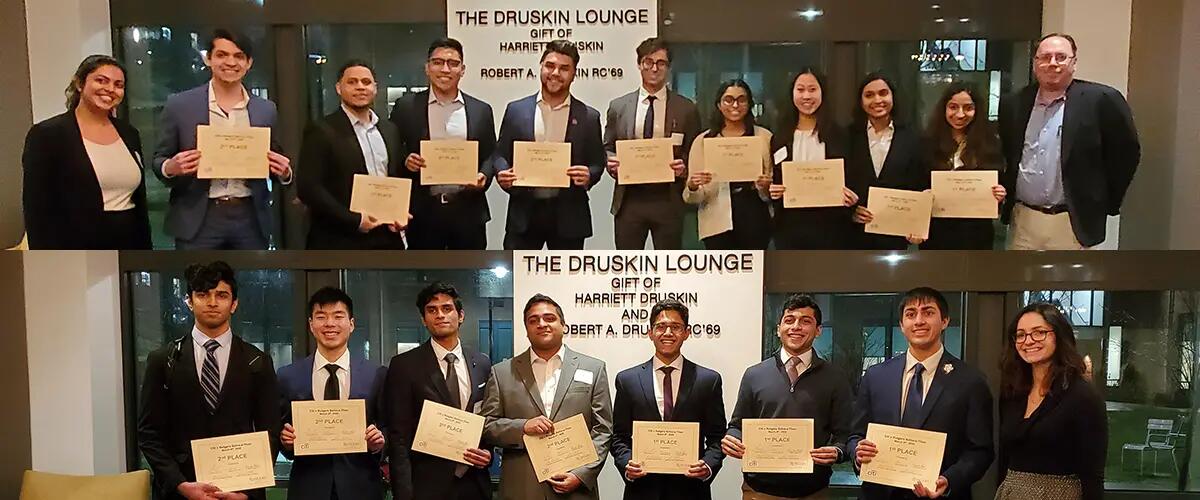 Citi X Rutgers Solve-a-Thon a win-win
The inaugural Citi X Rutgers Solve-a-Thon took place at the Honors College on the Rutgers University – New Brunswick campus. 
Approximately 80 students, predominantly freshmen and sophomores from Rutgers Business School and the School of Arts and Sciences, in teams of four or five tackled one of two problems. 
In the course of one day, the students received the problems, finalized teams, analyzed and researched a problem, and created a solution that they presented to a panel of judges in a case competition.  Winners receive first-round interviews with Citi Ventures, by-passing the interview screening process.
"We want students from a wide range of majors applying different perspectives to problem-solving," said Antoine Lindie, Rutgers Executive MBA, Global Product Manager, Citi.  Lindie has been investing a great deal of time supporting Rutgers students and elevating Citi looking to Rutgers for outstanding hires.  "Citi's university programs enhance students' professional development and critical thinking.  Some students will begin their careers with Citi and many will not, but Citi and the students mutually benefit from these partnerships."
It was a full day of Citi Ventures presentations on team dynamics, and Citi executives advising the teams and networking with the students, organized by Ron Richter, assistant professor of professional practice, Department of Finance & Economics; Jennifer Lenahan, director of career explorations in Arts and Sciences; Andrea Rydell, assistant dean for professional development, Honors College; Paul Gilmore, administrative dean, Honors College; and a dozen Citi volunteers.  
Also collaborating were leadership and team building activities by Rutgers Career Exploration, and Success and Leadership and Experiential Learning groups.
Lenahan said, "This event, and others like it, target freshmen and sophomores.  We want students to start thinking about what comes next a little earlier.  Employer expectations have gone up; they expect some level of experience, and students look to differentiate themselves."
Mustafa Pacha, Luis Paulino, Jorge Lara-Cruz, Derek Miranda registered for the event individually, and then through their ALPFA responsibilities (Association of Latino Professionals for America) learned that they were all participating in the Solve-a-Thon. "We discussed whether we wanted to be on separate teams, and decided that we all wanted to represent Rutgers Newark together," they said. "We are all finance majors but with different concentrations, backgrounds, experiences. We were just talking about how to leverage those different strengths."
Press: For all media inquiries see our Media Kit