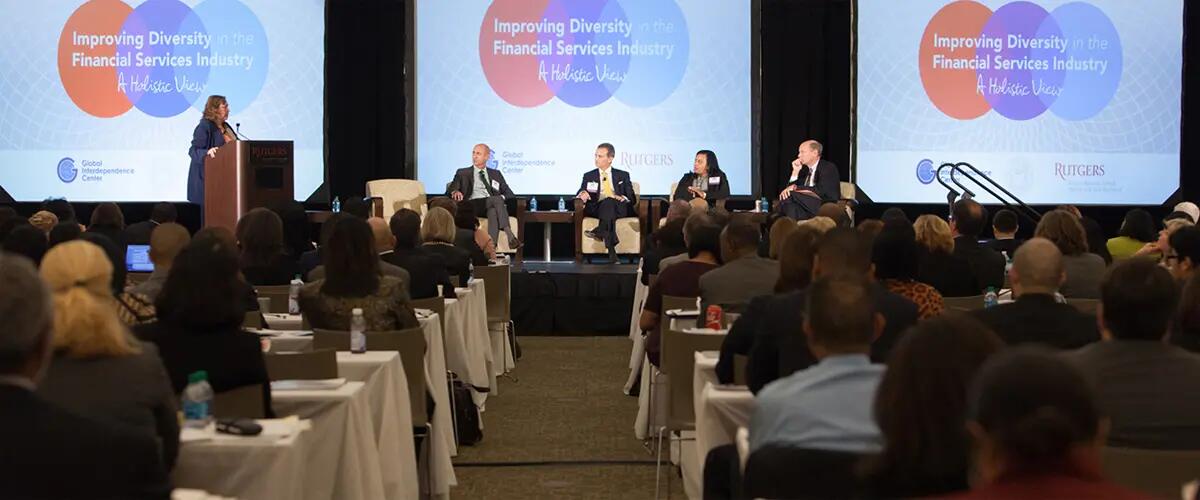 Conference highlights efforts to make financial industry more inclusive
Hundreds of banking and insurance professionals attended a day-long discussion Oct. 19 on improving diversity in the financial services industry.
The event, which was held in the Great Hall at 15 Washington Street, was co-organized by the Federal Reserve's Employee Benefits System, the Global Interdependence Center and Rutgers Business School — Newark and New Brunswick.
In his welcoming remarks, Jerome Williams, vice chancellor and provost of Rutgers University-Newark and a distinguished professor at Rutgers Business School, shared experiences and research that showed  while some institutions such as business schools have become more diverse, other institutions, including many banks, have retained discriminatory practices.
While the conference would allow for healthy discussion and an exchange of ideas, Williams said, the issue remains a challenging one. "There will be no easy solutions," he said.
The conference explored the issue of why there are still few minorities and women occupying executive suites in leading companies across the country and examined a series of case studies on how diversity exists in organizations such as Prudential Financial.
Two panels touched on topics of particular interest to the business school community – "Preparing Minority and Female Students for Careers in Financial Services: How are we doing?" and "Recruiting Minority and Female Students in Financial Services Firms: Designing a Strategy for Success."
The Rutgers University Newark Campus, which includes Rutgers Business School, is consistently ranked as one of the most diverse college campuses in the nation. That ranking was one of the reasons the campus was chosen as the conference venue, according to organizers.
For the Rutgers Business School, the issue of increasing access for students from underrepresented groups and having a social impact fit also into a campus-wide strategic vision set by Rutgers University Newark Chancellor Nancy Cantor.
Dean Lei Lei, who sat on the panel discussing how minority and female students are being prepared for careers in financial services, said one of the challenges she faces is generating more scholarship money to bring bright students from underrepresented populations into Rutgers Business School.
Company representatives and advocates for minority and female students said mentoring programs, internships and career management coaching are imperative in order for the students to be competitive candidates for jobs in the financial industry.
But many of the speakers said hiring is only the start of diversity. Executives from companies and organizations, including the Federal Reserve, are working to transform cultures so their workplaces are more comfortable fits for minorities and women.
Michele Meyer-Shipp, vice president and chief diversity officer at Prudential Financial, said the company recently held training to address unconscious bias, which requires people to be reprogram the way they respond and think. "You have to build a self-awareness about it," she said. "Until we manage this, we are not going to make sustainable progress in this space."
John Williams, president and chief executive officer of the Federal Reserve Bank of San Francisco, also spoke passionately about the need for diligent leadership to change cultures within organizations and businesses.
"It has to be pursued," Williams said, "with a sense of urgency."
-Susan Todd
Press: For all media inquiries see our Media Kit