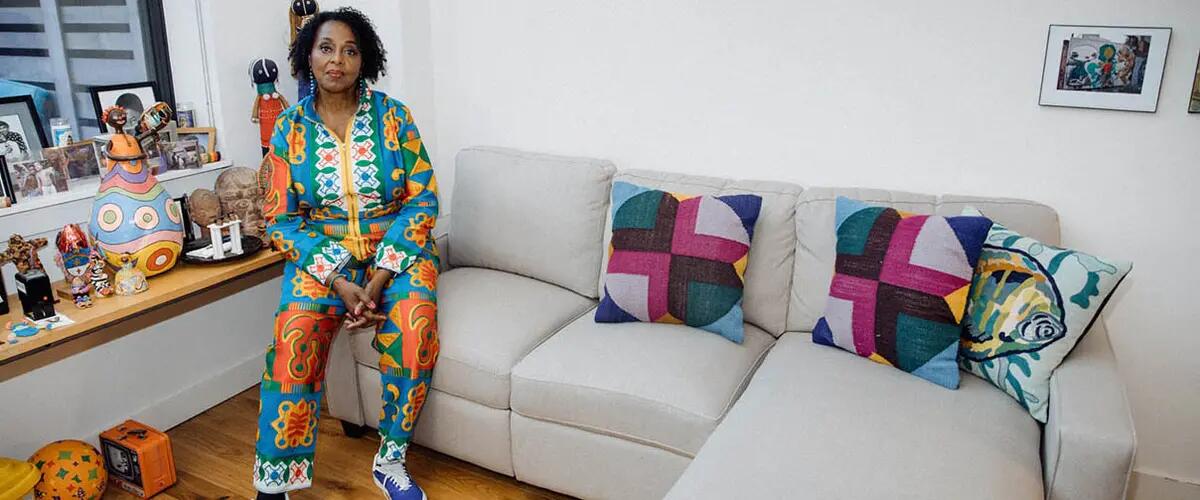 Creator of pioneering line of multicultural superhero figures sees trend toward futuristic toys and games for children of color 
Yla Eason, who created a pioneering line of multicultural superhero toys in the 1980s, sees a toy and media trend toward fantastical storylines for Black characters this season. 
It's driven in part by "Afrofuturism,'' a science fiction genre incorporating reimagined elements of Black culture and history and popularized by the Black Panther film franchise, including Wakanda Forever, which has newly released toy lines with Hasbro and Lego.
"For boy's toys especially, there's lot of Black animation, gaming that's being developed, drawn from comic books and sci-fi. It's characters looking like you and being futuristic and magical and mystical, it's part of the genre right now. And I'm seeing a mass of it, not just a one-off,'' said Eason, creator of Sun-Man, the first Black superhero action figure, and a professor of business at Rutgers University–Newark.
In 1985, Eason founded Olmec Toys, creating action figures for Black, Asian, Latinx and Native American children. It was inspired by her three-year-old son, who told her one day that he couldn't be a superhero because of his skin color. 
"If you can see yourself as powerful, you can be powerful,'' explained Eason, who teaches marketing at Rutgers Business School. "If you have to limit your fantasy world, your imagination, that's frightening.''
Sun-Man and his cohorts developed a loyal following, with Eason taking a grass-roots approach to distribution, selling them at hair salons, barber shops and post offices. In the mid-90s, they were introduced to mainstream retailers but when demand outstripped supply, the burgeoning company struggled to fill orders and the toys disappeared from mass market shelves.
In the past five years, with the commercial success of "Black Panther"  and the anti-racist movement following George Floyd's murder, the cultural landscape shifted. Last year, Mattel worked with Eason to recreate Olmec's toys as part of its He-Man Master of the Universe collection.
"There was a serious desire to see these characters again,'' explained Eason.
Mattel's He-Man "Masters of the Universe" line features four of the original characters from Sun-Man's collection, called "Rulers of the Sun.''  In addition to Sun-Man, there is Digitino, a Latino computer wizard, and Space Sumo, an Asian telekinetic ninja, along with Pig-Head, a villain with the head of a green boar. This season, Sun-Man received an updated look from Mattel, with a fade hairstyle and golden wings. An additional six figures created by Olmec in the 1980s, including Bolt Man, who is Native American, will be introduced by Mattel by the end of 2023. 
Eason sees growing interest in toys and media that celebrate fantasy worlds filled with Black and brown characters, otherworldly imagery, and narratives that focus on tradition and liberation. It's a creative renaissance she attributes partially to Black Panther, which has its own Marvel Legends toy line.
"It represented this positive fantasy, which was always there but awakened a sleeping imagination among people, and an acknowledgement that this fantasy exists in the Black world and now it's coming to life,'' said Eason. 
Examples in the world of toys and games include the video game "We are the Caretakers,'' an Afrofuturist fantasy by Heart Shaped Games about saving the planet from extinction. Eason also notes the rising popularity of Tim Fielder, author and illustrator of the graphic novel series Matty's Rocket.
Big toy companies have jumped on the bandwagon, too. In addition to creating a "Wakanda Forever'' set, Lego sponsored a contest last year asking readers, "What Does Afrofuturism look like to you?" Contestants submitted their creations to the Lego Ideas blog. Fine artist Ekow Nimako, who builds sculptures out of Legos, launched the contest, explaining, "Afrofuturism places Black people at the center of their own universe.'' 
For decades, that wasn't the case in the world of mass market toys, particularly when it came to playthings geared toward boys. Corporate brands increasingly created Black dolls for girls, but Black action figures who existed as leading men with their own storylines were a rarity, said Eason.
When she created Sun-Man, mainstream America wasn't ready, she contends, maybe because it considered Black superheroes a threat, unlike a Black baby doll or Barbie.
"With dolls and girls, there is a nurturing concept, there's hair play and clothes play, it's about mothering, compassion, love and beauty, it exists in another realm of play,'' says Eason. "With boys, and action figures, you're talking about power, dominance. It's a different form of play that may seem frightening if the Black guy wins. For the average white male buyer, which was all I saw on the market for boys' toys back then, it was an upset to their position. Suddenly, maybe even subconsciously, they found that frightening, maybe for reasons they couldn't put their finger on.''
"It was seen by the masses as a radical concept,'' she added. "But I didn't think it was radical.''
She's glad times are changing. "What was verboten is now celebrated and accepted as normal,'' said Eason.
Children of all backgrounds now play with Sun-Man and his partners, and like any form of play, that helps shape not only their identities but their world view, said Eason.
"It broadens their perspective. It creates a certain level of acceptance and kinship, being able to relate to a character and see similarities with people who have a difference in skin color. It creates an understanding of that character and their special powers, and that anybody can have them,'' said Eason. "Maybe it helps them in terms of understanding that hierarchy is not racially based.''
- Carrie Stetler
Press: For all media inquiries see our Media Kit