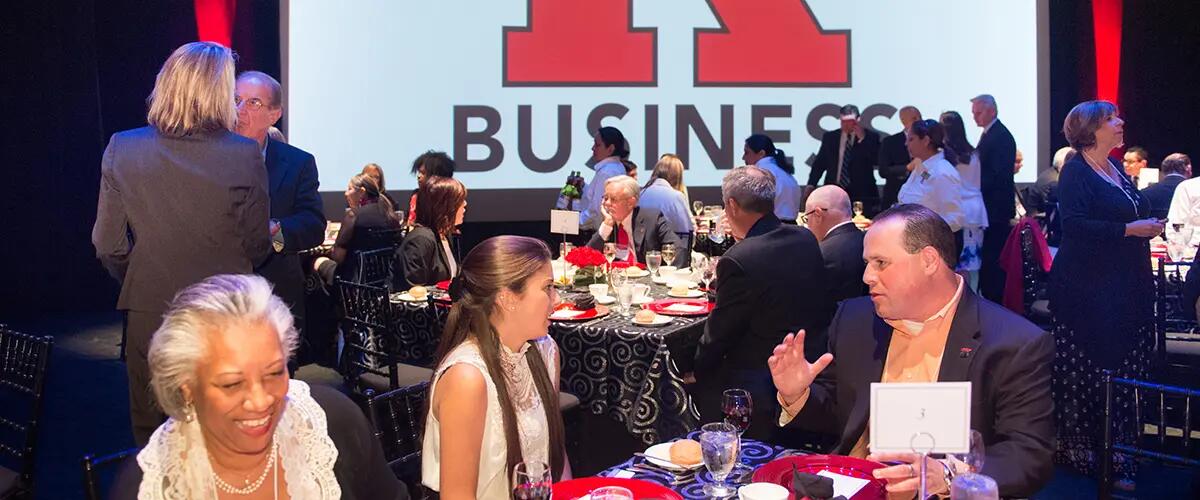 Elegant pep rally creates momentum for a special celebration of RU's 250th anniversary
Rutgers Business School hosted nearly 100 guests at a dinner party to create momentum for a special homecoming celebration marking Rutgers University's 250th Anniversary.
The dinner brought together elected officials, Rutgers Business School deans and program directors, alumni as well as leaders from the New Jersey arts and business communities.
"Coming Home: Honoring our Rutgers Heroes and Heritage" will be a two-day celebration of Rutgers University's spirit and pride, a showcase for Rutgers Business School's impressive alumni and a unique collaboration with the community. The event will take place Sept. 24 and Sept. 25.
The weekend festivities will include a Rutgers football game (Scarlet Knights versus Iowa Hawkeyes), musical performances, a Ted-Talk-styled event, a special awards ceremony and more.
Andrea Cunnell, Rutgers Business School's director of external affairs, told the crowd the event was Rutgers Business School's contribution to the university's year of special anniversary-related activities and events. RBS is partnering with the State Theatre New Jersey and Rutgers Athletics.
"Rutgers Business School will celebrate the 250th anniversary by bringing our alumni home and connecting the business school with the community," Cunnell said.
An elegant pep rally, the dinner was hosted on the stage of the State Theatre, offering guests a different perspective of the venue's splendor. A video on Rutgers University's historic highlights served as a prelude to a series of rousing comments about Rutgers Business School and its plans.   
Art Certosimo, who chairs the dean's board of advisors, and Professor Farrokh Langdana, director of the Executive MBA Program, praised Dean Lei Lei for her enthusiastic work to raise Rutgers Business School's stature and for reaching out and embracing the school's alumni.
"Dean Lei's goal is to make Rutgers the No. 1 public business school in the country," Certosimo said.
Langdana spoke about the Rutgers Business School's Executive MBA Program's consistently high rankings and how those rankings reflect a school-wide trademark of being understated and out performing. "We have huge heavy-hitters, we have critical mass and we have a dean who gets it," he said.  
Dean Lei also took the podium briefly to describe Rutgers Business School's powerful and expansive alumni network and the growing stature of its programs, including recent rankings recognizing the strength of the Rutgers MBA Program.
"We want to achieve even more," she said, "and we will."
Press: For all media inquiries see our Media Kit