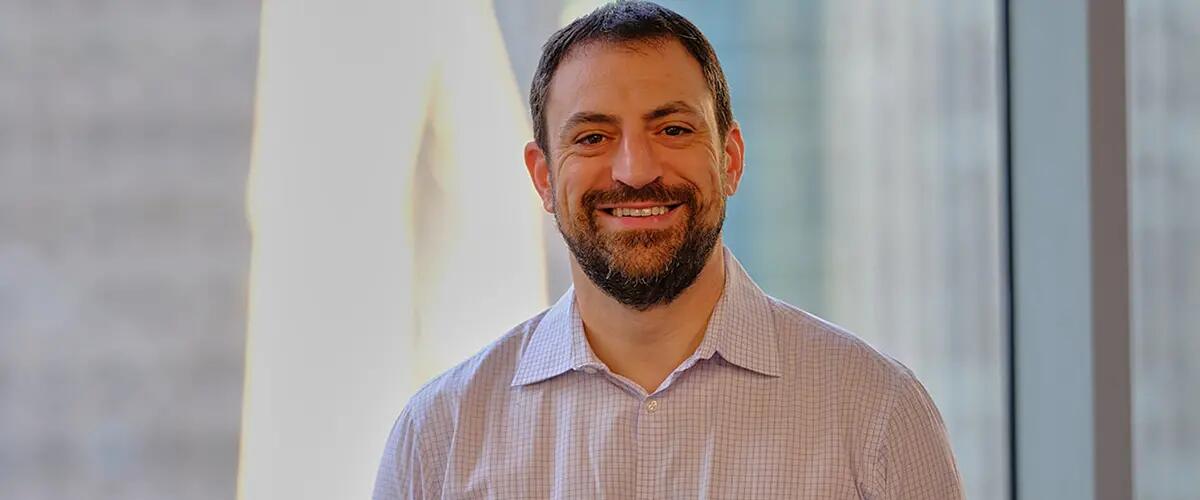 EMBA student and NBA VP keeps finding a way to grow career
Rutgers Executive MBA Profile: John Zisa
If only the rafters of the Continental Arena (now the Meadowlands Arena) could talk, what stories would they tell. Home to New Jersey's professional sports franchises (Devils and Nets) from the 1980s to 2010, the arena offered John Zisa, a Jersey kid and new Rutgers grad, a front row seat to New Jersey's basketball team before they moved to Brooklyn.
Fast forward to today, Zisa is now a vice president at the National Basketball Association (NBA) and a second-year student in Rutgers Business School's Executive MBA program. 
In a display of true Rutgers grit, Zisa parlayed an internship with the Nets into his first job out of school as special assistant to then head coach Lawrence Frank. The coach's mantra, "find a way," inspired Zisa on a daily basis. "I did anything the Nets needed me to do," he said. "I was known as a jack-of-all-trades."
That included everything from heating up players' cars in the middle of the night after winter road trips, including Vince Carter's Bentley and Jason Kidd's Aston Martin, to placing opponents folding chairs on a steel beam by the ceiling of the practice facility after winning on a rival's home court and "claiming" the chair.
He also absorbed a lot of wisdom from Coach Frank and the Nets organization about the game of basketball, managing players and staff, and the nitty-gritty details of operating in professional sports. "I've always had a passion for learning," said Zisa, who took those lessons to a new career in the NBA League Office in 2011, transitioning to Referee Operations in 2013.
He's been part of some of the most revolutionary changes in the game including the expansion of in-game video replay at the Replay Center in Secaucus, creating a measurable referee development and training system, and growing the NBA internationally.
With all his success, Zisa wanted to expand his operational and leadership knowledge even further. He looked at EMBA programs at Columbia and NYU Stern, and ultimately decided to join Rutgers Executive MBA program. "I love it! Concepts are connecting in my head in ways I never saw before, it's incredible," he said.
Zisa said the Rutgers EMBA program is like a second family, supportive of his demanding work and travel schedule, and a close-knit group of faculty, staff, and classmates, creating bonds he never expected.
"It was immediately obvious to me that John was an inherently brilliant student," said Farrokh Langdana, professor of finance & economics and director of Rutgers Executive MBA program. "While in my macroeconomics course, he had that instinctive ability to grasp the heart of the issue and to analyze the ramifications of whatever policies were being discussed."
Langdana also praised Zisa's leadership, calling him, "clearly a natural leader." The Rutgers Executive MBA program is designed to empower rising stars like Zisa in the next phase of their careers as they take on more leadership responsibilities.
"Every day I am excited to use the new knowledge and deeper perspectives I've gained in Rutgers EMBA," said Zisa. His journey may inspire the next Jersey kid and Rutgers grad to reach for the rafters as well.
- Daniel J. Stoll
Press: For all media inquiries see our Media Kit