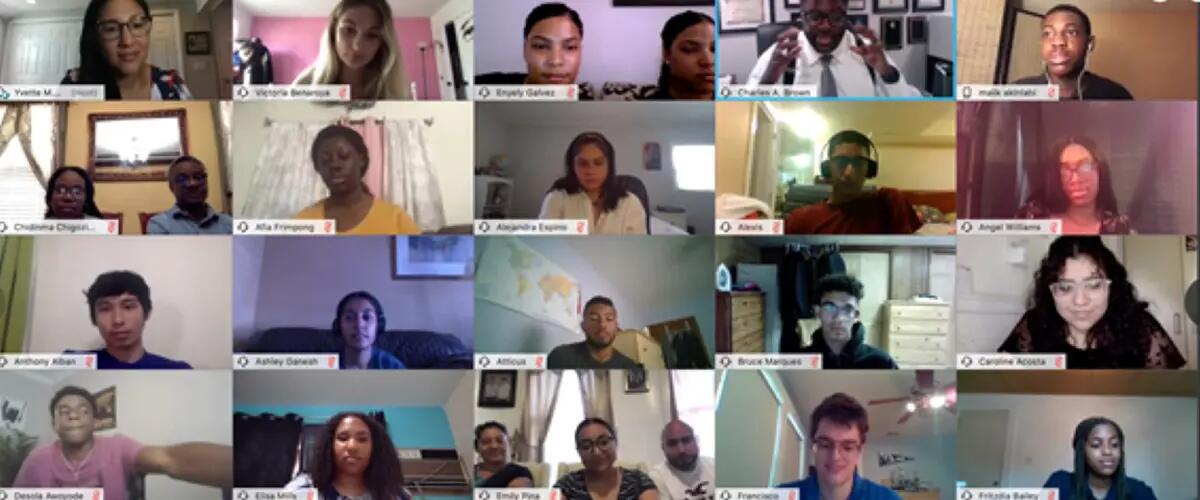 Even remotely, B-STAR summer program makes an impact on students
The Business Student Transition at Rutgers (B-STAR) program introduced its 2020 cohort to college life, and to one another, through a virtual format this summer.
The six-week-long session is always an intense orientation for students on the verge of their freshman year at Rutgers Business School. In addition to academic coursework, the days are long and filled with enrichment sessions as well as professional and student development workshops. At night, there are group study sessions.
This year, the Office of Diversity was challenged to deliver programming that could still achieve one of the most fundamental aspects: creating relationships among the students. "The students connected regularly outside of the program hours and relied on one another similar to traditional roommates," said Yvette Del Valle, the program coordinator.
Freshmen B-STARs Fritzdia Bailey, who plans to study accounting at RBS-Newark, and Malik Akinlabi, who will study accounting and marketing at RBS-New Brunswick, shared some of their impressions of the summer session and the impact the B-STAR program has already had on them.
What was the highlight of your experience in the B-STAR summer session?
Fritzdia: My virtual roommates. I just didn't think I would find friends before going into my first semester of college. I don't know how they did it, but it was a perfect match. I was put in a group where there were three roommates. I thought that would be difficult because in a group of three you're not always close to both, but I ended up building separate connections with each of them. We're all from the Caribbean. We understand how strict parents can be when you're growing up in a Caribbean household, so we had that to relate to, and the food and the culture. We were all active in high school in leadership programs and student council and glee club. We called ourselves The Academically Fierce roomies (Tenille Grant, Angel Williams, Fritzdia Bailey). It was our way of standing out even more. We supported each other through everything. Just building that connection with them was a highlight.
Malik: One of the enrichment sessions. It was a session on self-awareness and being comfortable with who we are. It made you dive deep into your personality and helped you come out of your shell. They were initially really uncomfortable. They were so scary. I was pushed to speak, and I feel like it did a lot for me. There were three sessions. Once a week for three weeks. By the end, I felt the sessions were great. They were life changing.
What does it mean to you to be a B-STAR?
Malik: "It's having a community of people who are just like me. It's having a community of people who are invested in my success and who are going to push me at every juncture to be a better person and to maintain my confidence and my ability to be something greater."
What was the most daunting part of starting college?
Malik: "Initially, it was the whole online thing. I was scared. I had no idea how this was going to go. Now that I've gone through the B-STAR program, I'm a lot more confident about it. I know I'll be able to talk to people and be personable and make connections. I'm still a little bit uncertain about how everything is going to work online. But I'm excited. Not as excited as I would have been if we were going to be on campus, but I'm definitely excited to meet people and to get an education."
Fritzdia: "It's making sure that I'm on the right track for where I want to be after college. It all starts your freshman year and I honestly didn't realize that. I thought I have four years to figure it out, but a lot of the opportunities start freshman year, so I want to make sure I'm aware of them and participating."
Do you feel the summer B-STAR program gave you an advantage as you started your first semester at RBS?
Fritzdia: "It definitely did give me an advantage. I already had a resume, but we spent time refining it and putting it in the Rutgers format. I created a LinkedIn profile, which is something that will prepare me for internships and job opportunities. We also had a lot of sessions where we looked at our inner selves. We came to terms with things we were struggling with. I discovered a lot of things about myself and how I could work on them. Dealing with adversity was a main topic that came up a lot. Making connections, being aware of the clubs, all of this means we're ahead of the game."
- Susan Todd
Press: For all media inquiries see our Media Kit