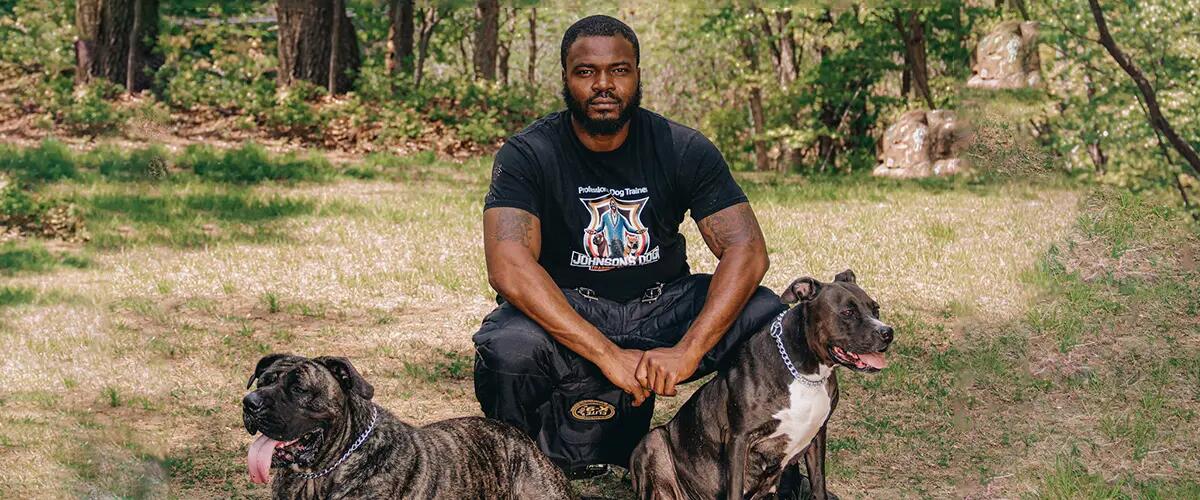 Executive MBA is foundation for graduate's entrepreneurial success
Keith Johnson, an alumnus of the Rutgers Executive MBA Program, drew heavily on lessons from the program to build a dog-training business. His start-up won first place in Rutgers Business School's 2023 Business Plan Competition.
Johnson spotted ads on campus for the Rutgers Business School Annual Business Plan Competition and entered. "I wanted to see how my business plan and the business I was running would measure up to everyone else in the business plan competition," he said. "Plus, I wanted to win the prize money."
While growing up in Little Rock, Arkansas, Johnson dreamed of being an entrepreneur. An early idea was to be a chef and own a restaurant, prompting him to earn a culinary arts degree from Iowa Central Community College. He then got a health sciences degree in 2013 from the University of Central Arkansas.
Johnson came to New Jersey for a job at Montclair State University, working as an international recruitment and partnerships specialist. When he decided to pursue an Executive MBA, Rutgers was on his radar. "I had heard great things about the program. I liked what the program stood for and the Rutgers network," he said.
"Rutgers is a big name, well-known throughout the United States and around the world," he said. "Being from Arkansas, I wanted to be part of a big program and network."
During the Rutgers EMBA program, Johnson found himself drawn to leveraging his love of canines as a business. A rambunctious dog, Storm, was the impetus for launching his business in 2021. "She was a handful, and I needed professional help," said Johnson about his 12-year-old Staffordshire terrier and pitbull mix pooch. After working with a master trainer for Storm, Johnson began learning how to keep dogs in line. His instructor encouraged him to seek clients and Johnson, 34, made the leap from part-time to full-time training. He also owns two Presa Canario dogs: Mystic, 2, and Wizard, 9 weeks.
Johnson found his EMBA courses helped with his business. "In the Business Strategy class, you had to sit down and critically think about every step of the business, and how to strategize and have the correct pieces in place," said Johnson. "In Entrepreneurship, I learned to think outside the box and deep dive into the dog training field, or whatever field I wanted to get into. I also learned how to get funding and generate a buzz."
While his business was generating solid revenue, Johnson decided to enter the business plan competition. "I wanted to see how my business plan and the business I was running would measure up to everyone else in the business plan competition," he said. "Plus, I wanted to win the prize money."
Johnson advanced to the final round of the contest in April and was worried that he blew it during his 10-minute pitch presentation. So, it was a surprise when his name was called as the first-place winner, snagging the $25,000 prize. "I was thrilled but shocked at the same time," he said.
Doug Brownstone, assistant professor of professional practice in Management and Global Business, is in charge of running the annual contest, which has now contributed over $1 million to Rutgers students and alumni over the past 20 years. He said he felt Johnson's business provides great value to its customers.
"There are two characteristics that the judges liked in particular about Keith," said Brownstone. "One is that Keith pledges to keep working with the dog until the issue is resolved and the dog acts properly. In this, Keith has the business ethic to do a great job on what he does. Second, Keith gets up very early every day, drives to his clients, instructs the dogs and then he goes to his day job. After work, he is seeing the dogs on the way home. It is a long day but satisfying to Keith to grow his business."
Johnson invested the prize proceeds to establish a physical location in West Caldwell, pay for attorney fees for setting up the facility and launch some marketing. The facility has an obstacle course for obedience training plus space for boarding dogs when their owners go away. Clients can drop off their pet for one hour of training, leave a dog at the hotel or choose a combination package where the dog is trained while boarding. Unlike some trainers and boarding facilities, Johnson is very accepting of aggressive dog breeds. "I have guard dogs, I like big dogs, and it's hard as an owner to find someone you trust to take them. A lot of trainers shy away from aggressive dogs, but I welcome them," he said.
- Sharon Waters
Press: For all media inquiries see our Media Kit