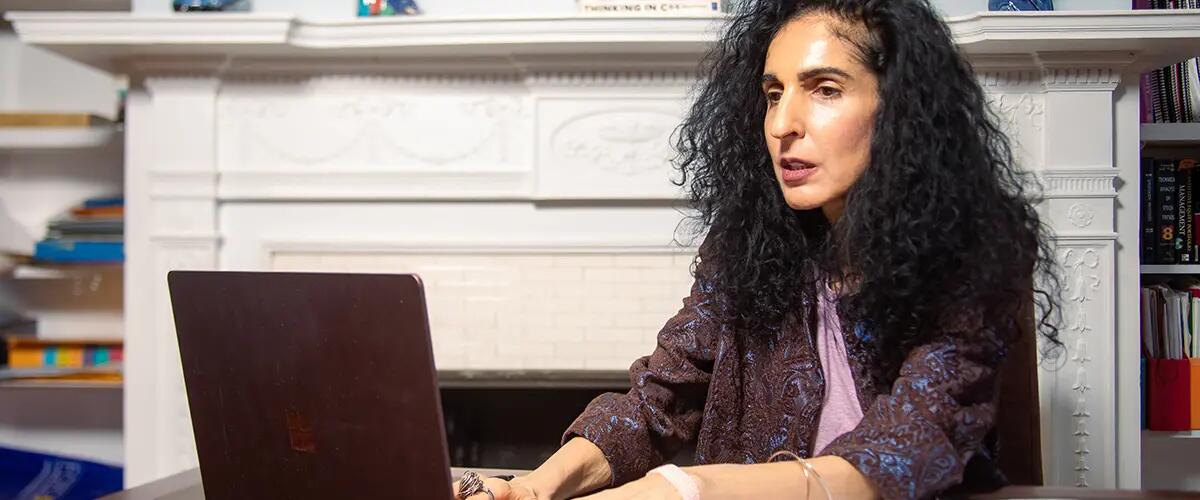 Faculty Spotlight: Professor's blockchain expertise allows others to understand emerging technology
"The more people who are educated on this technology and its enormous potential to benefit our global economy and society, the better, and the more likely it's going to become mainstream." - Professor Merav Ozair

Faculty Spotlight: Merav Ozair, Ph.D.
Title: Fintech professor (Finance and Economics) and leading global blockchain expert
What she teaches: "Digital assets, Blockchain and the Future of Finance" (undergraduate); "Blockchain: Changing How We Do Business" (MBA); "Blockchain and Cryptocurrency" (Master of Quantitative Finance)
Born and Raised: Israel
Education background: "I started as a tech person, meaning that I went to a STEM high school that focused on computer science, engineering, math, physics, etc. So, that was where I started, but I also have a very creative mind. I was always trying to figure out how to take my creative mind and put the technology to a more creative use. When I went to college, I was introduced to economics and finance and social and economic problems. Having an inquisitive mind, I always asked questions and tried to understand the meaning of everything. Since then, I have been trying to see how I can use my technology background to answer economics and finance problems. I came to New York City to get my Ph.D. at Stern Business School (NYU). At first it made sense to me to become a quant (finance), investigating market microstructure and developing trading and investing algorithms. That's how I first thought I could apply my background and connect my creativity with my skills."
Professional experience: She's worked as a consultant, a data scientist, and a quant strategist, researching global financial markets. She currently consults companies on the business applicability, implementations, and regulations of blockchain technology, Web 3 and the Metaverse
How she became focused on blockchain: When she was doing research on foreign currency, she discovered cryptocurrency and blockchain, the technology that underlies it. "I got so excited about blockchain technology. It's been evolving so quickly and so exponentially. If I can say what's unique about me, it's that I have this academic mind which understands the theory and understands it in depth, but I can take the theory and understand how we should implement it in the real world. I am a practical researcher – a 'doer.' I always look for the applicability and the implementation of any technology and theory."
Areas of expertise: Distributed ledger technology (DLT) and the blockchain ecosystem, which includes digital assets, decentralized finance (DeFi), non-fungible tokens (NFTs), decentralized autonomous organizations (DAOs), Web 3 and the Metaverse.
Current research: "I'm investigating the (blockchain) network itself. When I'm researching the network (on-chain) data and analyzing the crypto market (off-chain) data, there's a disconnect between what's happening with the network (on-chain) and what's happening on the crypto market because the prices are driven by speculation in my mind. It has nothing to do with what's going on with the network. It's important for me to do this research, to understand it, and to give this information to the public. People need to understand that there is something, a technology, a use case, behind it. Essentially, I'm looking at the fundamentals of the blockchain (i.e., the network data). If the fundamentals exist, then this application has merit. On the other hand, if the fundamentals do not exist, then the application may not go far. It's no different than the fads we saw during the Internet bubble. Finance is moving into big data and analytics in everything, and blockchain is a big part of it.
"I'm also building applications related to how you can utilize NFTs not just for images and art, but for business use cases. The implementation part is very important, whether it's about how to monetize your IP or how to monetize your creation, whether you're a journalist or an artist or a musician. I'm thinking about it more from a business economic use case. I am also considering digital identity issues. I do envision we will move to the metaverse and therefore understanding how to protect your digital identity in a digital space will be imperative. Blockchain technology will enable the protection of our digital identity in the metaverse (i.e., our avatars)."
What advice does she have for students fascinated with blockchain: "What I'm trying to stress with the non-technical students who take my class is that it's not all about developing and being a developer. It's also about how to implement the technology. How can it help business? What are the use cases? There are a lot of jobs there. Many of my students simply want to understand blockchain and the crypto markets or how it can help them in other fields. I think the more people who are educated on this technology and its enormous potential to benefit our global economy and society, the better, and the more likely it's going to become mainstream.
"There are students, especially those in finance, who want to go into DeFi, a growing space which will replace traditional finance. I have a former MBA student who wrote to me that he got a new job because of what he learned about blockchain in my class. They wanted to see if he had knowledge in the field. That's how he got the job, so that's interesting, and of course I was thrilled to hear that he got the job. I'd love to see more students like him."
In addition to teaching and doing research: "I'm mentoring and advising students for all types of jobs. I'm very approachable and very available to them."
Downtime: Makes her own jewelry, mostly to give as gifts.
Favorite place in the world: "I love the sound of water. If I go to a nice beach, anywhere in the world, especially during the sunset, it's quiet and all you hear is the water, with the sun reflecting off it. It's beautiful. There are many places in the world where I've experienced that beauty. It's that serenity and connecting to nature that I love."
Press: For all media inquiries see our Media Kit