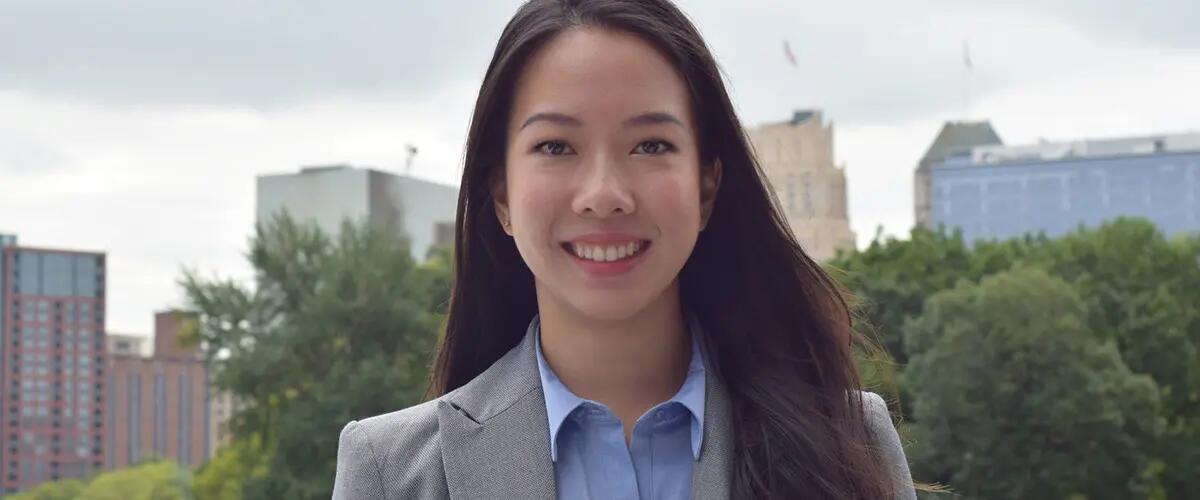 Finding adventure along the path to a new career
One in a series of stories about why the Rutgers MBA Program turned out to be the best choice for someone from out-of-state.
When Fironica Lao hit "a ceiling" five years into her work as an animal technician in a large research laboratory in Northern California, she considered going back to school to jumpstart her career.
"I wanted to continue in science," Lao said, "but I didn't want to be a veterinarian and I didn't want to do the science research for a Ph.D."
Experience as a project manager had given her a taste for business so she spoke to colleagues who had completed an MBA. She investigated programs and eventually visited Rutgers Business School in Newark to learn more about a dual degree program.
"There are fewer than a handful of schools with dual degree programs that combine science and business, Rutgers is one of them," she said. The dual degree program she chose to do allowed her to combine a Master's of Science in Biomedical Sciences degree with a Rutgers Full-Time MBA.
When it came time to start the program, Lao packed up her car, including her two cats, and spent nearly 10 days driving across the country. "It was so exciting," she said. "I loved living in California, but I always wanted to live in different places, and I wasn't brave enough to apply for a job and move somewhere."
While she juggled the requirements of the dual program, she also found time to explore Newark. She became a frequent visitor of "hidden gems" as she called them, including the sprawling picturesque Branch Brook Park, the Newark Art Museum, the restaurants of the Ironbound and Tops Diner. Living in Newark also gave her easy access to New York City where she went on weekends that weren't dedicated to class work.
Rutgers Business School's career management office also provided Lao with opportunities to connect with professionals and recruiters from the pharmaceutical industry. "That's where I wanted to land," she said.
Lao said she immediately appreciated the business knowledge she was learning as an MBA, from such practical things like reading financial statements to applicable experiences in collaborating and managing. Rutgers Business School's Full-Time MBA Career Management Office also provided her with opportunities to connect with professionals and recruiters from the pharmaceutical industry. "That's where I wanted to land," she said.
Lao went to "a lot" of career fairs – maybe 10 she estimated – where she was able to learn about different jobs and make connections with working professionals. In addition to strengthening her science knowledge, she studied marketing research and marketing. She did an internship with the pharmaceutical company AbbVie, and then in 2020 after graduation, she began working full-time at the company as a senior analyst doing market research.
Today, at 30, she is an associate manager in market research, gathering insights that help determine the brand team's strategy and tactics for marketing new medicines. She lives and works in Chicago.
"I love the opportunities the company offers me. I wanted to make sure I wasn't going to be stuck and I know I can one day move into marketing or sales," she said. "I'm very happy."
Press: For all media inquiries see our Media Kit