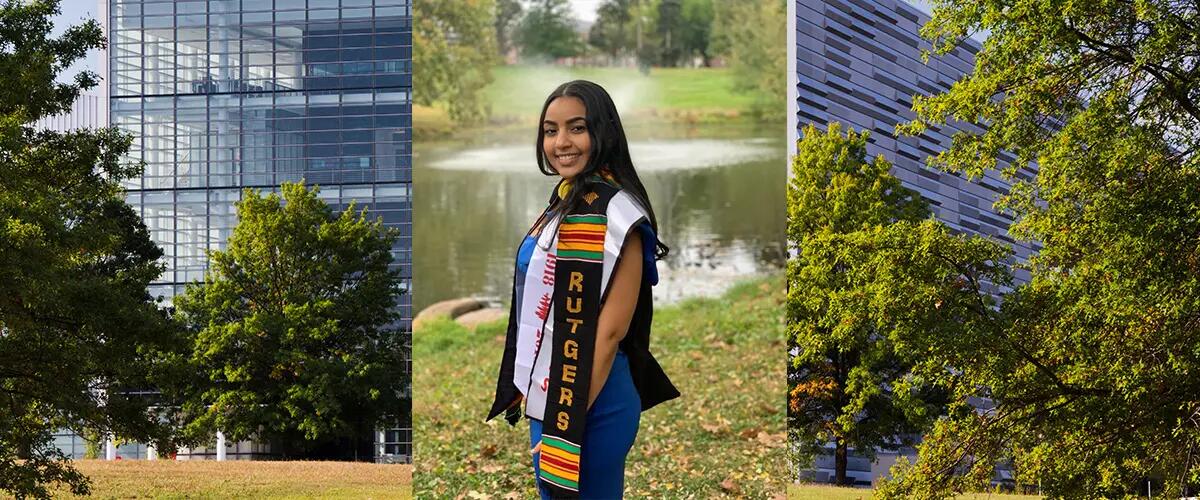 Finish Line Fund enables first-generation college student to finish her degree
After receiving help, a new graduate is putting her skills to work in a new job with Amazon
Mariangely Colon, BS in Accounting, '20, put her degree to work immediately after graduation.  "I could not have secured my position as an area manager at Amazon without my accounting degree," she said.  "I am very pleased to apply what I learned at Rutgers Business School to my job every day."
While she was a student, Colon worked several different jobs to help her mother with the family living expenses. She also earned scholarships and Educational Opportunity Fund (EOF) support.  "My mother works very hard," Colon said.  "Growing up in a single-parent, low-income family, I always did what I could to help.  I also appreciated how fortunate I was to be earning my degree at Rutgers Business School." 
When COVID-19 hit, Colon lost her job like so many others and incurred the additional expense of paying for high-speed internet at home to attend class when Rutgers shifted to remotely delivered instruction.  She did not know how she would finish her last semester and graduate. 
"When I received that email informing me that I would receive RBS Finish Line Fund assistance for my last semester, I couldn't believe it," Colon said.
Rutgers Business School Dean Lei Lei started the Finish Line Fund in 2016 to direct Giving Day gifts to a specific use that would benefit students. The fund offers students who encounter financial difficulties in the semester leading up to graduation with the support they need to complete their education, or as Dean Lei has said, "to reach the finish line."
Colon said she is extremely grateful for the support she received from Rutgers Business School's Finish Line Fund, especially during such a challenging time for everyone. The fund covered the expenses of the last course she needed to complete her studies at Rutgers during the summer of 2020 and earn her degree in accounting. 
"The RBS Finish Line Fund has helped me, a first-generation-college Latina, to finally reach the finish line of my undergraduate studies," she said. "There are no words to describe how grateful I feel."
March 23, 2022 is Giving Day at Rutgers University. Support Rutgers Business School by contributing to the Finish Line Fund.
On Giving Day, donations must be made before 11:59 p.m. on March 23rd:
RBS Finish Line Fund - New Brunswick
Your contribution may be any amount as low as $5.
To contribute directly to the Finish Line Fund at any time, please go to this link and select "Rutgers Business School Dean's Excellence Fund."
Press: For all media inquiries see our Media Kit