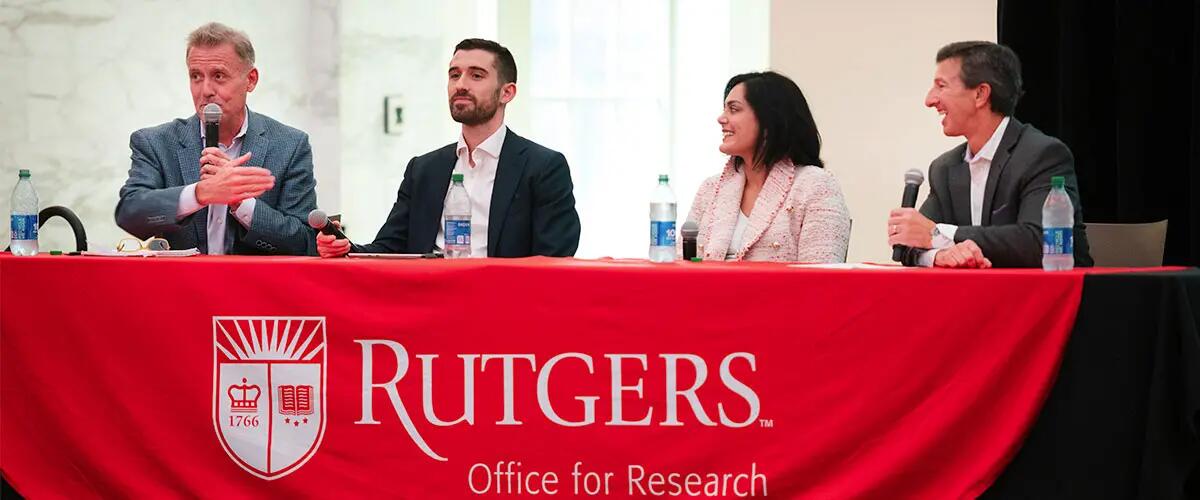 Fintech Conference Focuses on the Next Generation of Industry Leaders
This story by Carrie Stetler was originally published in Rutgers-Newark News, on October 10, 2023.
Higher education can play a critical role in the future of the fintech industry, helping to cultivate young entrepreneurs, a new generation of industry professionals, and partnerships that foster economic growth, said leaders at a statewide fintech conference held at Rutgers-Newark.
"Rutgers: Leading the Next Generation" focused on university resources and programs that pave the way for fintech innovations–with an emphasis on nurturing student talent. Panelists and speakers, including business leaders, government officials and students, also explored how to encourage start-ups and diversity within the industry, especially in New Jersey.
"We hope the network and collaborations that happen today will become fuel for the next generation of fintech innovations,'' said Jeffrey Robinson, Rutgers-Newark Provost and a Rutgers Business School professor specializing in entrepreneurship.
He added that the fintech industry and related data science fields are a high priority for New Jersey Gov. Murphy's administration. Rutgers can, and does, serve as a valuable conduit and partner, those at the conference agreed.
Michael E. Zwick, Rutgers Senior Vice President for the Office of Research, opened the conference by announcing that Rutgers had a record year in funding, receiving $929.3 million in research grants and sponsored programs, including local and global partnerships and a multitude of business efforts.
Robinson highlighted programs that were preparing the next wave of fintech pioneers and employees, such as the Fiserv-Rutgers-Newark Program for Inclusive Innovation, a partnership announced last year, which will create a center on campus to serve as a research and incubation space for the RU-N community and local businesses.  
The program will also provide annual scholarships for undergraduate students over a five-year time span and support career modules to prepare students for internships and jobs. Its goal is to help diversify the fintech workforce, including entrepreneurs.
Robinson mentioned a course at the School of Arts and Sciences-Newark course called "Everyday Data"  taught by Professor Nicole Richardson. "She's using data science as a gateway to different career paths,'' said Robinson.
The conference also included a video profile of  Rutgers Business School student Alex Simeon, who created a fintech startup called MoneyUp.
"We reimagine personal finance and financial literacy for college students and Gen Z,'' explained Simeon, a student at the business school's Entrepreneurship and Innovation Living-Learning Community in New Brunswick.
The conference's keynote speaker was Aaron Price, CEO of the NJ Tech Council, now known as TechUnited, which represents over 500,000 innovators, including some of the largest tech companies in the country.
In a conversation with Robinson, he talked about New Jersey's ability to make a bigger mark in the fintech industry. "We have incredible assets,'' he said. "There is a lot more potential here and we are on the pathway to realizing it.''
One way to do that is by driving more investment in capital at the early stages of a venture, said Price.
An important question to ask is how New Jersey fintech enterprises can distinguish themselves. "How can we be the best in the world at something?'' he said, noting that the healthcare industry in New Jersey offered a lot of opportunities for fintech development.
Another way to grow the industry is for leaders and investors to broaden their idea of who is poised to succeed and how they can be supported. "It's important to be open to working with people of all different backgrounds,'' he said. "Historically the tech industry has been challenged by this.''
Price gave an example of an entrepreneur who could afford to live on $1,000 a month in the early stages of a company because they have more resources available to them. Others might have expenses, like student loans or family obligations that require them to work full time. 
"There are people who can't afford to take that risk,'' he said. "We need to make sure that people have the opportunity to try.''
The current climate and future of fintech were also discussed at panels throughout the day. Panelists for the "Future of Fintech" conversation included John Gorman, an investor and strategic advisor, Tim Ferris, Vice President of THL, and Aisha Khan, of Amazon's Commercial Development and L'Oreal USA. The moderator was Mark Anquillare, retired President and COO of Verisk Analytics. (top photo)
The Rutgers-Newark Fiserv Inclusive Innovation Program was highlighted in remarks by Karen Brown-Stovell, Associate Director for Inclusive Innovation and Gary Mann, Founder & CEO of Jasfel Analytics.
Jaideep Vaidya, a Rutgers Business School professor and department chair, gave remarks in a speech about fintech leadership and research. State Senator Andrew Zwicker spoke, in addition to Rutgers Business School Dean Lei Lei and Vice Dean Petra Christmann.
Speaking on the student panel were Rutgers Business School students Yu Gu, Melissa Dardani, Alice Hu, and Roque Martinez, a business school alumni. The moderator was Ben Sopranzetti, Rutgers Business School Dean's Professor of Business.
Additional speakers included Darius Palia, Chairman of the Finance and Economics Department and Thomas Renyi, a professor in Banking at the business school, and Mark Guthner, professor of Business Practice.
Press: For all media inquiries see our Media Kit