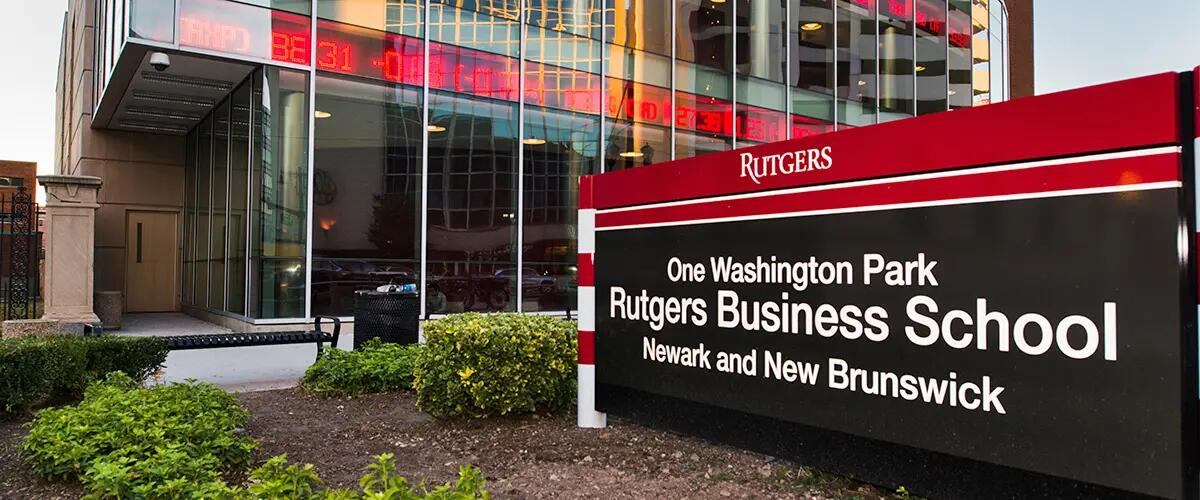 First time listed, Rutgers Business School ranks 34th worldwide in Aspen Institute's prestigious Global 100 Survey
RBS Faculty research takes 12th in annual survey of MBA Programs integrating social, ethical and environmental stewardship
The Aspen Institute's Business & Society Program released the 2011-2012 Global 100 of Beyond Grey Pinstripes and, participating for the first time, Rutgers Business School (RBS) was ranked 34th overall in the world and 12th for faculty research.
Beyond Grey Pinstripes is a research survey and alternative ranking of business schools that spotlights innovative full-time MBA programs that most successfully integrate social, ethical, economic and environmental realities into mainstream business education and research. The Global 100 schools are preparing students for tomorrow's markets addressing the need for broader knowledge, skills and judgment with respect to the role of business in a competitive and fast changing world. 
The 2011-12 RBS information submission for the survey was spearheaded by the Institute for Ethical Leadership's (IEL) Research Director and Professor of Leadership and Ethics, Dr. Ann K. Buchholtz. "Not only are we pleased to be included in the Global 100 for the first time, but we are especially proud to be ranked 34th in our first year of inclusion, and that the quality of our faculty research was also so highly ranked," said Buchholtz. 
"Unfortunately, in the recent financial crisis and economic recession, we've all come to see what can happen when ethical leadership takes a backseat to the quest for profits," said Rutgers-Newark Chancellor Steven J. Diner. "Through $2 million in funding provided by Prudential Financial Inc., Rutgers created the Institute for Ethical Leadership to be a force in reversing this trend. Strong corporate partnerships with global companies like Prudential provide distinct career advantages for Rutgers Business School students."
Teaching and research at Rutgers Business School are well aligned with the Aspen Institute's goals. Dr. Glenn Shafer, Dean of Rutgers Business School notes, "In addition to our strong group of business ethics faculty, we have faculty throughout the school devoting their research and teaching to important issues such as urban entrepreneurship, social entrepreneurship, justice, trust, diversity, privacy, corporate governance, and integrity. Ethical leadership is a critical requirement to build healthy businesses. Sustainability is an essential practice for managers and leaders in a culture that too often rewards short-term goals and profitability at the expense of longer term growth prospects for their businesses."
Lisa Podhayny, an RBS MBA student commented, "Rutgers Business School's Aspen Institute ranking is a significant, world-class achievement. As a full-time MBA student and Co-President of Net Impact RBS, I know first-hand that my fellow students are driven to address complex social and ethical concerns. Net Impact and Rutgers Institute for Ethical Leadership are two of the many strong resources that demonstrate how well deserved an honor this is for our school. I am proud to be a part of an institution recognized by Aspen."
"The role of business leaders and executives has expanded and changed dramatically over the years," said Alex J. Plinio, co-founder of the IEL. "There is a strong need to address complex social and ethical concerns in an ever changing world. We understand very well how important the role of ethical leadership is in enhancing civil society, and we are striving to provide graduates and current managers and executives with the skill set and decision-making tools to develop into ethical leaders who create ethical cultures in their organizations."
James Abruzzo, co-founder of the IEL said, "At the IEL we recognize the need to inculcate ethical leadership here at RBS, and this first-time ranking is extremely important to us. We also give special thanks to Ann Buchholtz, IEL's Research Director, for her strong leadership in guiding this immense effort."
According to Sharon Lydon, Executive Director of RBS MBA Programs, it's an important time for the United States to emphasize ethical leadership in business and higher education. "RBS is in the forefront of ensuring that our mangers and leaders embody the best of America and that our graduates, once again, will ensure that this country is always the undisputed benchmark for leadership in education and business."
About Rutgers Business School 
Rutgers Business School-Newark and New Brunswick is an integral part of one of the nation's oldest, largest, and most distinguished institutions of higher learning: Rutgers, The State University of New Jersey – founded in 1766. Rutgers Business School has been accredited since 1941 by AACSB International–the Association to Advance Collegiate Schools of Business—a distinction that represents the hallmark of excellence in management education. Today, Rutgers Business School is educating more than 5,000 undergraduate and graduate students at two main campuses in New Jersey as well as six satellite locations in New Jersey, China, and Singapore. Steeped in academic excellence, with a distinguished faculty and a corps of over 33,000 successful alumni, Rutgers Business School is highly ranked by the Financial Times, Bloomberg Business Week, and The Wall Street Journal. According to U.S. News & World Report, the MBA program is the #1 public MBA program in the Northeast, and is ranked #31 nationwide for the employment rate of its graduates three months after graduation. Traditional Full-Time MBA and Flex MBA programs provide excellent options for people looking to gain the relevant skills needed to compete in today's job market.
About Institute for Ethical Leadership
The Institute for Ethical Leadership at Rutgers Business School, which now encompasses the Center for Nonprofit and Philanthropic Leadership, works with business and government entities, nonprofit and philanthropic organizations, and within the University to provide leaders and future leaders with the education, training and critical-thinking tools needed to become more effective leaders and managers and make ethical decisions for real-world challenges.
Press: For all media inquiries see our Media Kit