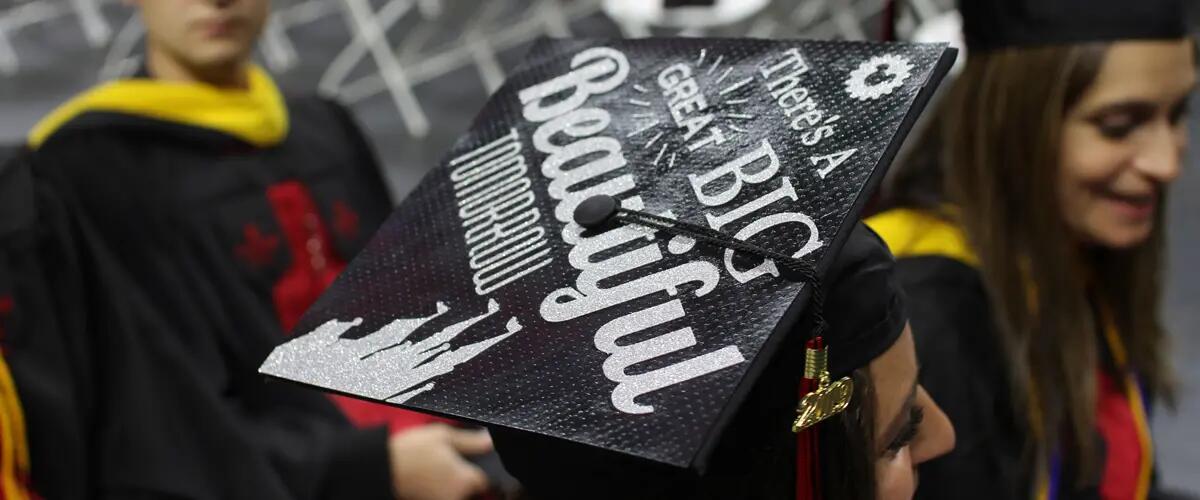 Graduates urged to realign and repurpose resources for innovative solutions
Private, social, and public tri-sector collaborations can solve problems that each cannot solve independently.
With the usual, and very well appreciated and cheered, pomp and circumstance and Senior Associate Dean Martin Markowitz taking a selfie from the stage the 2019 Rutgers Business School – New Brunswick Undergraduate Convocation rocked the RAC again.
Taking place in the Louis Brown Athletic Center (RAC) the nearly 800 students and everyone in attendance were welcomed with video messages from graduating students on the large screens suspended above center court.
Graduating senior Sangeetha Santhennur, a supply chain management major, sang an impeccable acapella national anthem to loud and long cheering.
In her remarks to the graduating students, Dean Lei Lei recounted some of the exceptional accomplishments that the students achieved during their time at Rutgers Business School.  "Together, you claimed nine national and global championships since 2016, and demonstrated your excellence in academics, community service, and innovation for future businesses," she said.  
"Remember the brand of RBS:  Resilient, Resourceful, Responsible. Now, let me add one more R:  Reinvent.   Reinvent yourself for the digital era.  Don't be a variable – an unpredictable variable.  Be a constant - a constant driving force for a better tomorrow. Be confident that you are ready, technically, professionally, and emotionally, to take on the new challenges in this fast-changing world of technology."
"As the workforce gradually evolves from human employees to a combination of humans, robots, and human-machine teams; as more and more new categories of jobs emerge, which did not even exist ten years ago, we all need lifelong learning opportunities to continuously reskill and upskill to stay strong and competitive in the workplace. Your alma mater, RBS, will always be here for you. No matter where you are and what you do, 100 Rock is always your home."
Read about the commencement ceremony for Rutgers Business School students in Newark.
The speaker for New Brunswick 2019 Convocation Ceremony was Jens Molbak.  A successful entrepreneur and executive leader, Molbak founded Coinstar Inc. in 1990 with the goal of creating a company that could simultaneously benefit the private, social, and public sectors.  Looking at a jar of coins on his dorm room desk led Molbak to create an easy way for people to turn their loose change into spending money without having to sort, roll, and take it to the bank.  
Besides his company profiting, people can choose a no-fee egift card or charitable donation to the American Red Cross, Children's Miracle Network Hospitals, Feeding America, the Leukemia & Lymphoma Society, the Humane Society, the United Nations Children's Fund (UNICEF), United Way, and World Wildlife Fund.
In 2001, Coinstar returned more coins to circulation than the U.S. Mint produced, thereby reducing the production cost of new coins.
Molbak calls this approach tri-sector innovation.  "Each sector: the private, social, and public, have strengths but they are not set up to collaborate.  If we realign and repurpose the resources available, we can find solutions to the benefit of all three sectors that none of them can achieve alone," he said.
He encouraged the graduates to use tri-sector innovation to solve problems.  "Tri-sector innovation can address new, old, large, and small problems, and the world needs solutions faster than they are happening" he said.
Press: For all media inquiries see our Media Kit