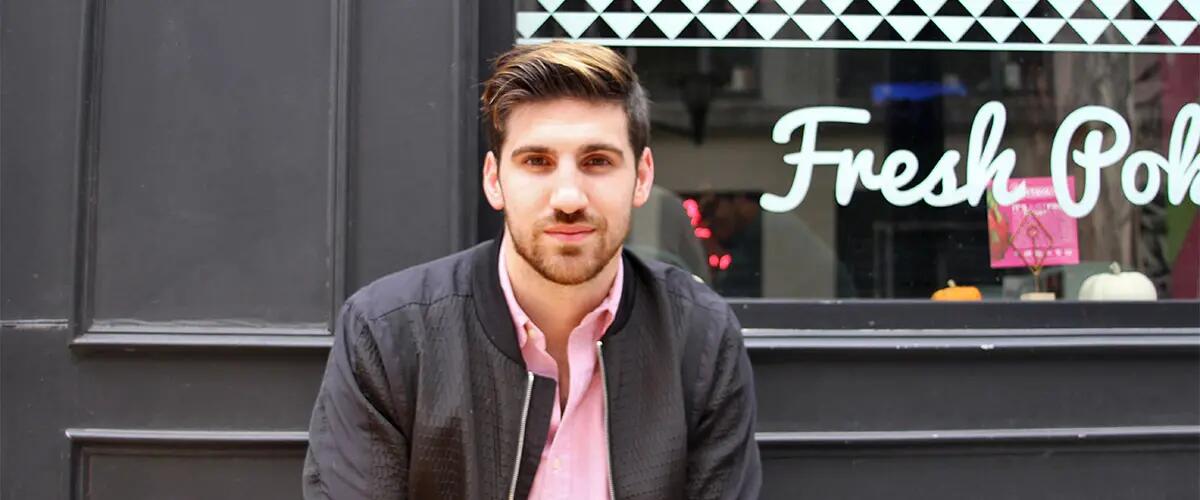 Inspired by Hawaii vacation, alumnus serves up something new in Newark
Restaurant is his first taste of business ownership
Luis Valls-Amabile has brought a little bit of Hawaii to downtown Newark.
With his girlfriend and business partner, Daniela Hoyos, Valls-Amabile opened Ono Grinds on Raymond Boulevard, and the city's downtown lunch crowd got a tantalizing introduction to poké.  
Poké is generally considered a fish salad, but Valls-Amabile describes the dish more like a sushi roll that has been turned inside out and plopped into a bowl. Ono Grinds offers unique Poké dishes – Hoyos created the recipes – as well as popular acai fruit bowls, pitaya bowls and meal-sized smoothies.
The restaurant concept was inspired after Hoyos surprised Valls-Amabile with a trip to Hawaii and the two spent days eating Poké on Kona. "Hawaii was a whole different world for me," the 2015 graduate of Rutgers Business School-Newark said. "It is such a laid back culture. Everyone was so calm and friendly."
"We had never heard of Poké, but it was healthy and it gave us energy," he said. "We ended up eating it every day, sometimes twice a day."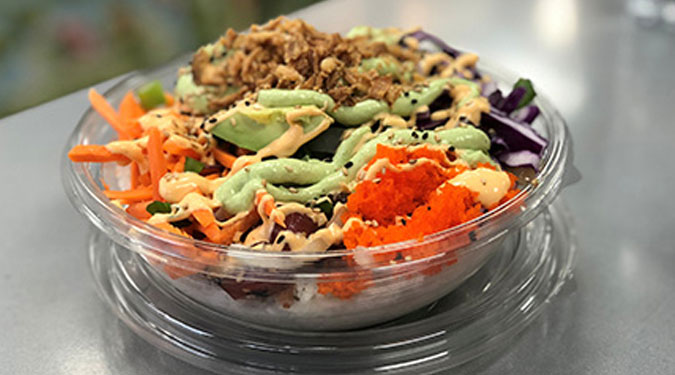 As an undergraduate at Rutgers, Valls-Amabile decided to study finance based on his passion for business. He developed a knack for making money and a head for business at a young age with snow- shoveling, dog-walking and leaf-raking ventures. "I wasn't a math guy," he said, "but I always loved business so finance made sense."
He worked a semester at Goldman Sachs as part of a feeder program and then he did an unpaid internship at Brooks, Houghton & Company. After completing an intense training program run by the non-profit Sponsors for Educational Opportunities, he landed an internship with RBC Capital Markets. When he completed it, the company offered him a full-time job for after graduation.
But even as his career started in investment banking, Valls-Amabile said he knew he wanted to do more than work on Wall Street. His goal was to spend two years in investment banking and then try his hand at a business of his own. "I set high standards, I worked really hard (at RBC) and I saved money," he said. "I learned a lot, but I just felt there was more out there for me.
"I think a lot of my drive was influenced by the mentality at Rutgers Business School," Valls-Amabile said. "Everyone had a goal and everyone was working really hard toward it."

 
A restaurant was something he and Hoyo thought they could do together. He had the background in finance and she had experience in the food industry. Their memory of eating Poké in Hawaii provided the inspiration to do something a little different.
Valls-Amabile and Hoyos tried to capture and recreate the "vibe" of their Hawaiian vacation with a bright décor of island colors and fresh food. "I wanted to create a place where people could come and have a good meal, a place that would be a meeting ground."
Still, restaurants aren't easy businesses, but Valls-Amabile doesn't seem daunted. "The thing about restaurants is people aren't focused on the business side. They're focused on food," he said. "With the right concept, we thought it could be done effectively."
So, not far from the Rutgers University-Newark campus on Washington Street and the Halsey Street bustle, the pair opened Ono Grinds. The choice was an easy one. Valls-Amabile was familiar with Newark before he attended Rutgers Business School. His mother taught third grade in the city for 30 years, and he competed in his first boxing championship in the Iron Bound.
"When it came time to decide on a location, we considered Jersey City and Hoboken, but Newark has a lot going for it," he said. "We wanted to go into a city that was on its way up so we could be part of its growth."
The pair deliberately positioned itself off Halsey Street, which is already crowded with lunch spots. After some research, they also decided to use fresh fish and to incorporate a build-your-own element to the menu to supplement Hoyos recipes.
Valls-Amabile does near-constant data crunching to improve both ordering and the four-month-old restaurant's margins. There are challenges. Part of the decision to differentiate Ono Grinds by using fish that is delivered fresh daily is one of them. "When you're dealing with fresh fish, you need to be almost perfect in your ordering," he said.
While he likes the restaurant business, Valls-Amabile said he's also mulling ideas for other future ventures.
"I think a lot of my drive was influenced by the mentality at Rutgers Business School," he said. "Everyone had a goal and everyone was working really hard toward it."
- Susan Todd
Press: For all media inquiries see our Media Kit