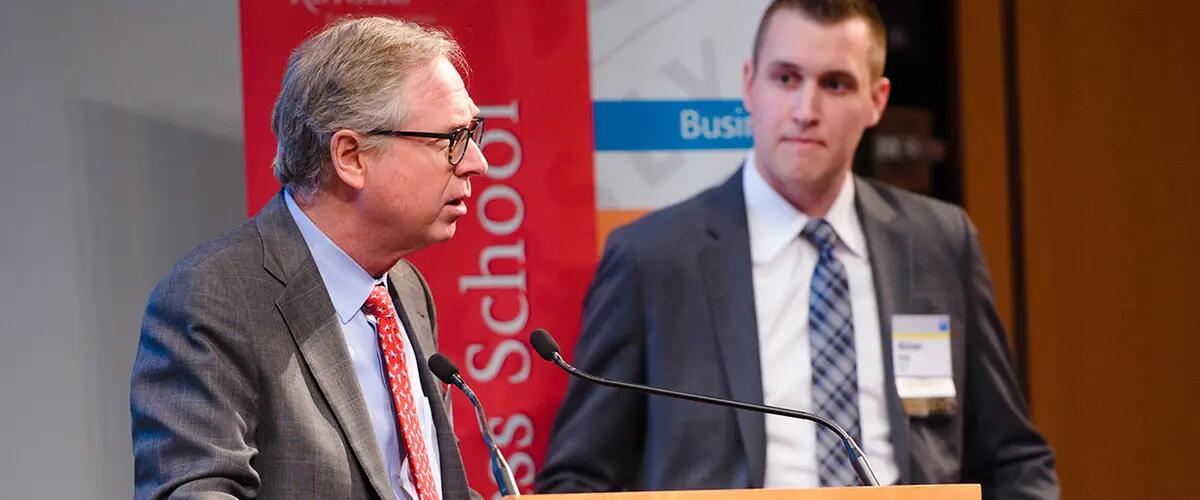 Investment in alumni connections pays off for student club
Senior Michael Dirla knows how valuable networking with alumni can be.
When he graduates from Rutgers Business School in May, he will go to work in investment banking at Credit Suisse. He credits his good fortune to Little Investment Bankers of Rutgers, which connected him with alumni working on Wall Street.
"If it weren't for LIBOR, I would never be where I am today," Dirla said at a summit on April 24 hosted by Little Investment Bankers of Rutgers and the Financial Alumni Network, a network of nearly 2,000 Rutgers graduates who work in the financial industry.
This year, a crowd of 350 people, most of them Rutgers students, alumni and faculty, gathered at the Goldman Sachs headquarters in Lower Manhattan to hear a panel of experts discuss the global factors affecting economic policies before attending a networking reception.
Gary Chropuvka, a partner and portfolio manager at Goldman Sachs and a Rutgers alumnus, moderated the discussion among four experts, Dennis Bone, former president, Verizon, New Jersey; Fred Hoffman, partner, Napier Park Global Capital; Ellen Gaske, lead economist for the G10 Economies, global macroeconomic research team, Prudential Fixed Income; and Farrokh Langdana, director of the Rutgers Executive MBA program.
The discussion touched on trade, tax reform and the impact of disruptive innovation on the economy. Bone predicted that robots would begin displacing people in jobs, but industry would "need a lot of people to take care of the robots."
The panelists were also asked to offer students in the audience some hiring advice, especially in the face of ongoing transformation. "Take more math," Hoffman advised. Gaske encouraged students to continue to learn.   
As co-president of LIBOR, Dirla organized the summit with Rutgers Business School senior Lauren Kelly, who also served as co-president of the club, and Ravi Shah, LIBOR's director of alumni relations.
Jennifer Rodrigues, who works as director of financial analysis at Prudential Insurance Group and chairs the Financial Alumni Network, said the summit is "incredibly valuable" in helping to raise the bar by connecting students with alumni and connecting alumni within the industry.
Networking remains a big part of the draw for students as well as alumni.
Lalita Chelluri, who graduated from Rutgers Business School in 2012 and works in sales at Goldman Sachs, is now in a position to begin mentoring.
"It's important to meet the students who are coming into the industry. They're the next generation," she said. "There's value in being a mentor. There's a lot you can get from that relationship."
When Dirla was a freshman he met alumnus Joseph Gasparro, vice president of investment banking at Credit Suisse at the LIBOR summit. "There are a lot of students who have gotten jobs through people they've met networking at this event," Dirla said.
Many of the students in the LIBOR club also went through Rutgers Road to Wall Street program, an intense year-long program designed to pepare students to land a summer internship on Wall Street. "Road to Wall Street became one of the most meaningful experiences of my college career," said Kelly. The program puts students in a course on "Financial Modeling and Market Analytics" and pairs them with alumni mentors who provide one-on-one counselling and career advice. Learn more about Rutgers Road to Wall Street.
 -Susan Todd
Press: For all media inquiries see our Media Kit