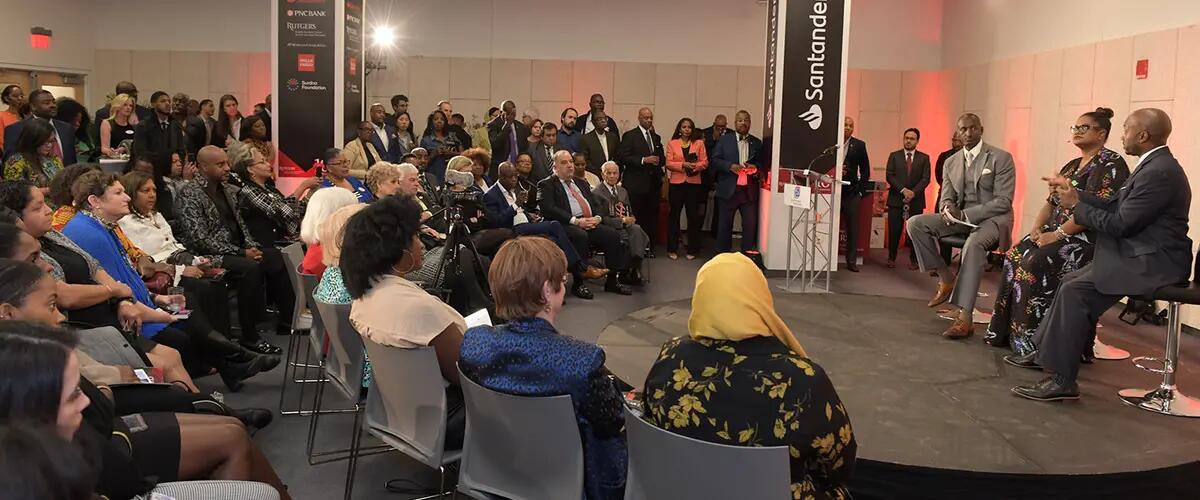 Investment fund is center's new goal
After a decade of offering education and capacity building, The Center for Urban Entrepreneurship and Economic Development is planning to create a fund to invest in entrepreneurs with growth companies.
The Center for Urban Entrepreneurship and Economic Development celebrated the impact of its first decade during a unique, un-gala-like event at Express Newark.
More than 200 guests – alumni of CUEED's programs, representatives of partner organizations and philanthropic supporters – attended the celebration.
To mark the start of its second decade, Lyneir Richardson, CUEED's executive director, announced a $10,000 matching gift from BCT Consulting to create an investment fund for the center.
CUEED has until Nov. 10 to raise $10,000, which BCT Consulting will match dollar for dollar. Make a donation here.  
"It's one thing to continue to educate and capacity build," Richardson said, "but we're excited about the prospect of being able to help fund entrepreneurs."
The crowd at the UnGala included New Jersey Congressman Donald Payne Jr., who represents Newark and other parts of Essex, Hudson and Union counties; Ashwani Monga, provost and executive vice chancellor of Rutgers University-Newark, and Lei Lei, dean of Rutgers Business School, where CUEED got its start.
"We're very proud of CUEED's work," Lei said, describing the center as an "engine" of social impact.
The event's informal, festive atmosphere allowed that work to be showcased. Instead of a formal sit-down dinner, restaurant owners who have worked with CUEED's programs offered samples of their restaurant's cuisine.
The crowd mingled and networked. There were inspiring conversations and congratulatory remarks. Some of the center's newest entrepreneurs manned tables where they spoke to guests about their companies.
The results of CUEED's work were on display, but equally impressive were some of the numbers that were shared with the crowd:
Owners of 300 small businesses have received support through one of the center's programs, 65 percent of the businesses are owned by African-Americans or Latinos and 62 percent of them are run by women.
CUEED's efforts have helped to create 580 jobs and an annual, collective revenue of $138 million in the region. Nearly 40 percent of the businesses helped by CUEED are located in Newark, augmenting a redevelopment that is transforming the city.
Press: For all media inquiries see our Media Kit