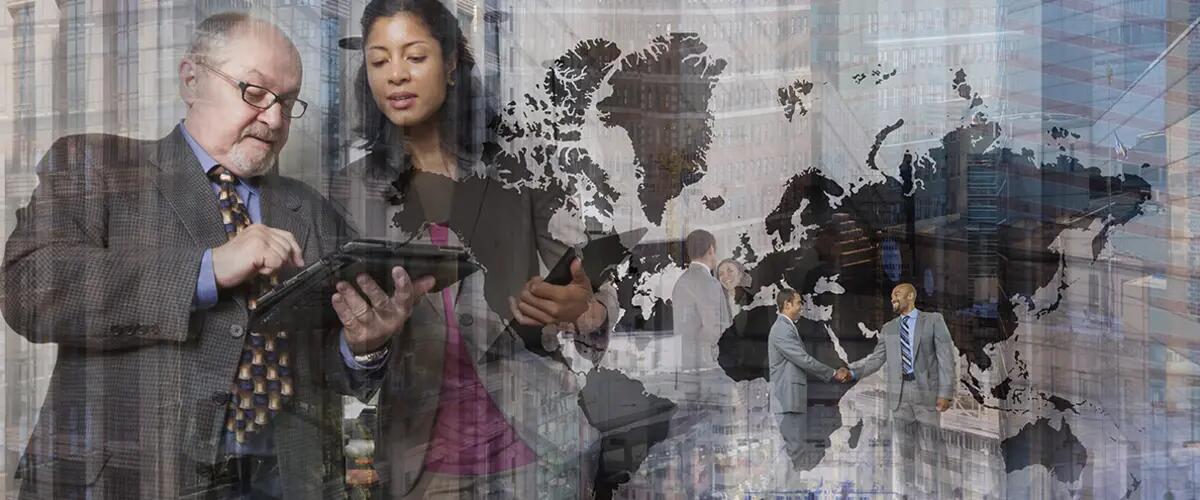 From London to New York – what it means to have an international accounting "passport"
When it comes to boosting your public sector accounting career prospects, joining a global network of like-minded professionals is an excellent place to start.
The Chartered Institute of Public Finance and Accountancy (CIPFA) has partnered with Rutgers Business School to give graduates of the Rutgers Masters in Governmental Accounting program the chance to become a CIPFA member and qualify as a Chartered Public Finance Accountant (CPFA). But what does this really mean and what difference can it make to your career?
To help explain, we spoke to Mohaeed Chaudhry, a CIPFA CPFA who is currently on a two-year assignment at the PwC office in New York, where he is working as a manager in its Risk Assurance Services team.
Chaudhry began his public sector career in the UK soon after the financial crisis of 2008. Jobs cuts at Motorola where he had been working in their Central Finance department meant he was free to take up a graduate position in a London council, the Borough of Brent. The council put Mo through the CIPFA professional qualification, supporting him as part of their graduate scheme. A year after he qualified, he moved into a role at PwC in London where he has worked in a variety of roles – from Financial Controls and IT Risk and Assurance to leading enterprise resource planning (ERP) implementations. 
From his New York office, he shared his thoughts on what the CPFA designation means to him.
Q: What led you to become a CPFA, with its focus on public finance?
A: "After leaving Motorola, I knew I wanted an accounting qualification that would give me the flexibility to move between the public and private worlds, even though I didn't know much about the public sector. Once I started my graduate scheme, it became clear how nuanced accounting is for the public sector and how the CIPFA course would support me in understanding that, while also highlighting the differences to the private sector world."
Q: How did you feel when you became a CPFA?
A: "A huge sense of accomplishment and relief. I studied accounting at university so it was a long path from starting my course in 2004 to finally achieving my CPFA designation in 2012. It felt like a big chapter of my academic life had finally closed. But other chapters have definitely been opened."
Q: What impact has the CPFA designation had on your career?
A: "One of the first things you're asked when you have a career in finance is 'do you have a professional qualification?' (This is whether it's the CPA in the US, CPFA in the UK or any other equivalent). Being able to answer that yes, you do, shows you have achieved a certain level of professional development. It's almost a prerequisite to be able to enter the job market at a particular level. It also brings a sense of credibility when I deal with public sector clients." 
Q: How has being a member of CIPFA benefited your career?
A: "It's given me the grounding in core accounting principles to apply to the many different aspects of my career. It's not just the academic learning either – studying for the qualification really honed softer skills like executive communications, presentation skills and team working which I have taken into my career."
Q: What would you say to the Rutgers graduates who are thinking about taking up this opportunity?
A: Go for it! CIPFA is a huge network and represents a real opportunity to learn and to achieve a globally recognized qualification. And to make some lifelong friends – friendships from my class are still going strong, seven years on from finishing my qualification. 
CIPFA is the only professional accounting body in the world exclusively dedicated to government finance. Our International Public Financial Management (IPFM) qualification and the Chartered Public Finance Accountant (CPFA) designation are associated around the world with technical excellence and public finance leadership.
In giving graduates of the Rutgers Masters of Governmental Accounting program the opportunity to gain these credentials, Rutgers and CIPFA are creating a public finance vanguard for tomorrow – individuals proficient in both US and international accounting standards who are primed to meet the challenges of the global economy head on.
As a CIPFA member, you will join an international network of 14,000 working throughout the public service, in national audit agencies, major accountancy firms, and in other bodies where public money needs to be effectively and efficiently managed. For more information about the range of benefits available to CIPFA members, visit the website: www.cipfa.org/memberbenefits
For more information about the opportunity open to graduates of the Masters program and to submit an expression of Interest, check out the website: http://www.business.rutgers.edu/governmental-accounting/cpfa-global-designation
Press: For all media inquiries see our Media Kit