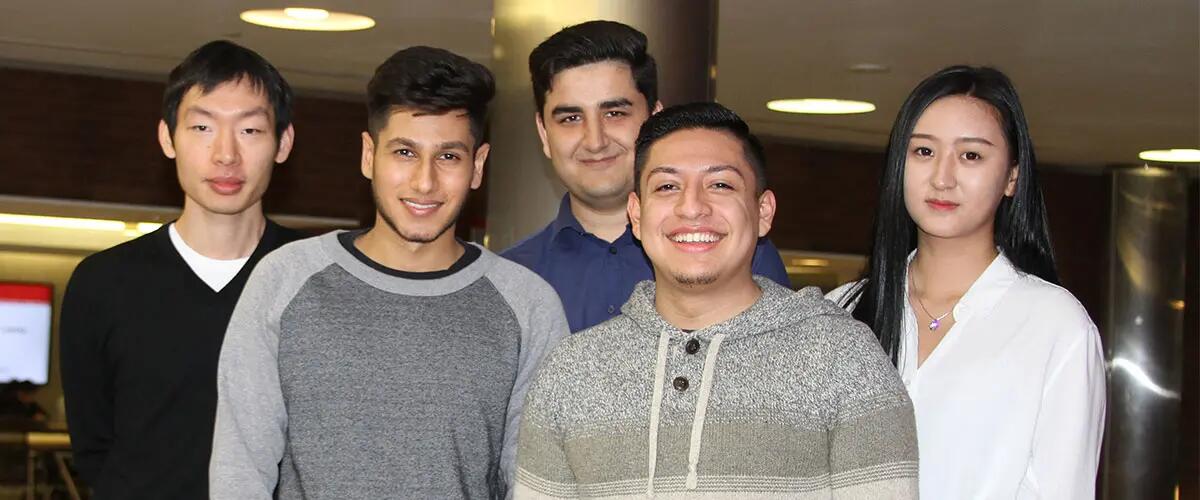 Luck of the Draw: Business strategy students team up and become stars
Undergraduates put their skills to the test in a simulation that required them to grow a company and try to outperform other student companies from around the world.


With a mix of skill and serendipity, a group of undergraduate students known as the Funky Company Team became stars in a worldwide business strategy learning game.
After six consecutive weeks, the team – made up of Rutgers Business School seniors Pablo Idrovo, Saifei Jiang, Mohsin Khurshid, Jia Lu and Ravi Patel –  is tied for best overall score in a simulation that required them to operate a global company. The performance puts them among the Top 100 teams participating in a simulation created by McGraw Hill and involving more than 5,600 student teams worldwide.
Funky Company, also known as Team F, had an inauspicious start. The students didn't know one another. They just happened to be sitting close to one another when Professor Joseph Markert directed the class to form teams.
"We were the last ones to group up," Idrovo said his team mates smiled and shook their heads, acknowledging the fortuitous way they came together.
During the simulation, the students were required to apply their business knowledge to grow an athletic shoe company, gradually deciding when to move into four different geographic markets. The teams were measured on overall performance, earnings per share and return on investment.
"Factors such as wage rates, tariffs, shipping costs and marketing all come into play for the students in the simulation," Markert said. "The course and the simulation are intended to bring all the business theories and concepts learned up to this point into focus for the students."
It was a daunting assignment at first, according to the members of Team F.
For one thing, they didn't know one another – at all. "It seemed difficult. We were all different majors," Khurshid said. "I thought it would be hard to persuade them to do things."
They quickly started feeling more comfortable working together. They were one of the most diverse teams – hailing from China, Ecuador and Pakistan – which they considered a strength as they competed in different world markets.
Jiang, an accounting major, developed a special knack for examining financial statements and developing insights that proved critical in the team's strategy. "We all worked together, but we didn't always agree," Idrovo said. "He (Jiang) would use the numbers to back up his points."
 
 "It was a good experience," Khurshid said. "Before we go into the work world, it's important that we've learned how to work together as a team."
When the team contemplated an initial public offering three weeks into the game, Jiang advised against it. He could see from the financial statements that other companies hadn't benefited from the move. If they waited, he said, the company's stock would be worth more.
The others agreed to wait. And the decision helped to propel the team into the lead.
"This had a lot of real world aspects to it," Idrovo said. "We learned a lot."
Markert has used the simulation for nearly 10 years in his undergraduate business policy and strategy class. This is the first time a group of his students has remained among the Top 100 for six weeks straight, he said.
The students competed against each other in Markert's "Business Policy and Strategy" class, and behind the scenes, simulation administrators compared their results to every other school and team. Each week, the administrators announced the teams with the best results.
In the simulation, Rutgers Business School competed against such schools as Penn State, the University of Texas-Dallas, Denmark's Copenhagen Business School and Canada's Alberta Institute of Technology, according to Markert.
"The Funky Company team achieved extraordinary success with a strategy and a set of operating decisions which generated above average results in return on investment, stock price, market image and credit rating," he said.
 "It was a good experience," Khurshid said. "Before we go into the work world, it's important that we've learned how to work together as a team."
With the semester coming to a close, Team F is looking forward to the possibility of competing against the other top teams during a week-long round in late December. "If we get the invitation," Idrovo said, "we'll definitely do it."
-Susan Todd
Press: For all media inquiries see our Media Kit