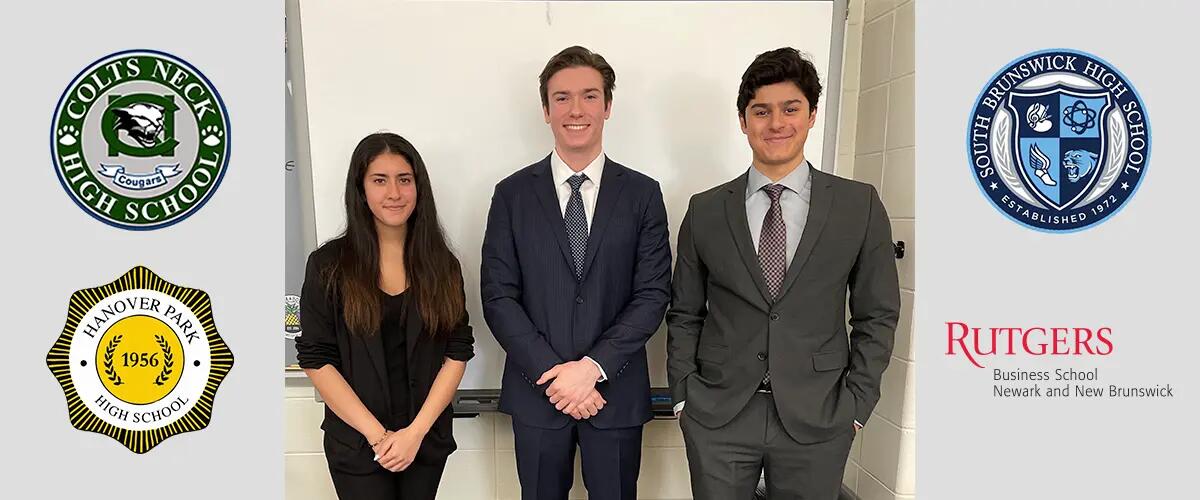 Making an impact: Students become teachers of financial literacy
Schiffer Family Financial Literacy Program inspires Rutgers Business School students to instruct high schoolers about importance of creating budgets, saving and managing credit.
Reece Horneck wanted to incite discussions on a range of finance topics with Rutgers Business School students from any major for the mutual benefit of all involved. Initially, he envisioned a student club, but when that was denied for being too similar to another club, undaunted, he went back to the drawing board.
Horneck spoke with his mentor Arnold Lau, a computer science lecturer with whom he had taken the Computer Application for Business prerequisite course.
"Professor Lau suggested that I could make a greater impact through teaching financial literacy in local high schools," Horneck said. "From both an educational and professional perspective, Professor Lau has been an enormous influence on my career trajectory."
Teaching financial literacy to high school students strongly resonated with Horneck. RBS finance students Marc Takla and Anisha Chakraborty, whom Horneck initially recruited as vice presidents for his club, were very excited to join him in this new direction.
At the time, Horneck was enrolled in the Business Forum. Assistant Professor of Professional Practice Ron Richter gave a presentation to the class on financial literacy and the Schiffer Family Financial Literacy Program: a seminar stressing the importance of saving early and taking control of one's financial future. "I knew I had to speak with him about teaching financial literacy in high schools," Horneck said.
Rutgers Business School MBA Alumnus Edwin Schiffer initiated the Schiffer Family Financial Literacy Program in November 2019. His goal remains to get his message into every RBS Business Forum and eventually to the broader community through outreach to high schools.
COVID-19 delayed the program from reaching high schools. Colts Neck High School wrote, "This spring semester is the first time the organization has taught at local high schools, including Colts Neck, South Brunswick, and Hanover Park."
Professor Richter advised the trio and allowed them freedom in how to present finance topics in the high schools. Horneck said, "He has been an excellent mentor for all of us." Horneck, Takla, and Chakraborty planned their presentations around what the teachers determined would be most appropriate to complement the financial literacy programs the schools had in place.
"I am confident that the three of us gained as much as the high school students through this program," said Horneck." Although the budgeting and planning, introduction to investment analysis, credit theory and application material we covered may seem advanced, the students could familiarize themselves with concepts that can have an enormous effect on their futures. The students we taught demonstrated excellent comprehension and eagerness to learn; hands were being raised constantly, and their questions were thoughtful and engaging.
"Personally, my public speaking greatly improved from shaky and nervous to confident and prepared to speak in front of thousands. This program also taught me invaluable skills regarding leadership and executing a shared vision.
"It was an honor to be trusted to bring the first high school cohort of the Schiffer Family Financial Literacy Program to fruition. The number of participating high schools will certainly increase."
Press: For all media inquiries see our Media Kit