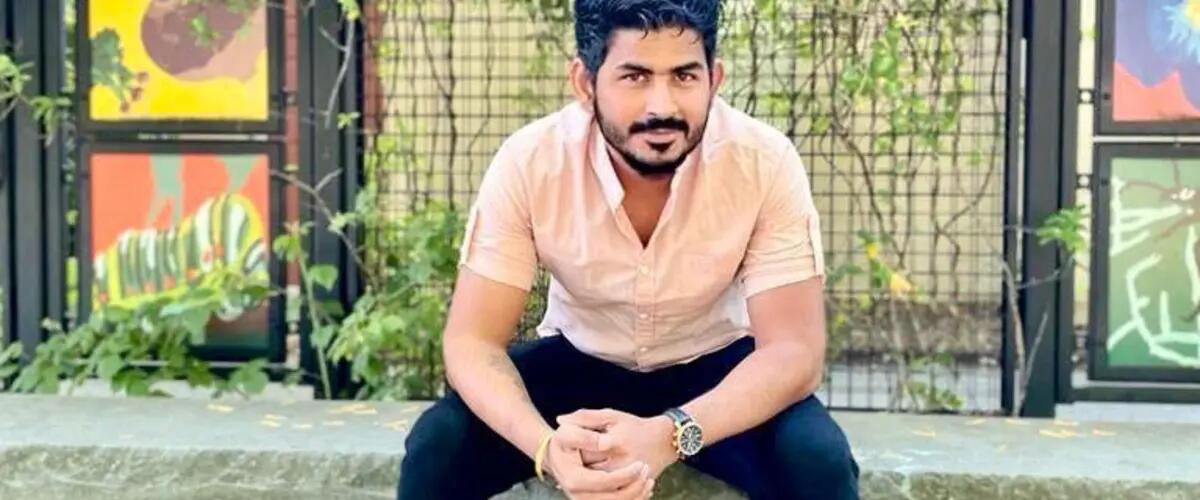 Master of Financial Analysis helps student launch career in finance
Chirag Rana came to America hoping to continue working in finance. A master's degree from Rutgers Business School turned out to be key to achieving his goal.
Rutgers Business School graduate student Chirag Rana didn't follow a path to achieve his ambition of working in finance. He completed a journey.
It involved immigrating to the United States from India, working as a 7-11 convenience store cashier where the ability to practice English with customers was as valuable as his paycheck, and it included working in quality assurance at a pharmaceutical company for three years so he could save enough to enroll in the Rutgers Master of Financial Analysis Program.
In May, he will begin working as a valuation services associate at Alvarez & Marsal in New York City. "I'm feeling very proud of myself right now," Rana said. "I feel like it's been a long journey for me."
Finance professor Ben Sopranzetti described Rana as "remarkable."
"What stands out so much about him is his integrity and grit," Sopranzetti said. "He works in earnest to achieve his goals."
In India, Rana lived in Tarapur, a village in India's Maharashtra state. To attend classes at the Atharva Institute of Management Studies, part of Mumbai University, he traveled more than two hours daily from country to city, by bus, train and then, a second bus.
He worked briefly as an analyst with a private firm before his father decided the family should immigrate to the U.S., where Rana's aunt had lived since 1993. "The major reason was for my career. I could do better here," Rana said.
When he looks back on the past five years, Rana, 27, said each step was necessary for him to achieve his goal. "If I hadn't done that, I wouldn't be where I am. I will always push myself. That's the reason for my success."


In 2017, Rana and his parents spent two months living with his aunt until, collectively, they could afford to pay for their own apartment in Passaic. Rana said he applied for hundreds of jobs in the finance industry, but with little experience and none of it in the U.S., he didn't get a single interview. Instead, he worked a series of part-time cashier jobs, including at a 7-11 and a donut shop. Eventually, he applied to a pharmaceutical company in Fairfield and landed a better paying job.
"I made my plan then," Rana said. The plan was to save money so he could earn a second master's degree from Rutgers Business School. He said his fiancée discovered information about the Master of Financial Analysis Program. "I wanted to sit for a CFA. The program prepared students for the CFA. It was a perfect match for me," he said.
During his studies, Rana worked closely with program administrators, crafting a regular newsletter, managing social media accounts, and compiling Excel sheets to help with recruiting efforts in India and Pakistan. He also worked as a research assistant for Professor Sopranzetti who Rana described as "like a father to me."
Another professor, Parul Jain, worked with Rana to refine his resume during a three-hour Zoom call. "After that, I started to get interviews," he said. "I will always give her that credit." Once he got an interview, he drew on the program's workshops to talk about such topics as ethics, financial modeling and advanced Excel skills. 
Getting a job wasn't Rana's only accomplishment. He received the annual director's award from Professor Dan Weaver who oversees the Master of Financial Analysis Program. He is also being awarded a scholarship to subsidize the cost of the CFA exam.
When he looks back on the past five years, Rana, 27, credits his family for their help. "I am so grateful to my parents," he said. "They have always supported me in all situations."
And he is certain that each step of the journey was necessary for him to achieve his goal. "If I hadn't done that, I wouldn't be where I am," he said. "I will always push myself. That's the reason for my success."
Press: For all media inquiries see our Media Kit