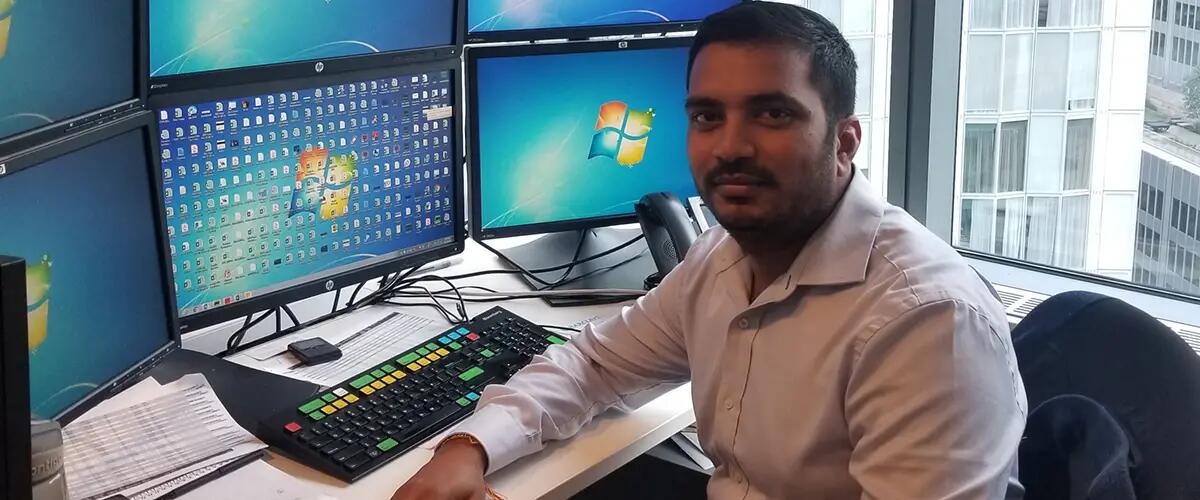 Master of Quantitative Finance alumnus appreciates networking from both sides
Nilesh Patel, Master of Quantitative Finance (MQF)
Employer: Ramius Advisors LLC
Position: Managing Director at Ramius and a Trader/Risk Manager for Ramius Advisors LLC
Nilesh Patel graduated from Rutgers Business School in 2011 with a Master of Quantitative Finance.  Since graduating, Patel has become a managing director at Ramius and a Trader/Risk Manager for Ramius Advisors LLC.  Patel is responsible for monitoring risk for the Fund, managing the Fund's risk systems and processes, and coordinating the Fund's infrastructure needs across the Firm. Previously, Patel was a Quant Intern with the U.S. Securities and Exchange Commission. Mr. Patel received a B.S. in Chemical Engineering from Rutgers School of Engineering and he is FINRA Series 7 and 63 registered, as well as a certified Financial Risk Manager (FRM®).
How did the MQF program support your career goals?
The critical thinking I developed through the MQF program has had one of the biggest impacts on my career.  Evaluating trades and risks begins with thinking through the situations, and every problem is different.  While critical thinking was not a specific course, it was part of every problem solving process I learned in the MQF program.  In my career, as in the program, once I think through a problem and critically analyze the unique set of circumstances, that leads me to the proper tool for the job: math, statistics, coding, stochastic processes, etc.
Did the program advance your hard and soft skills?
The program goals incorporate preparing students both academically and professionally.  Along with the econometrics, risk modeling, probability courses etc., students are required to take a career management course that helps graduates navigate and understand the dynamics of the professional world—including EQ in the workplace. 
Is networking with alumni and other professionals helpful?
Hearing from professionals in the industries we would be joining, and especially from MQF alumni, provided insights unavailable anywhere else.  I believe that a strong alumni network is very important and I would like to see the MQF alumni network grow further.  Professor Ronnee Ades started an alumni ambassador program that I joined. As the program builds, MQF alumni should return to RBS to speak with current students about careers and experiences.
Since graduating, do you remain connected to the program?
Professor Ades invited me to attend a networking event and it was there that I realized I could make a difference.  As a student, I valued the guest speakers and networking events.  Now as an alumnus returning to speak with current students, I appreciate the networking relationship from another perspective.  This experience led me to become the initial MQF alumnus to contribute to the MQF scholarship fund.
Alumni can get involved in a number of ways. For instance, speaking with current students at networking events, letting a student shadow you at work for a day, or contributing to scholarships are all great ways to become more involved with the program.
The Rutgers Business School Master of Quantitative Finance program prepared me for a meaningful career that I truly enjoy.  I will continue to do what I can to support the program and students.
Press: For all media inquiries see our Media Kit