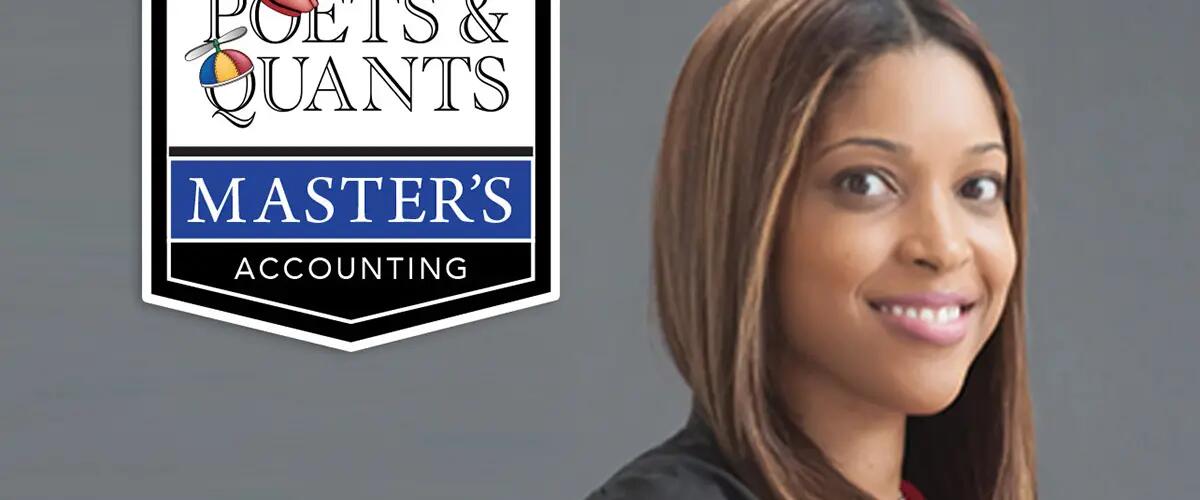 Masters of Financial Accounting alumna profiled by Poets & Quants
Alumna Jasmina Woodson completed the Master of Financial Accounting in 2018.
This profile was originally published by Poets & Quants. It was written by Riley Webster.
Student Name: Jasmina Woodson
Graduate Business School: Rutgers Business School, Newark 
Describe Yourself In 15 Words: I am nurturing, passionate, dependable, ambitious, practical, intelligent, thoughtful, and my newest title: doting mother. 
Master's Graduation Class: 2018.
Undergraduate School and Major: Delaware State University, Accounting.
Current Employer and Job Title: WithumSmith+Brown, forensic valuation services manager
Describe your biggest accomplishment in your career so far: I used to say it was becoming a CPA, but now I think even more important than that, my biggest accomplishment so far is obtaining the career I always wanted as a forensic accountant. There were some roadblocks and wrong turns along the way, but I made it here and it's only going to lead to greater accomplishments in the future. 
Describe your biggest accomplishment as a graduate student: Going back to finish my final course after seven years. During those seven years a lot occurred in my life, both personally and professionally. At that point in my career, I didn't necessarily "need" my master's degree as I had already obtained the 150 credit hours and I was a licensed CPA. However, it was important to me that I finish what I started so many years prior. I'm proud to be a graduate of Rutgers Business School.  
What was the key factor that led you to choose this business school and why was it so important to you? Attending this program allowed me to 1) meet the 150-credit hour requirement to obtain my CPA license from a prominent institution, 2) obtain my master's degree while living at home and saving the cost of room and board, and 3) the hybrid structure of the program allowed me to take classes and study for the CPA exam simultaneously. 
What led you to choose a Master's in Accounting over an MBA? I always intended to go into public accounting so I thought a master's in accounting would be more beneficial than an MBA. 
What has been your favorite course and how has it helped you in your career? The advanced accounting research project was my favorite course. The structure of the course enhanced my research skills, presentation skills, and ability to work on large teams. 
What role did your school play in helping you to land your first job out of the program? I already had a full time offer with PwC when I started the program. 
How did your classmates enhance the value of your business school experience? I really enjoyed the structure of the summer classes. Essentially you took all of the summer courses with the same individuals, so it was easier to connect and lean on each other for assistance when needed. 
Who was your favorite faculty member and how did this person enrich your learning? Unfortunately, I do not recall her name, but she (Ann Medinets) taught Issues in Corporate Governance during the summer. Her teaching style was very effective and to this day I write my memos using the methods she taught. 
What is your best advice to an applicant hoping to get into your school's graduate master's program? Take full advantage of the resources provided, the faculty and staff, the career development, and the flexibility of the program. I took and passed one part of the CPA exam while taking the online courses of the program. Looking back, I wish I would have sat for more parts during this time. 
What was your best memory from your master's program? During the final presentation for the accounting research project, the projector stopped working and we were all terrified that we would forget information without having the slides. However, we were all very prepared. The instructors were astounded that we were able to recall certain facts and figures. It was a good ending to the summer courses.  
Press: For all media inquiries see our Media Kit