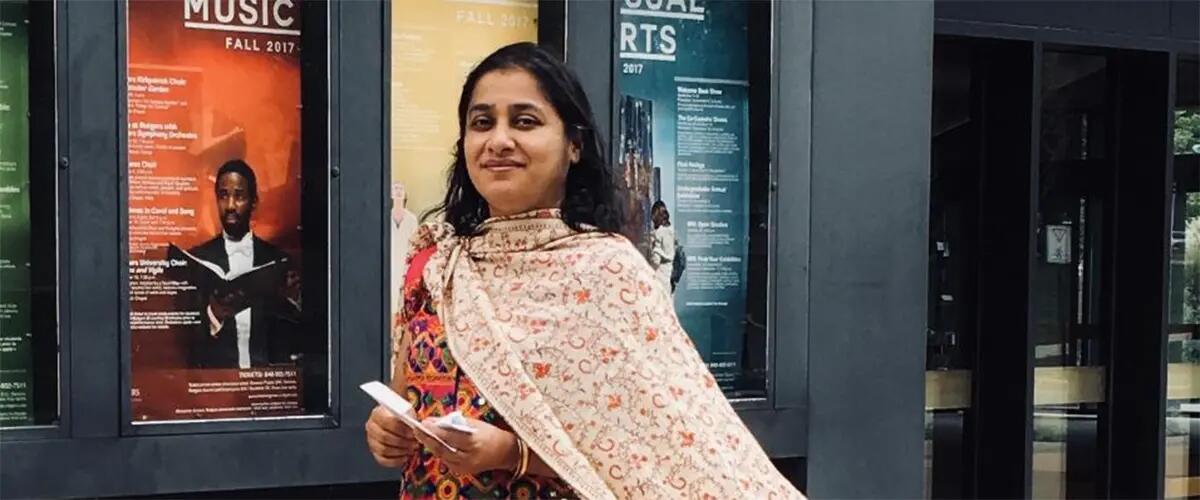 Master in Digital Marketing professor prepares students for a world moving at the speed of thought
Madhavi Chakrabarty, assistant professor of professional practice, Marketing Department.
Expertise:
Chakrabarty teaches Customer Journey Analytics as a part of the Master of Science in Digital Marketing and the MBA programs at Rutgers Business School. Customer Journey Analytics is the process of tracking and analyzing how customers use combinations of channels to interact with an organization. The course's focus is on digital analytics through practical applications, with an end goal of deriving actionable insights that will influence the organization's acquisition, experience, and retention strategies. The course provides a broad overview of critical digital analytics strategies, concepts, issues, challenges, and tools.
Chakrabarty is an expert on HCI (human-computer interaction), Digital Analytics, and AI (artificial intelligence). She has a cognitive science background, focusing on how visualization complexity affects precision, accuracy, and decision-making speed. She holds patents in the areas of knowledge organization and visualization in analytics. She is an experienced educator and learning technologist with a demonstrated history of connecting academic learning with corporate acumen.  
Influence: 
"I like to mentor students of all ages on creativity and innovation. I volunteer with students ranging from elementary to high school, working on problem-solving. I also offer pro-bono consulting to small businesses looking for advice." 
Why she teaches: 
"First and foremost, it is my passion. I have been a teacher all my life. I want to prepare students for the world that is moving at the speed of thought. I want to enable creative thinking that will help students excel in their personal and professional lives.
"Second, I teach to bring out the best in students, to cultivate a passion rather than expertise. Marketing is an ever-evolving field, becoming more quantitative and data-centric. Students who bring a passion for lifelong learning to their careers will enjoy greater job satisfaction and success.
"As a part of my coursework, I work with students to help them become better prepared and more confident as they look for the next stage in their careers. As a result, year over year, the content is more aligned with business needs. Every year, I have a theme for courses that I teach as a challenge to myself. This year it is inclusion and diversity. The first module in all my classes has a take on why inclusion and diversity matter in that specific topic."
Favorite classes to teach: 
"I love teaching New Product Planning, an undergraduate elective. The course lets students develop a passion for good design, evolving customer base, and the intent to develop something disruptive. A few of my students have spent the semester working on a product that eventually took off as a successful venture. There were other interesting ideas too that students have worked on – (both the "personalized mirror" and "multi-function beds" were envisioned and prototyped by my students a couple of years ago.)
"Dan Formosa said, 'What we really need to do, to design, is look at the extremes. . . . [T]he middle will take care of itself.'"
"The meaning of the quote becomes evident when you look at curb cuts on sidewalks. They were designed so that people in wheelchairs and other moving aids could easily access sidewalks and crosswalks and enable mobility among disabled people. However, bicyclists, people pushing strollers, shopping carts, and roller suitcases use it more often. What better way can you propose inclusive design?
Outside the classroom: 
"Change and creativity are the two words that describe me best. When I am not working on creating course material or teaching in class, I will usually find my way to other creative things. I am a jack of all trades. You can find me making earrings, up-cycling clothing designs, or creating a dollhouse out of a wooden shelf, and in a few years disassembling the dollhouse to create a multi-use desk. Keeping my hands busy gets me to think better and bring more creativity to everything I do. Of late, I am exploring the world of self-publishing. I recently helped my dad publish a memoir, and I just wrapped up publishing the second book of poetry for my daughter! You can check out the two books, Poetic Pondering of a Child and The Queen of Almost, at the links below.  (https://www.amazon.com/dp/1707278792/ref=rdr_ext_tmb https://www.amazon.com/dp/B08RC8RTVG/ref=rdr_ext_tmb )
Press: For all media inquiries see our Media Kit