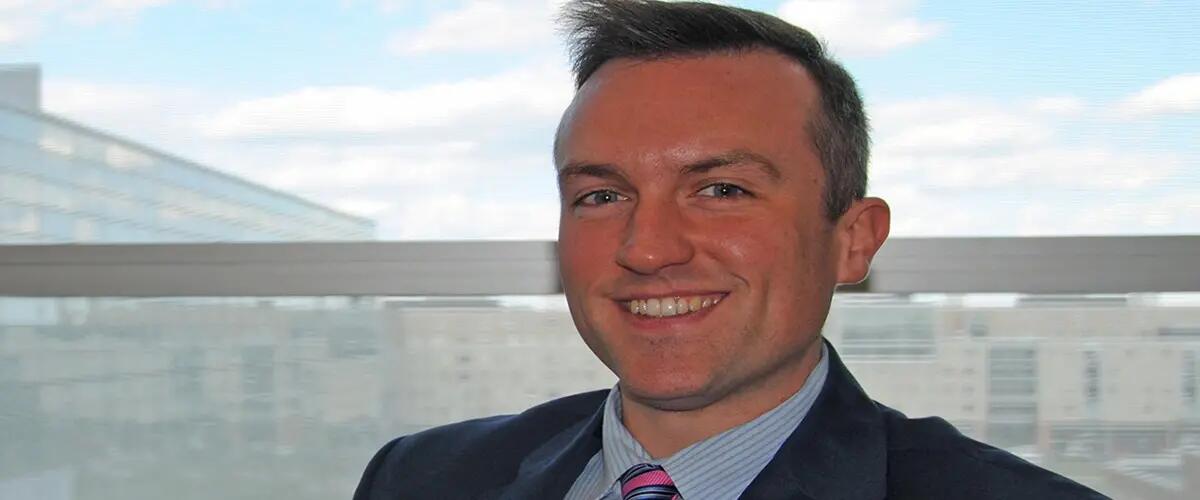 New course teaches essential skill to students aiming for jobs on Wall Street
Ken Freeman understands how Wall Street works. From its powerful allure and its intensity, to the skills and connections it requires of young people with ambitions of working there.
At Rutgers Business School, he demonstrated his drive, graduating with a 4.0 grade point average as a finance major. For inspiration, he kept a collection of famous quotes taped to the ceiling over his bed so they were the last words he saw every night. When he graduated, he wasn't disappointed: He went to work at Deutsche Bank as an investment banking analyst.
"I just wanted to get out there and get a job and make money," said Freeman, who graduated in 2003 and now draws on his Wall Street experience to prepare Rutgers students for jobs in the world's largest investment firms.
Freeman spent nearly three years working as an associate at Value Architects Asset Management after Deutsche Bank. He decided to leave Wall Street in 2011 after the 2008 financial crisis "dried up business" and began exploring different options, including life as a consultant and an entrepreneur. He became a real estate broker, acquired a laundromat and contemplated opening a gym.
Freeman has a philosophy that he lives by: Take every opportunity that's offered to you. So when his former finance professor Ben Sopranzetti called and asked if he could teach financial modeling, his reply was immediate: Of course, he could.
His first job at Rutgers Business School was teaching financial modeling to MBA students. He also teaches corporate finance to undergraduate business students. And last year, he took on the responsibility of teaching a mandatory financial modeling course for students in three-year-old Road to Wall Street Program.
With Road to Wall Street, the idea was to supplement the mentoring, the mock interviews and career guidance the program offers with practical training that would equip students with skills as well as polish. "They're learning the exact same skill set that's being taught to analysts," Freeman said.
It's an intense course mixing elements from Freeman's MBA course with his own knowledge of how students would apply the knowledge on the job inside investment banks. The 14-week class replaces a boot camp-styled program. After the course's inaugural year, Freeman, who graduated from Rutgers Business School in 2003, was recognized for his service to students and his engagement with the RBS community.
"I absolutely love teaching. I enjoy teaching what I've learned and sharing it," he said. "I like taking something complex and simplifying it"
The immediate objective of the Road to Wall Street program is to prepare top-performing undergraduate finance students for careers in the financial industry, but long term, the goal is to produce a closed-knit group of alumni who will excel, advance and provide door-opening support to new generations of students with Wall Street ambitions.
"The Road to Wall Street course provided me with invaluable technical and qualitative skills that I could not have received in another other class," said Rutgers Business School finance student Brittany Burns. "Learning from a professor who knows the in's and out's of Wall Street is the foundation of the class's success."
Freeman embodies the quintessential Rutgers Business School student with his work ethic and tenacity. "The Rutgers student is perfect for Wall Street. We expect to work. We have an incredible work ethic. We're not going to stop until we get the job done."
Yet, he also knows that other universities have successful alumni in all the large Wall Street banks, forming a helpful network to new classes of students wanting to work in finance. "Teaching our students financial modeling and Excel skills while they're still in college, puts them on equal standing as many Ivy League counterparts in the skills that Wall Street banks want to see in candidates," he said.
"At Ivy Leagues," he added, "that's the way it's done."
"I enjoy teaching what I've learned and sharing it," Freeman said. "I like taking something complex and simplifying it."
The advantage of having such skills isn't lost on Chris Kapasakis, a Rutgers economics student who is connected to Rutgers Business School through Road to Wall Street and Little Investment Bankers of Rutgers, a student club that manages its own investment fund.
"This is hands-on learning," said Kapasakis, who finished his sophomore year in May and will spend the summer working at George & Co., which specializes in mergers and acquisitions. "(Ken) would teach us techniques and then give us an exercise so we were putting them into practice."
"I'm excited to apply everything I've learned," he said.
-Susan Todd
A Sampling of Freeman's favorite quotes
"Whether you think you can or you think you can't – you're right." – Henry Ford
"To my goal I will go – on my own way; over those who hesitate and lag behind, I shall leap. Thus, let my going be their going under." – German philosopher Friedrich Nietzsche, Thus Spoke Zarathustra.
"Strength does not come from winning. Your struggles develop your strengths. When you go through hardships and decide not to surrender, that is strength." – Arnold Schwarzenegger
Press: For all media inquiries see our Media Kit