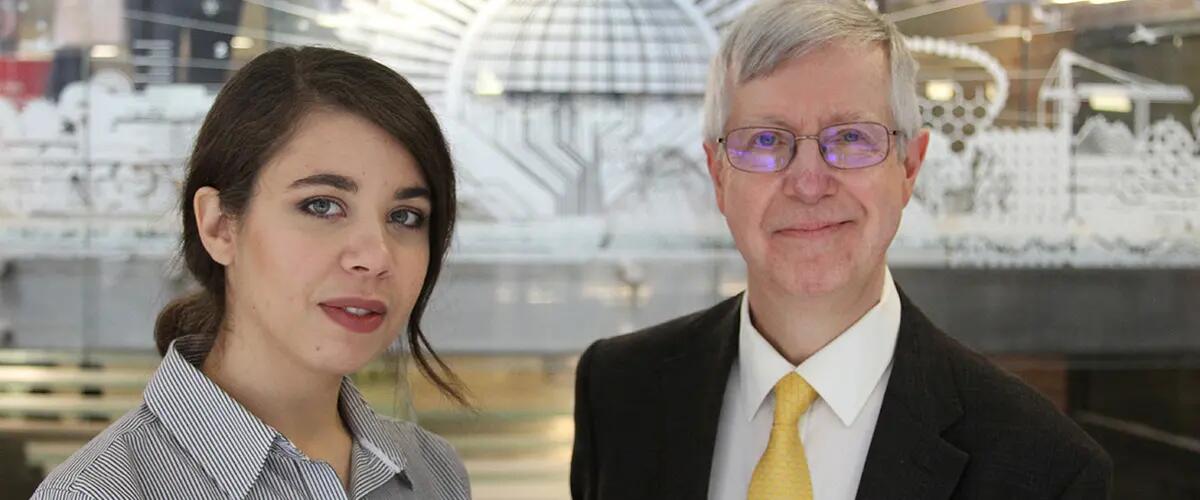 Ph.D. student and her adviser win "best paper" prize in Europe
Rutgers Business School Distinguished professor John Cantwell and Ph.D. student Sarah Edris received the prestigious Danny Van Den Bulcke Best Paper Prize at the European International Business Academy Conference.
The pair's research was selected from a total of 364 academic papers that were accepted for presentation at the academy's annual conference in England. The conference draws scholars from around the world.
The paper, which draws on Cantwell's expertise and Edris's dissertation work, looks at the formation of knowledge networks within the international pharmaceutical industry. It provides more understanding of how the networks evolve by exploring knowledge sourcing.
Edris started working on her doctorate four years ago, immediately after finishing her undergraduate degree. Early on, she said she was advised to reach out to Professor Cantwell because of the work she was interested in pursuing.
Cantwell said the prize-winning paper is part of Edris's dissertation work.
"She reconfigured data that I had collected and substantially extended it to look at companies with more depth," he said. "What she has been able to do is to articulate rather clearly a kind of synthesis of social network research."
"It is highly unusual for this prize to be won by a current Ph.D. student." - Distinguished Professor John Cantwell
The European venue was a familiar one for Cantwell and an important one for Edris. She was eager to present at a European Academy and meet people who might help her to land an academic job in Europe, where she hopes to live and work.
Edris said she didn't realize that she and Cantwell were selected as finalists until a friend told her and urged her to attend the gala. In the event she won, she should be there to receive the award, her friend told her. Chuckling at the memory, Edris said, "You're just thinking, I want a job not that you're going to be getting recognition."
Cantwell described the recognition as "an especially notable achievement" for Edris. "It is highly unusual for this prize to be won by a current Ph.D. student," he said.
- Susan Todd
Press: For all media inquiries see our Media Kit