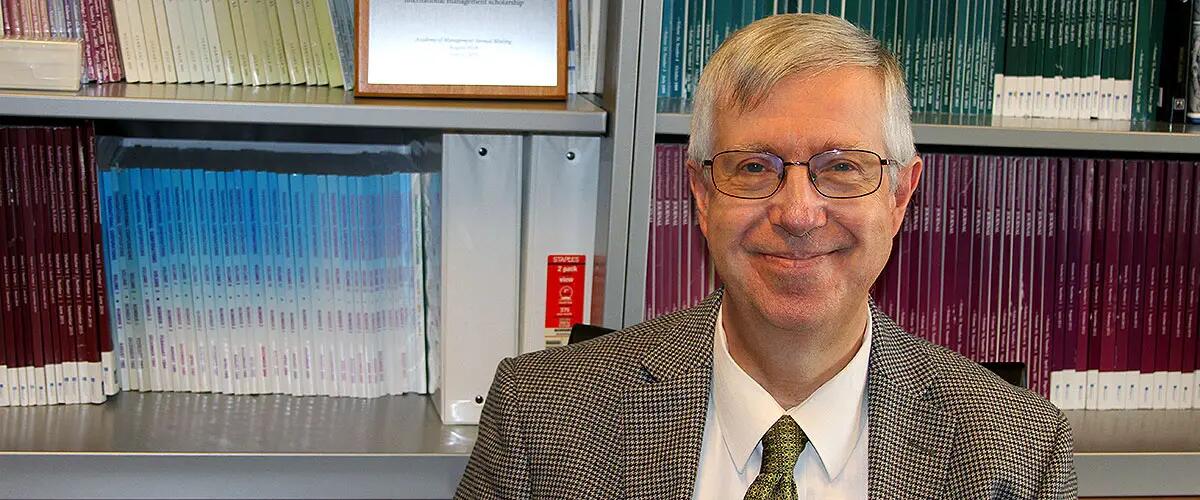 John Cantwell
Distinguished Professor and Former Editor-in-Chief of Journal of International Business Studies
Dr. Cantwell came to Rutgers as Professor of International Business in 2002. Coming from a Chair in International Economics at the University of Reading in the UK, he has also been a Visiting Professor at the University of Rome "La Sapienza", the University of the Social Sciences, Toulouse, and the University of Economics and Business Administration, Vienna. He is the author of Technological Innovation and Multinational Corporations (Basil Blackwell, 1989). This book helped to launch a new literature on multinational companies and international networks for technology creation, beyond merely international technology transfer. This book alone has a citation count of over 2,500 on google scholar; Professor Cantwell's total citation count is over 20,000. Altogether, John Cantwell has published fifteen books, over 90 articles in refereed academic journals, and over 90 chapters in edited collections. His published research spans the fields of International Business and Management, Economics, Economic History, Economic Geography, Philosophy, and Innovation Studies.
Dr. Cantwell served as the Editor-in-Chief of the Journal of International Business Studies (JIBS) from 2011-16, which is the leading journal in the field of International Business scholarship.  In 2019 he received the PWC Strategy & Eminent Scholar Award from the International Management Division of the Academy of Management for life-time achievement in international business scholarship. He was the President of the European International Business Academy (EIBA) in 1992, and in 2001 he was elected as one of four EIBA Founding Fellows. He was the elected Dean of the EIBA Fellows from 2015-18. In 2005 he was elected as a Fellow of the Academy of International Business (AIB), and he was Vice President of the AIB in 2006-08, when he was responsible for the program of the annual conference of the AIB held in Milan in 2008. He is a Fellow of the Royal Society of Arts in the UK. Professor Cantwell was also an associate editor of the Journal of Economic Behavior and Organization from 2002-10. In 2021 he received an honorary doctorate (honoris causa) from Complutense University, Madrid, in recognition of his contributions to research.
Academic degrees
Ph.D., University of Reading; Economics
M.Sc., University of London; Economics
B.A., University of Oxford; Philosophy, Politics and Economics
Publications
Professor Cantwell welcomes applications to the PhD program in International Business by well-qualified candidates that wish to work in the area of technological innovation in multinational corporations.
Publications with PhD Students and Alumni:
"La estrategia tecnológica de las empresas multinacionales y el desarrollo de capacidades tecnológicas locales" (with Katherina Glac), Cuadernos de Economía y Dirección de la Empresa, Vol. 20, No. 3, July-September 2004, pp. 83-101.
"TNCs, locational clustering and the process of economic development" (with Katherina Glac), in L. Cuyvers and F. De Beule (Eds.), Transnational Corporations and Economic Development: From Internationalisation to Globalisation, London: Palgrave Macmillan, 2005, pp. 84-101.
"The internationalization of R&D - the Swiss case" (with Katherina Glac and R. Harding), Management International Review, Vol. 44, Special Issue No. 3, 2004, pp. 57-82.
"Knowledge and organisation in the theory of the firm or MNC" (with Helena Barnard), Journal of Management and Governance, Vol. 10, 2006, forthcoming.
"Why is Japan's R&D internationalization so low?" (with Yanli Zhang), Asian Business and Management, Vol. 5, 2006, forthcoming.
"Japan's R&D internationalization and its institutional environment" (with Yanli Zhang), in M.J. Oesterle and J. Wolf (Eds.), Internationalization and Institutions, Berlin: Springer, 2006, forthcoming.
"A statistical analysis of corporate technological leadership historically" (with Birgitte Andersen), Economics of Innovation and New Technology, Vol. 4, No. 3, Summer 1996, pp. 211-234.
"Changing patterns of technological leadership: evidence from the pharmaceutical industry" (with Astrid Bachmann), International Journal of Innovation Management, Vol. 2, No. 1, March 1998, pp. 45-77.
"Technological globalisation and innovative centres: the role of corporate technological leadership and locational hierarchy" (with Odile Janne), Research Policy, Vol. 28, Nos. 2-3, 1999, pp. 119-144.
"Firms as the source of innovation and growth: the evolution of technological competence" (with Felicia Fai), Journal of Evolutionary Economics, Vol. 9, No. 3, 1999, pp. 331-366.
"The new geography of corporate research in information and communications technology" (with Grazia Santangelo), Journal of Evolutionary Economics, Vol. 12, No. 1, 2002, pp. 163-197.
"Historical evolution of technological diversification" (With Giovanna Vertova), Research Policy, Vol. 33, No. 3, 2004, pp. 511-529.
Dissertations Supervised
Name: Edris, Sarah
Graduation Date: 2020/October
Name: Li, Yuanyuan
Graduation Date: 2020/May
Name: Cho, Se Ho
Graduation Date: 2018/May
Thesis Title: International Knowledge Sourcing and National Technological Development When the Internationalization of R&D is Historically Weak: A Study of the Korean Case
Name: Salmon, Jessica
Graduation Date: 2017/October
Thesis Title: The Roles of Knowledge Complexity and Location Complexity for Structure of Knowledge Building in a Global Environment
Name: Shukla, Pallavi
Graduation Date: 2016/October
Thesis Title: Migrants, Institutional Change and the Geography of Foreign Direct Investment
Name: Pu, Xiaoyu
Graduation Date: 2013/May
Thesis Title: MNC Subunit Knowledge Sourcing and Competence Creating Activies - A Dynamic View of Subunit Evolution.
Name: Piepenbrink, Anke
Graduation Date: 2012/October
Thesis Title: The Evolution of the Innovation Network and the Technological System in a Standard Developing Organization. The Example of Cellular Telecommunications.
Name: Huang, Shengsheng
Graduation Date: 2012/January
Thesis Title: A Dynamic Model of FDI Spillover: The Role of Competition, Technology Diffusion, and Capability Accumulation.
Name: Qiu, Ranfeng
Graduation Date: 2010/October
Thesis Title: The Role of General Purpose Technology in the Restructuring of International Innovation Network and Technological Diversification Strategy of Multinational Corporations.
Name: Zhang, Feng
Graduation Date: 2010/October
Thesis Title: The Emerging Innovators in the Technological Knowledge Accumulation Networks of Multinational Corporations.
Name: Ampadu-Nyarkoh, Kwaku
Graduation Date: 2008/October
Thesis Title: The Geography of Knowledge Sourcing by Multinational Corporation Subsidiaries, with Special Reference to the Pharmaceutical Industry.
Name: Zhang, Yanli
Graduation Date: 2007/May
Thesis Title: International Business Connections, Domestic Inter-Firm Networks and Corporate Technology Development Paths of Japanese Firms
Name: Barnard, Helena
Graduation Date: 2007/January
Thesis Title: Investment From Less to More Developed Countries as a Mechanism for Capability Upgrading in Developing Country Firms.