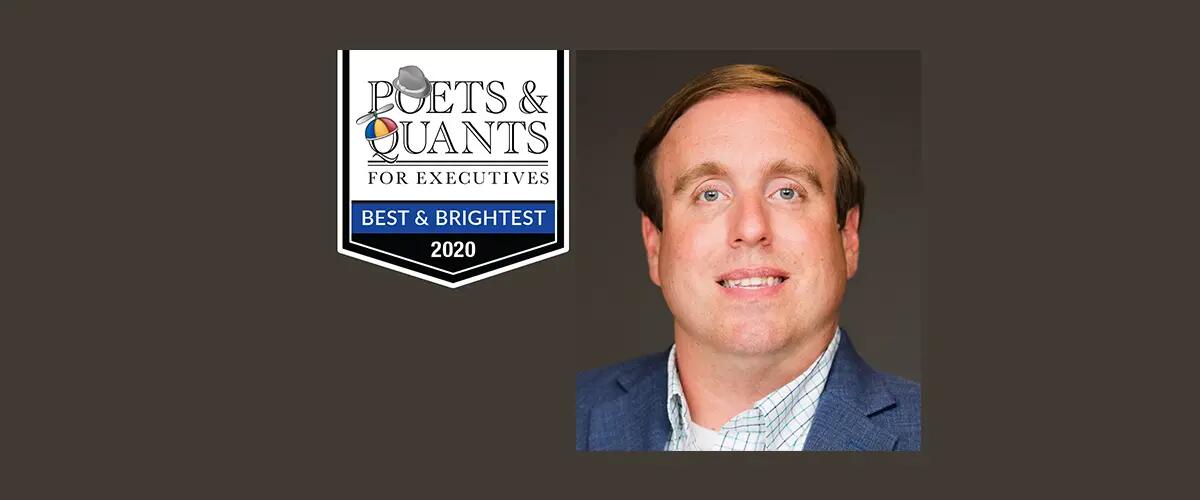 Poets & Quants for Executives 2020 Best & Brightest EMBAs: Joseph W. Krause
This story by  JEFF SCHMITT was originally published July 26, 2020 on Poets & Quants for Executives
Joseph W. Krause
Rutgers Business School Executive MBA
Age: 36
"A New Jersey-born, ATL entrepreneur and first in my family to go to college."
Hometown: Linden, New Jersey
Family Members: Kacie (my wife), Phyllis (my mother), Will (my brother), Colleen (my mother-in-law), Marge (my grandmother-in-law), and Ron (my Grandfather-in-law)
Fun fact about yourself: I'm a former elected official in Somerset County, New Jersey.
Undergraduate School and Degree:
Seton Hall University 2006: B.A. Political Science, Minor in Criminal Justice
Boston University 2012: M.S. Healthcare Communication
Where are you currently working? AchieveIt, vice president, customer engagement
Extracurricular Activities, Community Work and Leadership Roles:
President of the Rutgers Executive MBA Class of 2020
Active member of the Deutscher Club of Clark, N.J.
Which academic or extracurricular achievement are you most proud of during business school? I'm most proud of the fact that I was elected president of the class of 2020. The election process is designed in a way so that the class doesn't vote until we have all been together for weeks. This approach ensures that the students get to know each other on more than a surface level. The process is capped off by making an impassioned speech to the group outlining your vision. I've had the pleasure of serving the class for two years and working with the best leadership team anyone can ask for.
What achievement are you most proud of in your professional career? I'm a co-founder of AchieveIt, an Atlanta-based software company, and I'm most proud of the business we've built since 2013. The past seven years have been the most challenging of my life, but the end result is a thriving business that helps organizations execute their most important strategic initiatives. My role allows me to lead an amazing team, work with a diverse set of clients, and travel to places I would never see otherwise.
Who was your favorite MBA professor? Dr. Valentin (Val) Dimitrov was my accounting professor during my first year in the Rutgers Executive MBA program. The professor's approach to teaching allowed me, someone who didn't have a background in accounting, to really embrace the subject. He took the time to answer every question, challenged us with tough exams, and I left the course with a true appreciation for accounting's role in business. Val's passion for teaching was easy to see, and he even started a weekly investment club where we get together to discuss potential trades.
Why did you choose this school's executive MBA program? I chose the Rutgers Executive MBA program because of its academic reputation, its innovative schedule, and my interview with program director Professor Farrokh Langdana. Every REMBA student remembers their interview with Farrokh because he takes the time to ensure that you will be a good fit for the program. Farrokh understands that we will all be working full-time but doesn't let that result in a watered-down academic experience.
What did you enjoy most about business school in general? I really enjoyed the relationships I formed with my fellow classmates and my professors. When you're in class for eight hours a weekend, it helps to have people you're genuinely excited to see, learn from, and work with.
What is the biggest lesson you gained during your MBA and how did you apply it at work? Professor Farrokh Langdana instills the idea of Cycle of One from the moment you step foot in your first Rutgers EMBA class. You are reminded, quite often, that eventually you'll be in the corner office on the top floor and you'll need to make tough decisions. Cycle of One is a way of thinking that should lead you to making the right decision with a focus on human compassion. Cycle of One isn't about making the easy decision, it's about making the right decision based on all the knowledge you've gained in the program.
Give us a story during your time as an executive MBA on how you were able to juggle work, family, and education? I mentioned earlier that I work at AchieveIt, but I didn't mention that AchieveIt is located in Atlanta, Georgia. The Rutgers EMBA program is in Newark, New Jersey. This means that on Monday morning I would take the 6 a.m. flight to Atlanta, then fly back to New Jersey on Thursday evening, work from home on Friday, attend class on the weekend, and fly back to Atlanta. This has been one of the biggest juggling acts of my life. Now that I'm at the end of my Rutgers journey, it's funny how it all worked out better than I expected. The key is to stay extremely organized and to use your time on flights wisely, and always focus on the next deliverable.
What is the biggest myth about going back to school? "That you don't need a formal business education. Experience is more important."
You hear this myth perpetuated mostly from people who didn't choose to go to business school. This myth is busted mainly because no one is disputing that experience is important, but work is just one type of experience. I have no doubt that I'll benefit from my time at Rutgers Business School throughout the rest of my career both directly and indirectly.
Which MBA classmate do you most admire? That would have to be my classmate Erik Rubin. Erik is a member of my study group (Group 8). We sat near each other for two years, and I admire him for a number of reasons. Erik is a man of science, father of five, and genuinely one of the smartest people I've ever met. Even with all the pressures I just mentioned, Erik came to class with a true passion for learning and there was no subject that got in his way not even supply chain. I tend to admire people who no matter what they have going on in their life, they never make excuses and always do their best work.
"I knew I wanted to go to business school when…my lack of formal business education was impeding my career progression."
What is your ultimate long-term professional goal? My ultimate goal is to work in a strategy role for a multinational healthcare organization. I was lucky enough to start my career in pharmaceuticals, and while I've loved my time in the tech world, my ultimate goal is to make my way back to healthcare where I can make a direct impact in the world.
In one sentence, how would you like your peers to remember you? I wish to be remembered as someone who genuinely enjoyed his time at Rutgers and would do anything for his classmates.
What are the top two items on your bucket list?
I want to attend all four Grand Slam Tennis tournaments.
I wish to take a true trip around the world. I would fly out of New York City and go east making as many stops along the way as possible.
What made Joseph such an invaluable addition to the Class of 2020?
"It is very difficult to be a leader in a roomful of leaders. And that is exactly what Joe Krause accomplished while he was president of Rutgers EMBA — over 60 students — for two years.
This is a man who personifies the word "discipline." Joe would leave New Jersey at 6 a.m. on Monday to head to work in Atlanta, where he is vice president of customer engagement at Achievelt, a company he co-founded. He would return home on Thursday evening, work from home on Friday and then attend Rutgers EMBA in Newark N.J. during the weekend.
What I observed about Joe in his role as class president was his ability to allow others to shine. He always looked after his classmates. He always made sure that any stress incurred by any student was swiftly dissipated by him directly or by working with me and the rest of Team EMBA. His response time to any query was always lightning-fast. This man is a fast-response leader par excellence.
In fact, the Cycle of One Leadership Exercise cited by Joe is really a trademark of the Rutgers EMBA Program – also known as The Powerhouse. It is truly a unique leadership technique. It is known for its rapid response, and as Joe has highlighted above, for always erring on the side of compassion while making executive-level decisions.
Given this and given Joe's inherent leadership skills – he is a former elected official of Somerset County, N.J. – it is hardly surprising that Joe was awarded the prestigious Rutgers EMBA Powerhouse Leadership award, determined by a class vote."
Professor Farrokh Langdana
Director of the Rutgers Executive MBA Program
Press: For all media inquiries see our Media Kit