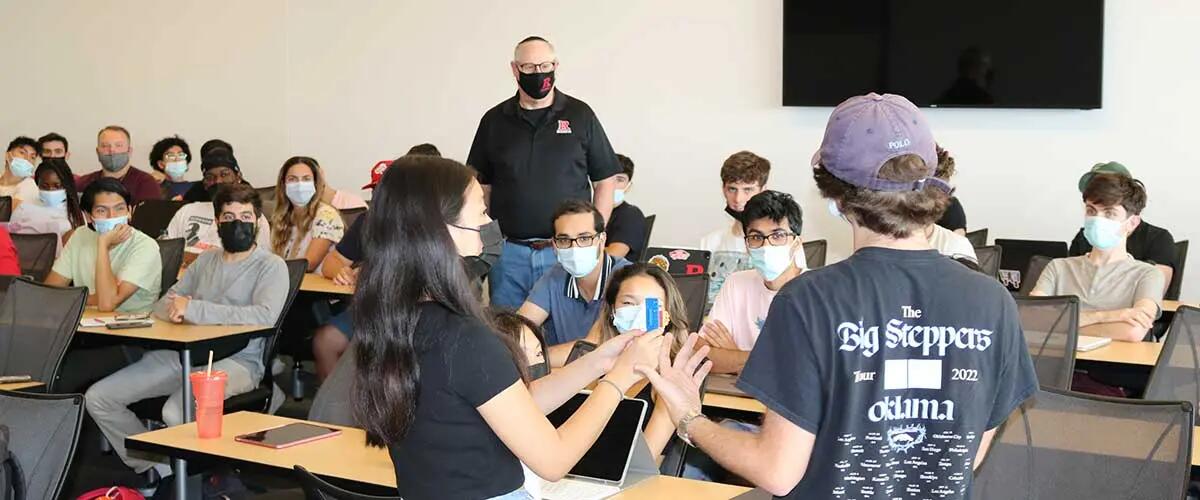 Professor of entrepreneurship connects theory to practice through experiential learning
"Based on my experience as an entrepreneur, I place a big emphasis on experiential learning to foster students' entrepreneurial mindset, to help them develop their skills to be resourceful, resilient problem solvers and effective communicators, and to enable their success in the classroom, the workplace and whatever else they do in their lives."
- Gary Minkoff

Faculty Spotlight: Gary Minkoff
Title: Assistant professor of professional practice, Department of Management & Global Business
What he teaches: Minkoff teaches various courses in entrepreneurship at both the undergraduate and graduate levels. His teaching is informed by his extensive professional and practical experience in 4 key economic sectors: Private, Not for Profit, Education, and Public. This fall, Minkoff will teach "Marketing for Entrepreneurs and Small Business," which he has taught 31 times, and "Introduction to Entrepreneurship," which he has taught 40 times.
"In my "Marketing for Entrepreneurs and Small Business" classes, I provide experiential learning through consulting projects for small businesses and larger companies," said Minkoff. "Students work with successful entrepreneurial leaders to solve marketing problems that require thoughtful and thorough research and analysis. They learn to examine a problem from different perspectives, create a team with diverse strengths, determine the resources needed, and propose an executable solution. Key benefits of this course are:
Students get a "demonstration project" to add to their resumes.

Clients who participate in the course offer students paid internships upon project completion. This provides valuable experience and another potential pathway into the workforce for entrepreneurially-minded students.
In "Introduction to Entrepreneurship," students are asked to work with a team to identify a problem and develop a venture opportunity to address that need."
Minkoff mentors and guides students to discover what they are passionate about, push their boundaries, embrace ambiguity, and learn transferable life skills.
Professional experience: He is a co-founder and chief operating officer of Pre-D Partners, a company that was recently awarded a patent for its flagship dietary supplement product. He is a principal and co-founder of BioDev, a life sciences technology strategy, licensing, and development company.
Minkoff has led two non-profits; he was executive director of the New Jersey Higher Education Partnership for Sustainability, and he was the executive director of the Cable Television Advertising Association of N.Y. He is the former mayor of Highland Park, NJ, where he spent over 12 years on the borough's governing body. In 2021, Gov. Phil Murphy appointed him to the New Jersey-Israel Commission.
Since 1997, Minkoff has been president of Above & Beyond Marketing, a company that consults with sales and marketing organizations on strategy, technology, education, and training. Previously, he spent 12 years in financial services as an advisor with Smith Barney and later with Merrill Lynch. He began his career in finance with Citicorp's (now Citigroup) Investment Bank Operations Management Training program in Municipal and Corporate Finance, as well as in Investment Product Development.
How his network benefits students:  He brings guest speakers into the classroom and connects students with mentors/practitioners for insights they would not otherwise gain. Students learn what it takes behind the scenes to develop an idea into a successful business. They can ask questions of a CEO/leader who is part of Minkoff's network of entrepreneurs, companies, and investors. "I help students develop critical thinking skills, value what they learn from failure, and take the initiative when opportunities arise," he said. "People in my network know the caliber of Rutgers Business School students and what to expect from students taking my courses. I emphasize skills that help students succeed in class, the workplace, and life. I feel that valuable combination has led to significant results."
Press: For all media inquiries see our Media Kit