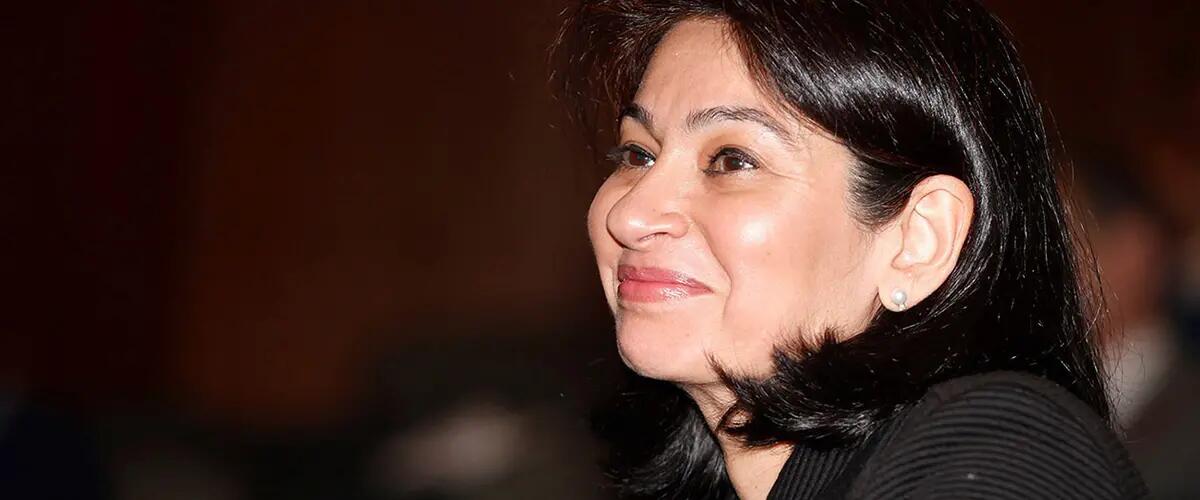 Professor is first woman at Rutgers Business School to receive endowed chair
Professor Simi Kedia's research is published by prominent academic journals and featured in such mainstream media as The New York Times and Fortune magazine.
Professor Simi Kedia, who is highly regarded for her research on corporate governance and corporate fraud, has been appointed to hold the Albert Gamper Jr. Chair in Business.
Kedia is the first woman to fill an endowed professorship at Rutgers Business School.
During a ceremony formally appointing Kedia, Professor Ivan Brick, chair of the finance and economics department, said Kedia's research is not only published in prominent academic journals, it is often written about by journalists in the mainstream media, including Fortune magazine and the New York Times.
In addition to the visibility Kedia generates for Rutgers Business School through her research – Brick counted 13,895 results after a recent Internet search of her name – Brick said Kedia also works closely with doctoral students, assisting them with their research. "She is a very passionate individual. She's passionate about her research, and she's passionate about improving the Ph.D. program and the department," he said.
Kedia said she was "deeply honored" to receive the appointment. "All the work I've done has been done right here at Rutgers," she said. "I have a lot of fondness for Rutgers Business School, a lot of commitment and a deep sense of gratitude."
She highlighted some of her research findings in corporate fraud during her remarks, including the idea of geographical clustering and the propensity for companies that compensated their executives with stock options to experience accounting problems. Her work in corporate fraud is broad, touching on accounting, ethics and law. Watch an animated video on Professor Kedia's research on the contagion-effect of corporate misconduct. 
Kedia joined the finance and economics faculty at Rutgers Business School in 2004 and became a full professor in 2012. She is the second professor to hold the Gamper chair.
While the ceremony highlighted Kedia's work, it also acknowledged Gamper's generosity. A 1966 graduate of Rutgers University-Newark, Gamper is the retired chairman and chief executive of CIT Group. He is a former chair of the university's Board of Governors and in 1999, he was inducted into the Rutgers Hall of Distinguished Alumni.
When Gamper retired in 2004, he and CIT Group announced the establishment of the $2 million endowed professorship. For universities, such endowments are considered vital to retaining and recruiting quality faculty and creating an academic environment that attracts the best students.
In his comments, Executive Dean Yaw Mensah remarked on the history of endowed chairs and their use in recognizing great scholars, noting that King Henry VIII established endowed professorships at Oxford and Cambridge in five subjects. "Scholars strengthen Rutgers by measure," he said, "attracting faculty and students, by informing policy and public opinion and influencing their fields."
Jerome Williams, Rutgers University-Newark provost and executive vice chancellor, said the research produced by academics isn't generally understood or recognized, especially by the public. "It's gratifying to see a colleague being recognized for her research efforts," he said.
Kedia was accompanied to the ceremony by her father and husband and two children. Rutgers University-Newark Chancellor Nancy Cantor attended as did many of Kedia's colleagues from the business school's finance and economics department.
Dean Lei Lei described Kedia as a world-renowned scholar. "And as a female dean, I'm so happy for the first female holder of an endowed chair at Rutgers Business School," Lei said.
A little bit more about Professor Kedia:
Where did you study: Ph.D in finance and international business, 1997, New York University; MBA, Indian Institute of Management, Calcutta, 1990; Bachelor of Arts (honors) in economics, Lady Shriram College, Delhi University, 1998.
What are you currently researching: "Corporate Fraud, Hedge fund activism, corporate bonds."
What is your favorite class to teach: "I like all of my classes and enjoy them for different reasons."
What's your favorite book: Siddhartha by Hermann Hesse
Your favorite place in the world is: "I was in Rome, Italy, a couple of years back, and it was lovely."
-Susan Todd
Press: For all media inquiries see our Media Kit