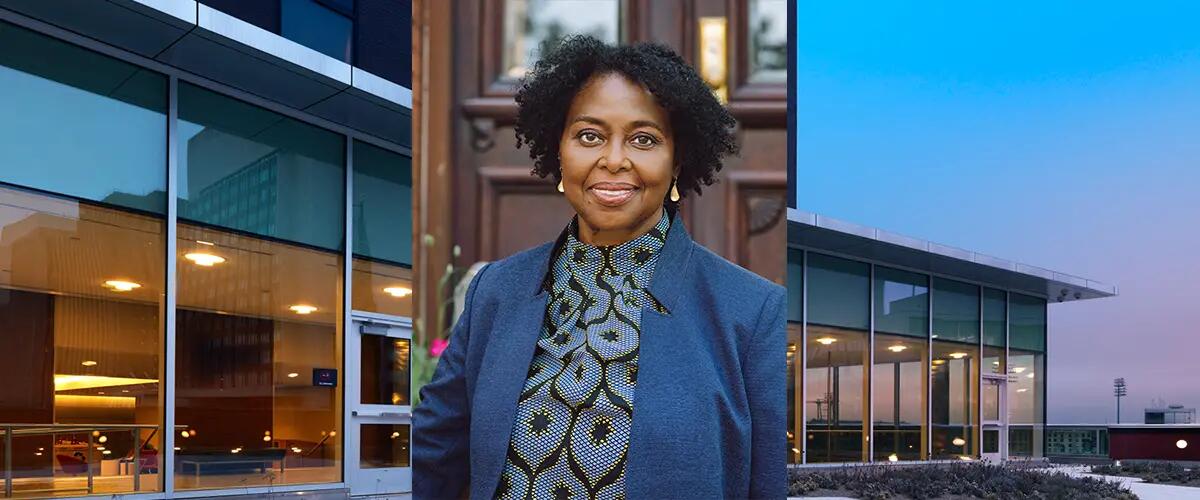 Professor's pioneering Black superhero is reintroduced by Mattel
Sun-Man was inspired by her son's comment: "Mommy, I can't be a superhero because He-Man is white." Now, he's part of the Masters of the Universe roster.
Update: On Sept. 11, The New York Times and CNET reported that Mattel will introduce Professor Yla Eason's Sun-Man action figure as part of a relaunch of its Masters of the Universe roster. Some of the original characters in that roster have been reimagined as Black in two Netflix series.
Yla Eason, Assistant Professor of Professional Practice, Marketing
What she does: Leverages educational theories and methodologies to design, develop, and deliver successful curriculum and learning programs in business communication and marketing. She teaches "Search Engine Marketing" to students in the Master of Science in Digital Marketing program. 
Her Influence: An award-winning marketing professional, she is internationally recognized as pioneering a niche market of multicultural toys. She founded Olmec Toys, a multicultural toy company, that she grew into a $5 million business. Eason was among three women to receive a 2020 Alice H. Parker Women Leaders in Innovation Award from the New Jersey Chamber of Commerce.
What inspired Olmec Toys: A casual comment by her three-year-old son in 1984 would change the toy market forever. "Mommy," he said, "I can't be a superhero because He-Man is white." Her initial thought was to buy her son a Black action figure, but she quickly discovered there were none. She spoke with other mothers who said the absence of a Black action figure for their sons to play with was a concern to them as well. "That started me researching the toy industry," she said. "How big is this industry? How many children are there?  How many children of color are there?  What kind of revenues are coming from the action figure market?"
How she built the company: She performed a great deal of census data analysis. In 1985, the majority of children in the U.S. two-years-old and younger were people of color. Following the projected trend, the majority of people in the U.S. 18 years old and younger are people of color. "Is this important," she asked herself. "Is this bigger than me and my son, bigger than the mothers and children in my neighborhood?"  She was able to arrange a meeting with Dr. Kenneth Clark. He and his wife Dr. Mamie Clark were the first African-Americans to earn doctorates in psychology at Columbia University. Their research demonstrated the harmful effects of segregation leading to poor self-perception in children of color. Their testimony before the Supreme Court contributed to the landmark case, Brown v. Board of Education, that desegregated American public schools. She asked Clark, "From a psychologist's point of view, is it important for children to have toys that look like them?" His answer was an emphatic yes. Otherwise, children internalize that certain things are not available to them and they develop a poor self-perception. Her research proved there was a market and an unmet need for multi-cultural action figures and dolls. There were none being produced so she decided she would make them. After securing investors and developing her product, Eason started Olmec Toys. Eason coined the phrase "ethnically correct," referring to the doll's appropriate color as well as its sculpted facial features to accurately represent each doll's ethnicity. Eason started by selling the figures to friends and at barber shops and beauty salons. After proving that the action figures sold, she approached the larger retailers, eventually growing the company to $5 million in sales, with worldwide distribution in major retailers. Other toy manufactures later followed Eason's lead and created multi-racial toys and dolls. Olmec's success remains a case study for business school classes teaching multicultural marketing. 
Looking back: "It helped that I had earned my MBA from Harvard Business School and had a business background and understood an approach and a method of how to work through these things," she said.  "My then-husband had been working with Minority Enterprise Small Business Investment Companies, which had recently been started by the Nixon administration to increase the number of African-Americans who were in business.  So he had first-hand business knowledge, understood finance, and had networks."
What she brings to the classroom: "I bring my full experience and scholarship to my teaching. I talk about everything that I did related to economics, market research, promotion, advertising, finance, supply chain, selling. Getting customers interested, staying current and innovating in terms of what you are presenting.That is the approach that I bring to my teaching, not just the academic but also the practical. I have done it. I have taken an idea, made it happen and ran a successful business."
-Sean Ireland
Press: For all media inquiries see our Media Kit