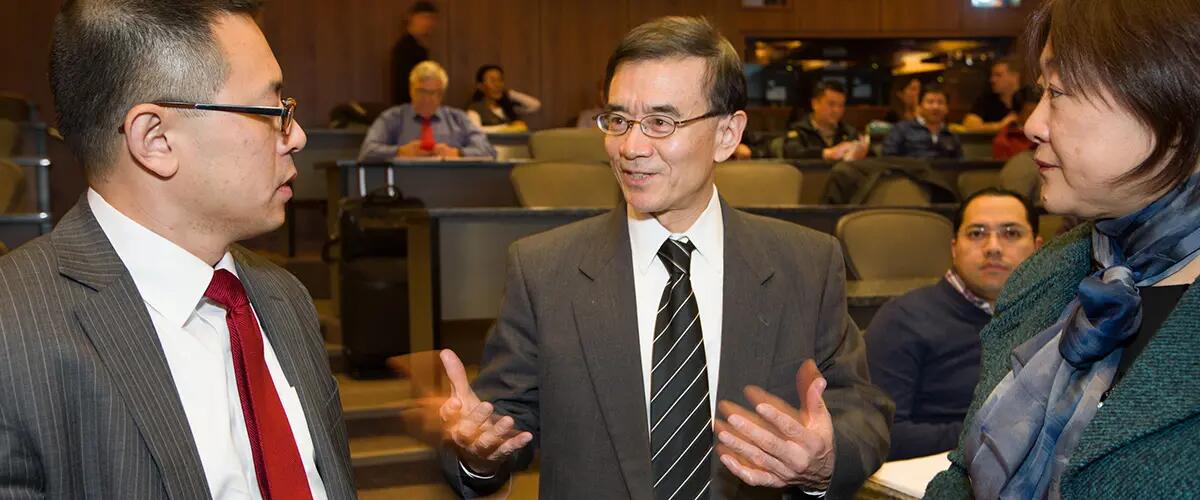 Professor's research takes in-depth look at Chinese investment in U.S.
Much discussion of United States trade with China – especially in this election year – focuses on American companies that manufacture in low-wage Chinese factories and then sell their goods here. Less well noticed is an increasing presence by Chinese companies setting up operations in the U.S., a fertile area for study by American scholars. Chao Chen, a professor of management and global business at Rutgers Business School, based at Rutgers University-Newark (RU-N), leads a research team now taking that initiative by examining Chinese investment in depth.
During 2015 alone, it is estimated that Chinese companies invested more than $15 billion in the U.S. through mergers and acquisitions, startups, and expansions of existing operations. According to the National Committee on U.S.-China relations and Rhodium Group, the number of Americans employed by Chinese-affiliated U.S. companies has tripled in just the past three years to 90,000.
Chen said while the U.S. has long been accustomed to robust investment by companies from places such as Europe and Japan, China is politically, economically, and culturally different from all of them.
Chen and his team are exploring the often-delicate adjustments that both sides need to make for Chinese investments here to succeed. Said Chen, "We want to see how Chinese companies are different from or similar to other multinational companies."
At its heart, Chen said Chinese companies' desire to invest here seems no different from that of other growing enterprises. If they want to expand beyond their own national borders, he said, investing is the way - and coming to America has special appeal. "Chinese companies coming to the U.S. are attracted by America's stable social political environment and legal protections," Chen said, "and they're also attracted by American companies' leadership in organizational as well as product and technological innovations."
But for many Chinese companies, adapting and integrating what they learn abroad to how they operate back in China can be a big challenge. As an example, Chen says that through globalization Chinese companies learn to compete on the global market through talent development, productive innovation, and professionalism. Applying these global strategies and practices to operations within China may run into conflict with the existing system that relies heavily on personal relationships.
To comprehensively explore the various challenges of Chinese investment in the U.S., Chen formed a multidisciplinary team with Ji Li, an associate professor at Rutgers Law School, which is also based in Newark, Mingwei Liu, an associate professor in the School of Management and Labor Relations at Rutgers University-New Brunswick, and Leigh Anne Liu, an associate professor of international business from Georgia State University. The team is well equipped to study a wide range of managerial, organizational, legal, and cultural dynamics and implications of Chinese investment in the U.S.
Mingwei Liu, an expert in labor relations, said success by Chinese investors is not automatic unless all are willing to adapt. "In order to gain legitimacy, and in order to attract American employees," he said, "they have to adapt a lot of Chinese practices to an American context or directly learn American practices."
In China, said Liu, there is a larger personal gulf between workers and managers, and obedience and harmony are the rule. "Employees usually don't want to have conflict with their managers or company unless they have decided to leave the company," he said. "But if American workers have complaints they often raise those issues with the company. Even if they file lawsuits they may still work at the company." In addition, China does not have American-style labor unions that advocate for employees.
To their credit, Liu said, as Chinese companies gain experience in the U.S., they appear more likely to accept American norms and in fact to hire Americans as managers. But that can bring complications of its own, such as pay scales. Liu said Chinese expatriates doing the same jobs as Americans are paid far less, while Americans at Chinese firms may earn less in turn than their neighbors at U.S. companies. "So the Chinese companies have to balance the two sides. It's a challenge for them."
How that balance – and many other issues – can and will ultimately be resolved is at the heart of the current research. Chen said the team wants to add to its own academic understanding of the role of Chinese firms in America, and also, "We would like our research to have some impact on the practices of the firms." Chen, who noted that very little scholarship on this subject currently exists, was able to assemble his team with one of six Initiative for Multidisciplinary Research Team (IMRT) awards that RU-N granted to members of its faculty in 2015. The awards are funding varied research projects in both the social and physical sciences.
Two scholarly conferences held in March – in Newark and New Brunswick – have already resulted from the IMRT award and produced white papers on the subject, and Chen said more detailed publications in prestigious journals will follow.
To see the relevance of this work, Chen said, one needs only to look at northern New Jersey and the presence of the Chinese company Haier, whose products include refrigerators and air conditioners. "If you get off at the airport in Newark," said Chen, "you will see Haier's pushcarts. You have Haier America right here. They are in Wayne, New Jersey – on a very peaceful campus. That is their headquarters." Haier has begun to manufacture refrigerators in South Carolina as well.
"Chinese companies are also contributing to job creation and the socioeconomic well-being of American employees," Chen said, making this a perfect time for the Rutgers-led team to learn about Chinese investors – and help make the links ever stronger with the insights they gain.
- Robert Forman
Press: For all media inquiries see our Media Kit