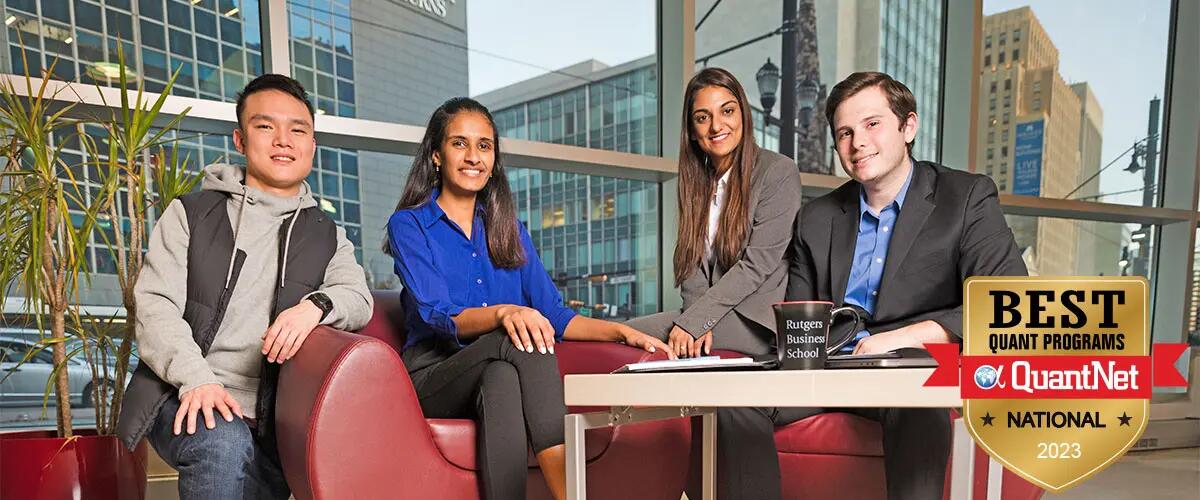 QuantNet ranks Master of Quantitative Finance Program No. 16 in U.S.
In its recently released annual report on the "Best Financial Engineering Programs," QuantNet ranked Rutgers Business School's (RBS) Master of Quantitative Finance (MQF) program No. 16 in the U.S. [see full rankings]. This placed the Rutgers MQF program at No. 1 in the Big Ten and No. 7 among public universities in the nation. The QuantNet ranking is the most authoritative and comprehensive ranking of the best Financial Engineering (MFE), Quantitative Finance, and Mathematical Finance programs in the country.
QuantNet surveyed 33 master programs. The ranking provides detailed information on Peer Assessment (20%), Placement Success (55%), and Student selectivity (25%) from top programs in the country to help prospective applicants decide where to apply and enroll in these master quantitative programs. 
Dean Lei Lei said, "Against fierce competition and under tremendous pressure on recruiting and job placement, the MQF program achieved a very strong job placement three months after graduation with an average starting salary of over $100,000. Rutgers Business School is the only program from the Big Ten to be included in the Top 20 of this elite club."
Julian Moreno graduated from the Rutgers MQF program in December 2022. He interned with Bellwether Consulting LLC last summer and continues with the company as a quantitative and qualitative investment research analyst. He said, "The MQF program's high quantitative rigor sets up students for success in quant finance. The curriculum is tailored to meet today's quant workforce demands and is taught by first-class faculty dedicated to the ideals of committed teaching and world-class research. The faculty strive to make sure every student succeeds.
"The program also helps students connect with professionals through various networking events, facilitating students' transition into the field. I highly recommend this program to anyone looking to enter the quantitative finance field," Moreno said.
Yangru Wu, professor and Director of the Master of Quantitative Finance Program, said, "Our program is significantly different from others in the sense that we have the practical aspect. We prepare students to apply theory to practice in the real world."
Ronnee Ades, assistant professor of professional practice, said, "Our students take courses beyond typical mathematical, statistics and computer science courses, such as specialty finance courses like Indexing & Exchange Traded Funds (ETF), where they can actually apply what they are learning to better understand challenges and opportunities in portfolio management.  The MQF Program, by providing valuable electives and connecting students with industry practitioners, is developing more job-ready graduates well suited for a vast variety of positions in the field of finance."
Press: For all media inquiries see our Media Kit