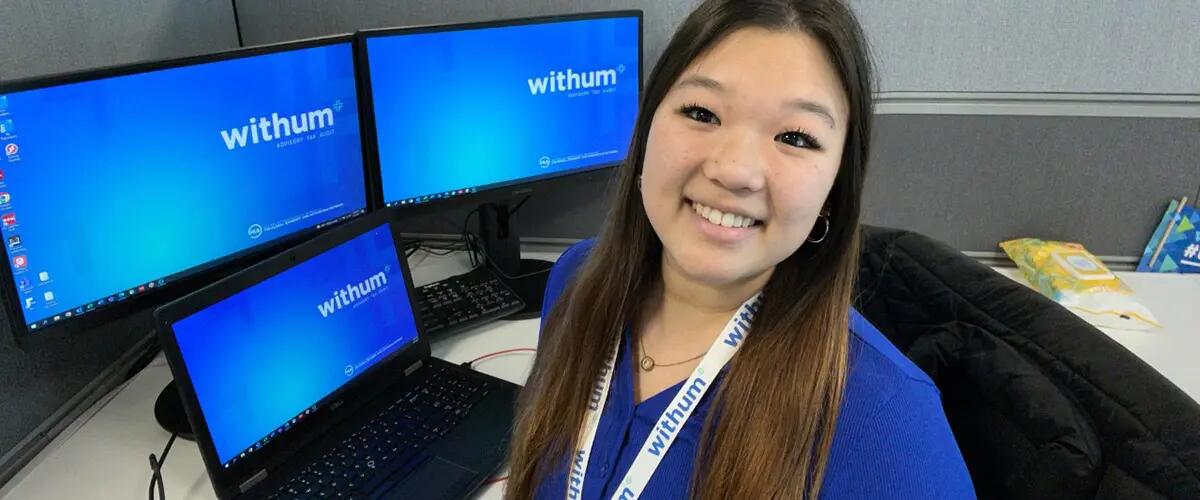 Road to CPA Program opens doors for accounting student
Mentor Terice Barnett was struck by Rutgers Business School student Vivian Chou's passion for accounting. "She was genuinely interested in the profession. She came ready with questions," said Barnett, a supervising accountant at Withum in East Brunswick.
Chou was in the first cohort of students to participate in RBS-New Brunswick's Road to CPA mentorship program. By speaking with Barnett twice a month, she gained insight into the work culture at a midsize firm, striking a work-life balance, and job specialization. She also received guidance on how best to earn the 150 credits required for the certified public accountant exam and choosing summer classes.
"It was a great, personal experience," Chou said.
Mentorships are a popular part of Road to CPA, a year-old program that provides guidance and support to students interested in an accounting career. Eighty professional-student pairs – double the number from spring 2022 – are participating this semester, said Sarah O'Rourke, an assistant professor of professional practice in accounting and director of Road to CPA on the New Brunswick campus.
"It's good to have a person in your corner and begin to build a professional network," O'Rourke said. Road to CPA runs sessions on accounting career options and CPA licensing requirements, as well as workshops to brush up on skills covered in the CPA exam, O'Rourke said. Students can also receive individual academic and career advising.
Chou's mentorship experience led to an unexpected perk: an internship with Withum this spring. Barnett encouraged her to apply for it. "Her attitude convinced me she would be a good candidate," Barnett said.
Chou went through training and recently processed her first tax return. "I thought it was really fun and exciting," she said. "It's like solving a puzzle."
Chou is taking "Income Tax Accounting" this semester, and applying what she learns to her internship. The intern experience, meanwhile, has enriched her classroom understanding. "I like that it makes a lot of sense, that it's pertinent," she said.
She has lined up an auditing internship with Deloitte for the summer and is taking "Concepts of Auditing" now to prepare. She hasn't decided which area of accounting she'll pursue. After the summer internship, she said she'll be able to compare and contrast tax versus audit, a medium firm with a Big 4 firm." She plans to take "Audit Analytics" while she is doing the Deloitte internship.
Chou said she has wanted to become an accountant since high school when she took her first class. She worked for a small accounting firm, organizing clients' tax papers to make the CPAs' job easier, and subsequently for another, where her primary responsibility was finalizing completed 1040s for delivery to clients. "Now I get to do the processing," she said of her current internship.
- Margaret McHugh
Press: For all media inquiries see our Media Kit