The Newark and New Brunswick Road to CPA programs create a pathway for Rutgers Business School accounting students to better prepare to pass the CPA exam. With career assistance, CPA prep, seminars, and mentoring, this program is designed to provide guidance and support to students on their path to CPA licensure and a meaningful accounting career.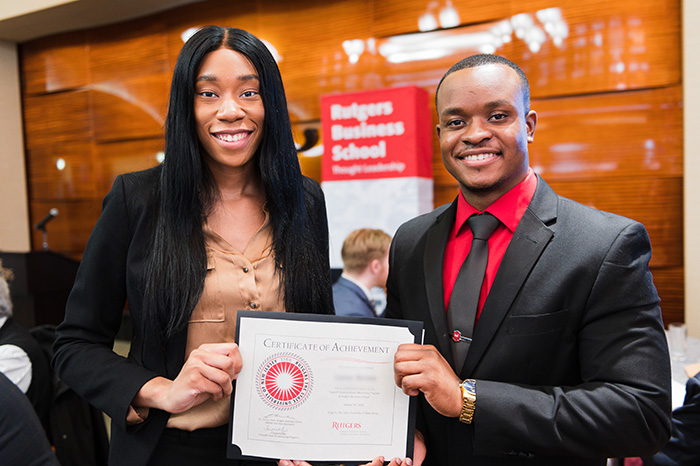 Benefits for Students
Mentor program- Students are paired with a mentor who can provide advice on navigating the CPA exam. Many of our mentors are RBS alumni and work in various areas of accounting including Big 4 firms.
Career Guidance and Academic Advising- There are several career options to choose from, but how do you know which one is right for you? Through seminars and career coaching, students can discover the opportunity that best fits their interests.  Support is also available to assist students in planning class schedules and making decisions about the best ways to meet the 150 credit-hour requirement.
CPA Exam Review- Accounting students who have completed Advanced Accounting I may enroll in the Rutgers CPA-Level Financial Accounting and Reporting review course. The course includes exposure to material not previously covered in other classes, integration of familiar material for a new way of analyzing these topics, and a discussion of skills and techniques necessary for passing the exam.
Seminars and Workshops- Students can attend informational seminars and workshops including technical accounting areas, business communications, professional resume writing, interviewing, and networking related to opportunities in the accounting profession.
Cohort of peers (Newark only)- Students participating in the Road to CPA program are part of a cohort of their peers allowing them to advance together, network and build relationships.
Questions? Road to CPA Newark
For more information on the Newark Road to CPA program, please contact Assistant Professor of Professional Practice, Joyce Joseph.
Questions? Road to CPA New Brunswick
For more information on the New Brunswick Road to CPA program, please contact Instructor of Professional Practice, Sarah O'Rourke.