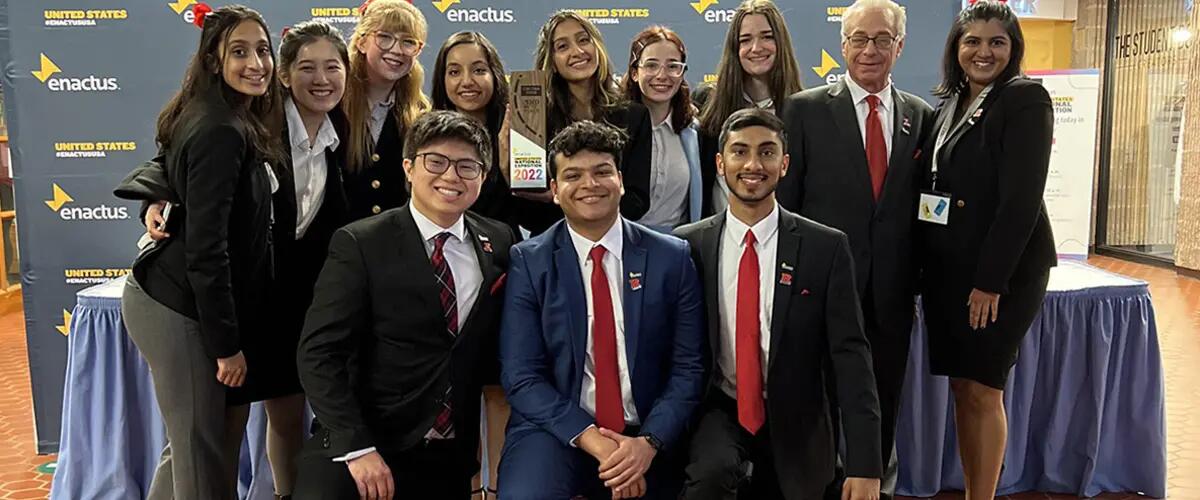 Rutgers Enactus savors stellar performance at national competition
A team of students representing Rutgers Enactus advanced to the semi-finals of a national competition on April 22-23 and won more special awards for leadership and excellence than any other team.
The 12 students representing Rutgers placed among the Top 8 teams in the U.S. and came in second in its league by reaching the semi-finals – a first for the Rutgers chapter.
Among the special awards, Rutgers was recognized for excellence in addressing the United Nations' Sustainable Development Goals. Three members of the team, all graduating seniors from Rutgers Business School, received special individual leadership awards. Chapter President Juhi Vyas was awarded Executive Leader of the Year; Paolo Arante received the Membership Leader of the Year Award and Emily Wallace won Marketing Leader of the Year.
In addition to Vyas, Arante and Wallace, the Rutgers Enactus team included Hannah Stubbs, RBS '22, Eanne Chiang, RBS '23, Mihir Chandra, RBS '25 and David Dai, RBS '23, who served as competition coordinator.
The impressive performance at the nationals followed the chapter's success in winning two $25,000 Ford grants earlier this year.
"I have been advising the Enactus club since 2014 or 2015 and am always amazed at what they accomplish," said Eugene Gentile, director of the undergraduate Office of Career Management at Rutgers Business School-New Brunswick. "The talent of Rutgers students is legendary, as is the positive impact they have on the world."
Gentile credited the leadership of Vyas, vice president Aastha Kumar, RBS '22, and the rest of the E-Board for the chapter's impressive performance during the past year.
"Leading Enactus this past year and being a part of it my four years of undergrad has been the greatest part of my college experience," Vyas said. "I have found my closest friends I this organization and have had the opportunity to work with passionate individuals who are driven to make social change in the world."
Rutgers Enactus uses the principles of management and social entrepreneurship to provide its members – from across the university campus – with key skills to empower them to make an impact in their communities. There are 665 chapters across the U.S. Enactus is an international non-profit organization.
Press: For all media inquiries see our Media Kit