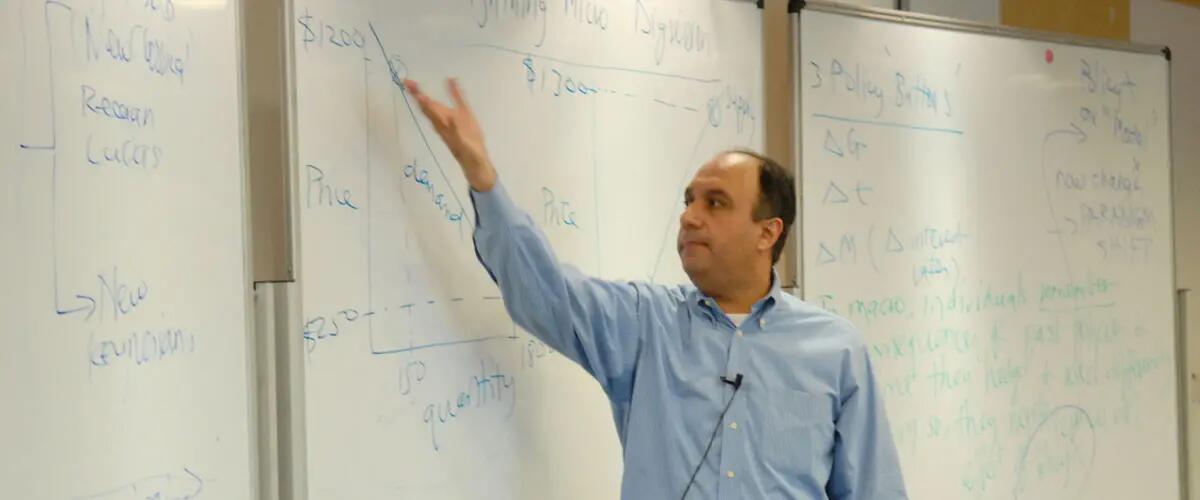 Rutgers Executive MBA ranks No. 3 in the world for economics
Rutgers Executive MBA was ranked No. 3 in the world for Economics teaching by Financial Times as part of their 2021 report on the "World's Top 100 Business Schools: EMBA Programs." This was the fifth year in a row the Rutgers EMBA program was ranked in the top 5 in the world for economics.
Overall, Rutgers EMBA was ranked No. 88 worldwide and No. 20 for U.S.-only schools (stand-alone programs not affiliated with other schools).
Rutgers EMBA also ranked No. 5 for Salary Increase (%) in the U.S. (No. 25 worldwide) and No. 6 for Career Progress in the U.S. (No. 21 worldwide), which captures upward mobility in the workplace.
"One of the defining strengths of our EMBA program over the years has been its ability to provide a high return on investment for students," said Lei Lei, dean of Rutgers Business School. "It takes a whole team effort to consistently deliver a preeminent Executive MBA experience," she said.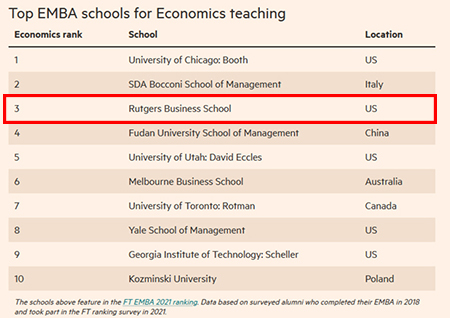 Curriculum is continuously upgraded to adapt quickly to changes in the business world. Seasoned veterans from industry are brought in to teach specialized courses like modern portfolio management strategy (including SPACs, ETFs and Cyber Currencies), digital marketing analytics, innovation strategy for senior executives that covers design thinking and building resilient organizations in times of crisis, and ultra-powerful presentation skills.
The 20 month highly-ranked program attracts doctors, lawyers, directors, IT professionals, pharmaceutical executives, leaders of non-profit agencies, and entrepreneurs. Alumni work for a variety of organizations throughout New Jersey, New York and Pennsylvania that include Fortune 500 global giants, small businesses and not-for-profits across a variety of industries, law firms, hospitals, and government and social service agencies.
"I was able to stretch myself in ways I didn't think were possible," said Jennifer D. Garofolo, oncology regional business director at Janssen Biotech, Inc. "Throughout the program, I was able to immediately utilize my learnings in the workplace. I was promoted twice during the program and again after graduating," said Garofolo.
Powering the recognition by Financial Times for teaching excellence in economics is Farrokh Langdana, professor of finance and economics and the director of the Rutgers EMBA program. Students and alumni describe Langdana's teaching as "life changing."
Press: For all media inquiries see our Media Kit