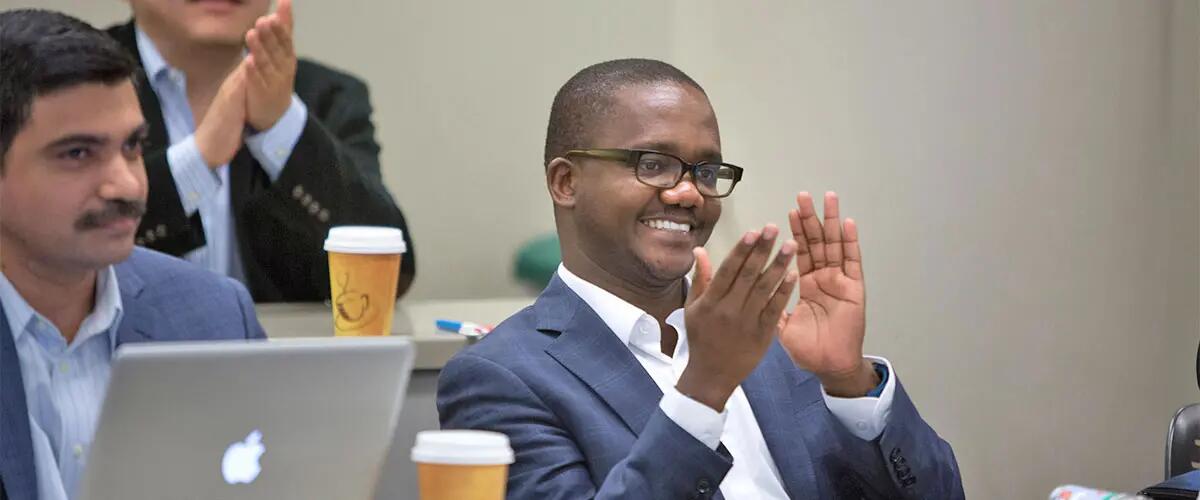 Executive MBA Curriculum
Connecting the classroom to the boardroom
The Power of Practical Learning
The objective of the Rutgers Executive MBA program is to maintain a uniquely practical, current, and relevant approach to business education.
Whether it's adapting our curriculum in response to industry changes or training you to think on your feet through our "Cycle of One" philosophy, our teaching and curriculum is motivated by one question: "How will today's class help Executive MBAs at work tomorrow?"
Electives & Concentrations
In addition to your core courses, with a Rutgers Executive MBA, you have the unique option of pursuing a concentration in an area of interest to you, giving you more of a competitive edge in industry. 
You can pursue a concentration by taking all of your required electives in the same area, or you can mix them up, selecting from a diverse menu of courses that will suit your interests and career goals. 
You also have the opportunity to apply all the learning from the different classes by working on a Capstone Consulting Project during the fourth semester.
The Powerhouse Advantage
In addition to faculty who teach core courses and electives, we regularly invite seasoned industry veterans to teach special courses we call "Powerhouse Advantage" courses. 
The Powerhouse Advantage is a unique distinguishing feature of the Rutgers Executive MBA program. The series features a sequence of stand-alone, hard-hitting modules sprinkled throughout the four semesters, with most modules driven by demand from current and former students and their employers.
This series includes sessions like Business Strategy, taught by a former senior executive at a large IT company who has been designing and implementing global strategy for nearly 3 decades, or Leadership Strategy, taught by a former CEO of PepsiCo. 
Powerhouse Advantage courses may change each year, and offerings may vary each semester, based on demand. 
The Cycle of One
The Rutgers Executive MBA program abides by a philosophy called the "Cycle of One," and it's embedded into your learning experiences here. More than acquiring necessary business and management knowledge, we are committed to growing you as leaders so that you can apply what you've learned in the classroom to the decisions you make in the boardroom. 
What is the Cycle of One? 
Managers often begin their careers as lonely interns and then power through their mid-career by mostly working in teams. But at the end, when they make it to the corner office at the C-level, they often have to make hard decisions alone—it is indeed "lonely at the top." This progression—the lonely intern, then the team player and then finally the CEO making difficult and poignant decisions alone—is our "Cycle of One."
How it works
Rutgers Executive MBAs are trained to think on their feet—to think fast and to be bold enough to make rapid-fire decisions alone, if and when they have to.
To foster this, throughout the program, students participate in short Cycle of One exercises where an urgent situation demanding a quick decision, is presented to the participants. Many of these situations are embedded in Historical context; there is a huge emphasis on Leadership in History in this program.  You play the part of the CEO, and are given moments to quickly respond. There is no team discussion, no coach, no mentor, no internet—this critical decision must be yours and yours alone, and must be made expeditiously.
Welcome to the Cycle of One.
Experience the Powerhouse
Learn more about the Rutgers Executive MBA curriculum, and talk to students and faculty, by attending an Open House.
I was able to stretch myself in ways I didn't think were possible. Throughout the program, beginning with my first week of classes, I was able to immediately utilize my learnings in my workplace. I was promoted twice during the program and again after graduating.
— Jennifer D. Garofolo, Oncology Regional Business Director, Central Region, Janssen Biotech, Inc.