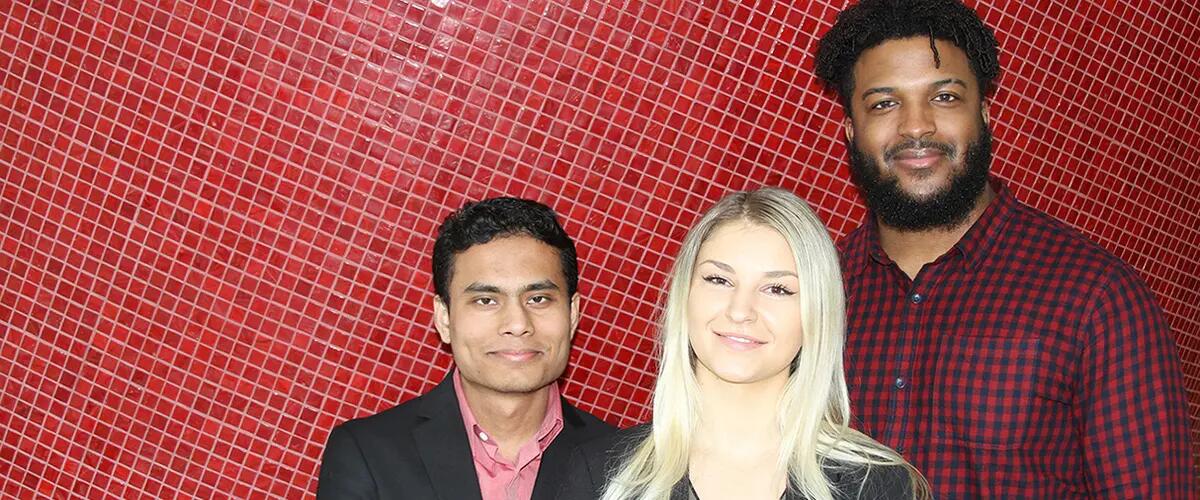 Rutgers hosts case competition for county college students
The experience inspires some students to continue their business studies at Rutgers.
While she was attending classes at Essex County College in 2016, Anastasia Golubinski decided she wanted to study supply chain management.
Rutgers Business School-Newark was her top choice. It offered one of the best supply chain programs in the country, she said, and it was close to home.
When Golubinski had a chance to experience a day at Rutgers Business School during the inaugural New Jersey County College Case Competition that year, it sealed her decision.
"I was still a year away from applying, but I made up my mind then that this is where I wanted to go," said Golubinski, who is currently a junior. "The whole experience (of the case competition) confirmed that I made the right choice."
This year, teams from six county colleges will participate in the New Jersey County College Case Competition. Students from Bergen County Community College, County College of Morris, Middlesex County College and Hudson, Mercer and Sussex County Community Colleges are scheduled to participate. For the third year, the competition will be sponsored by M&T Bank.
The fourth annual New Jersey County Community College Case Competition will be held Friday, April 5, at Rutgers Business School from 8:30 a.m. until 5 p.m. Interested media may contact Susan Todd at Rutgers Business School: stodd@business.rutgers.edu.
At the heart of the case competition is a business problem that the teams will be required to analyze and present ways of solving based on their knowledge of finances, operations and marketing. The case is written each year by Joseph Markert, an assistant professor of professional practice in management and global business.
The teams with the best presentations and most viable solutions will win cash prizes. Students on the winning teams will also receive $1,000 toward their tuition if they are accepted and decide to attend Rutgers Business School-Newark.
The case competition gives students a chance to showcase their business knowledge, hone public speaking skills and apply what their lessons in business analysis and problem-solving. As they prepare their presentations, M&T Bank executives serve as "ambassadors," who provide real-world feedback to the student teams.
"Our Case Competition partnership with Rutgers Business School gives us a great opportunity to influence the business leaders of tomorrow," said M&T Bank Regional President Tom Comiskey. "For the past three years, our team of bankers have enjoyed connecting with students and offering them professional mentorship as they pursue business degrees and careers."   
During the event, students will also get a chance to see Rutgers Business School up close by meeting professors, speaking with current students and touring the Newark building.
Rob Kurland, associate dean of the Office of Undergraduate Student and Academic Services, said the case competition offers students an opportunity to network, demonstrate public speaking skills and apply their classroom lessons – experiences they might not get at a two-year college.
It is also working to make county college students more aware of Rutgers Business School. In the fall of 2018, 58 percent of the freshman class at Rutgers Business School-Newark were transfer students from county colleges.
Golubinski is among 20 students who have participated in the case competition during the past four years and then later decided to study at Rutgers Business School. She was recently offered an e-commerce supply chain manager internship with Wal-Mart for 10 weeks this summer.
Alexander Chura, who is graduating in May, said he wasn't planning to apply to Rutgers Business School in Newark until he participated in the case competition.
Chura was president of the business honor society at County College of Morris when he and his classmates decided to compete at NJC4. "It was a chance to get outside of the classroom and do something practical," he said.
After studying management information systems and computer science at Rutgers for the past two years, he's scheduled to graduate in May and to begin a full-time job at Susquehanna Investment Group, outside Philadelphia.
He credits the Rutgers course work and professors like Wajahat Gilani, who teaches investment modeling, for influencing his career path. "My life changed course a few times while I was here, but it ended up working out," he said. "I'm really excited."
For Kurland, that's the best possible result. "I'm an educator at heart," he said. "I want students to see opportunities and to be successful."
Read about how Rutgers University-Newark and Rutgers Business School are providing students at the County College of Morris with the ability to earn a bachelor's degree.
Press: For all media inquiries see our Media Kit