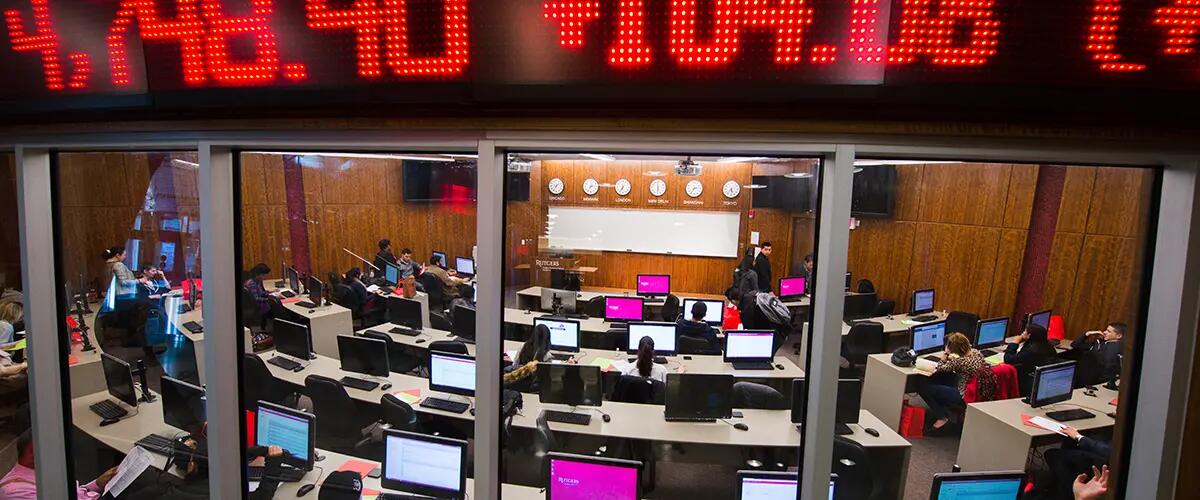 Rutgers lands among Top 100 undergraduate business schools in 2016 Bloomberg Businessweek ranking
Rutgers Business School climbed to No. 97 on Bloomberg Businessweek's 2016 list of best undergraduate business schools in the U.S.
The ranking represents an impressive jump – 31 spots – over last year when Rutgers landed at No. 128 in the national listing.
Wanda Mendez, assistant dean and director of the Office of Career Management, said students took a more active role in the latest survey, which was collected earlier this year. "Students want to tell the story about Rutgers Business School," she said.
Paulo Seabra, a graduating senior who studied finance, participated in the survey, said he made a point to experience as much as he could while he attended Rutgers Business School-Newark, including taking on leadership positions in student clubs and going on a study abroad program. "Rutgers has a great program," he said, "and now the ranking will help highlight it on a national level."
"The Career Management Office resources were instrumental in my getting an interview with JP Morgan," Paulo Seabra.
Seabra said his experience working in the Career Management Office gave him access to webinars, visiting company representatives and career fairs that prepared him for job interviews. "Those resources were instrumental in my getting an interview with JP Morgan," he said.
In July, he will begin working in JP Morgan's financial analyst program.
Rutgers Business School scored high in starting salary (51 out of 114 schools) and in the employer survey category, landing at 84. In the student survey category, Rutgers ranked 100 and in the internship category, it landed at 106. The high score Rutgers received in the starting salary category together with the results of the employer survey, which counted for 40 percent of the overall scoring, helped push it higher than last year in the overall ranking.
"To jump 31 spots is good," Mendez said. "But I want more. I can't help it. I'm very competitive. This is a good start."
Bloomberg Businessweek compiles the ranking based on surveys collected from students and corporate recruiters as a way of providing guidance to prospective students and their families about what school might best suit their career plans.
Rodrigo Perez, a graduating senior who studied finance and supply chain, said he believes two of Rutgers Business School's strengths are a wide network of alumni and quality faculty, including many instructors who come from long careers in industry. "The business school is really good at providing students with the skills they need to get jobs," he said. "Rutgers professors teach in a way that is applicable to the real world."
After graduation, Perez will set off for Washington State to take a job with Microsoft. "The Microsoft interviewers told me that my questions were more indepth than the typical questions they receive from candidates and it made me stand out," he said.
The 2016 Bloomberg Businessweek ranking showed that 42.2 percent of students graduating from Rutgers Business School landed jobs at the companies where they completed an internship. Nearly 6 percent of the students graduated and went to work at a startup, and 2 percent started a business after graduation. Approximately, 600 students attend classes on the RBS Newark campus.
Rutgers Business School was also among 40 colleges Phi Theta Kappa listed on its first Excellence in Community College Transfer Honor Roll.
At Rutgers Business School-Newark, more than 50 percent of students transfer in from a county college. As a way of strengthening its connections with the state's county colleges, Rutgers recently hosted an inaugural case competition for students from county colleges in the region.
Read more about the competition: "Students from Bergen and Essex are top winners in Rutgers Business School's first New Jersey County College Case Competition."
County college students interested in transferring to Rutgers University Newark or Rutgers Business School in Newark may also be eligible for financial aid under a new initiative called RU-N to the TOP or Talent & Opportunity Pathways. 
- Susan Todd
Press: For all media inquiries see our Media Kit