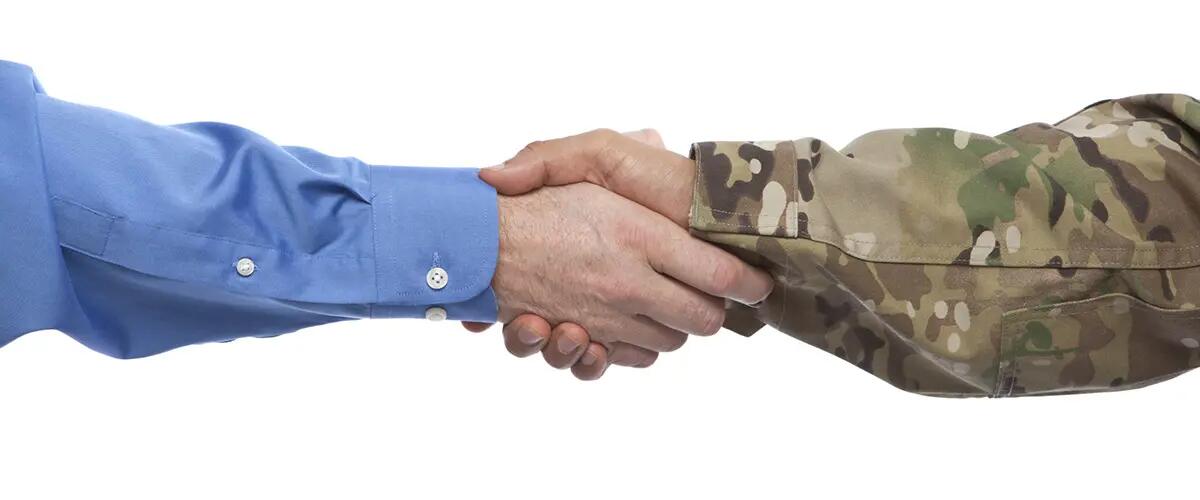 Rutgers Mini-MBA: Business Management for Military and Veterans Helps Battlefield to Boardroom Transition
When Rutgers Business School's Executive Education launched its new Mini-MBA: Business Management for Military and Veterans program, tailored for veterans transitioning into the workplace, it helped Rutgers earn the No. 3 spot in the 2016 "Best for Vets" business school ranking by the Military Times.  
"We are so proud of this ranking. It is extremely meaningful work to help veterans. We know that our Mini-MBA program distinguishes us from other business schools that serve our military and veterans in other ways," said Joseph Schaffer, associate dean for executive education and professor of professional practice.
Rutgers Business School Executive Education (RBSEE) has taken the initiative to aid our worthy military service members and veterans in preparing to enter the civilian workforce through a very specialized certificate program, the Mini-MBA: Business Management for Military and Veterans. This program also educates civilians who work closely with veterans, such as human resource recruiters, hiring managers, and supervisors as well as those responsible for corporate diversity and inclusion programs and veterans initiatives.
This course will be offered the week of May 23-27, 2016, in an accelerated format in New Brunswick. Participants will have the opportunity to learn from experienced instructors, share their concerns and discuss the challenges they are facing, all in an interactive class setting.
Taught by a distinct blend of instructors, including veterans who have gone on to thriving civilian careers, distinguished Rutgers faculty and local business leaders.
Margaret O'Donnell, program manager said, "Our program faculty members are primarily successful business people who formerly served in the military, so they 'get it.'"
Michelle Tillis Lederman, founder and CEO of Executive Essentials, is a notable exception.  Author of Heroes Get Hired, as well as two other books, she is a communications expert – and a civilian. Lederman will conduct an "Ask the Author" webinar for RBSEE on Wednesday, May 11 at 2 p.m. Send your questions in advance to webinar moderator Margaret O'Donnell or ask your questions during the live webinar. You can register for the free webinar online.
The Mini-MBA: Business Management for Military and Veterans tackles such topics as: business strategy, supply chain, business law, human resources and leadership. Attendees will leave knowing the key concepts, tools and techniques necessary to succeed in a challenging and ever-changing civilian business environment.
"This program clearly has touched a nerve in the community," O'Donnell said. "It has been met with such a positive response from active duty, reservists and veterans as well as the diversity and inclusion and veterans' initiatives leadership within civilian employers – all are seeking an easier transition process from military to civilian careers."
"The skills are all there – it's just about how to empower veterans to use them in a civilian workplace," she said.
At the conclusion of the program, participants select a mentor for ongoing access to resources and support following their intense, accelerated learning experience. Mentors are successful professionals willing to share transition and career advice, drawing on their own personal experiences often referred to as "The School of Hard Knocks."
"My experience with the Rutgers Mini-MBA: Business Management for Military and Veterans exceeded my expectations. The class was well put together; the teaching staff put forward their subjects with excellence, in a way that was relevant and in-depth," said Army veteran Eric Kropiwnicki, an alumnus of the program.  "The professors also provided mentoring that was extremely positive and encouraging."
Apply Today to attend the Mini-MBA: Business Management for Military and Veterans program, or for more information, please contact Margaret O'Donnell, program manager: modonnell@business.rutgers.edu or 848-445-9417.
About Rutgers Business School Executive Education
Rutgers Business School Executive Education (RBSEE) has been a leading provider of management education programs for more than 50 years. RBSEE designs and delivers programs for both organizations and individuals. Each year, thousands of people participate in RBSEE's programs covering a wide range of topics including management, strategy, marketing, and leadership.
Rutgers Mini-MBA programs bring practitioners from different organizations and industries together in a rich and diverse learning environment, designed to develop skills and capabilities through the powerful combination of expert class instruction and peer interaction.
Press: For all media inquiries see our Media Kit