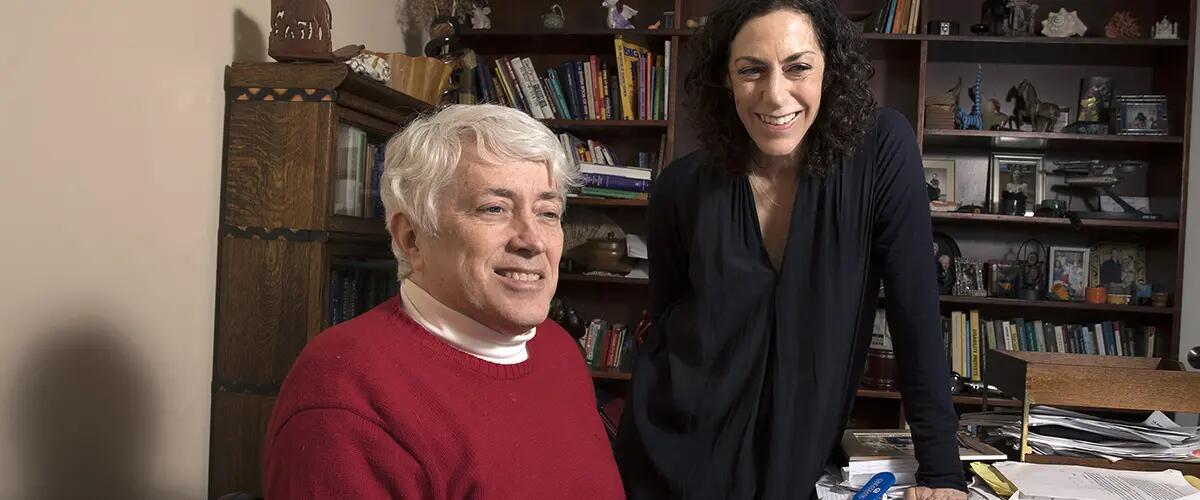 Rutgers ranks No. 1 in the World for Disability and Employment Research
Rutgers Business School professor Mason Ameri is part of the team of Rutgers researchers examining how working from home, paid leave policies, the gig economy, unemployment insurance, and the minimum wage affect people with disabilities.
This story was originally published by Rutgers Today. It was written by Steve Flamisch.
When Douglas Kruse suffered a spinal cord injury in a car crash with a drunk driver, he and his wife, Lisa Schur, found a new calling in their academic research. They began studying the many social and economic barriers facing people with disabilities—especially when it comes to getting a job.
Thirty years later, they've achieved a global milestone.
A new study by the University of Málaga, Spain, published in the journal Business Research Quarterly, reveals Rutgers is "the most prolific institution" for scholarship on disability and work. Led by Kruse and Schur's Program for Disability Research in the School of Management and Labor Relations (SMLR), Rutgers turned out more peer-reviewed, published journal articles between 1991 and 2017 than any other college or university in the world.
"It's absolutely great to see this recognition for Rutgers," said Kruse, a Distinguished Professor who served as a Senior Economist on the White House Council of Economic Advisers under President Barack Obama. "The university has a long history of pioneering research in the disability field, going back many decades. Rutgers continues to be a leader in raising awareness of the progress of people with disabilities and the barriers they still face."
Working with colleagues at Rutgers and other institutions, Kruse and Schur have documented how people with disabilities are "last hired, first fired" in many industries—often struggling to find work, settling for contingent and part-time jobs, and receiving lower pay than workers without disabilities.
They've also examined the impact of the Americans with Disabilities Act (ADA), signed into law in 1990. They discovered that most reasonable accommodations for workers with disabilities are much less expensive than employers expect, while co-worker reactions are generally positive.
The Associated Press, The New York Times, PBS NewsHour, and TIME are among the hundreds of news organizations that have reported on Kruse and Schur's research and sought their expertise on disability issues.
New Research Underway
Today, Schur and Kruse are busier than ever. The Program for Disability Research has received nearly $2 million in grants to support three major research projects over the next five years.
A branch of the U.S. Department of Health and Human Services has established a Rehabilitation Research and Training Center (RRTC) at Syracuse University, with Rutgers and Harvard as partners, to study disability-inclusive employment policy. The Rutgers team will examine how working from home, paid leave policies, the gig economy, unemployment insurance, and the minimum wage affect people with disabilities.
Yana Rodgers, faculty director of SMLR's Center for Women and Work and a professor in the School of Arts and Sciences, and Mason Ameri, assistant professor of professional practice and director of special projects at Rutgers Business School, join Kruse and Schur on the RRTC team. The first study, now under journal review, examines the impact of COVID-19.
"The pandemic has been devastating for workers in general, but especially for people with disabilities," said Schur, a professor of labor studies and employment relations and former department chair. "If there's a 'silver lining,' it's that employers are restructuring work and may allow working from home and other accommodations even after the pandemic ends. That could greatly benefit people with disabilities."
Additionally, the National Science Foundation awarded a four-year grant to CUNY, Rutgers, and New York University to study how assistive technology—such as a "wearable robot" for people with upper-body impairments--could help people with disabilities find work more easily, increase their productivity, and earn higher wages. The Rutgers team includes Schur, Kruse, Ameri and Hazel-Anne Johnson-Marcus, director of SMLR's undergraduate program in Human Resource Management.
Finally, the U.S. Election Assistance Commission awarded a sole-source contract to Rutgers to study voting accessibility in the presidential election. The findings, announced this week, reveal that 11 percent of people with disabilities had trouble casting a ballot in 2020, down from 26 percent in 2012. The progress results from improved polling place accessibility and a sharp increase in mail-in voting. Kruse and Schur plan to analyze voter turnout next.
"There's a tremendous amount to learn in all of these areas, from employment and voting to social inclusion," Schur said. "Ultimately, we hope that our research leads to practical solutions that improve the lives of people with disabilities."
Press: For all media inquiries see our Media Kit