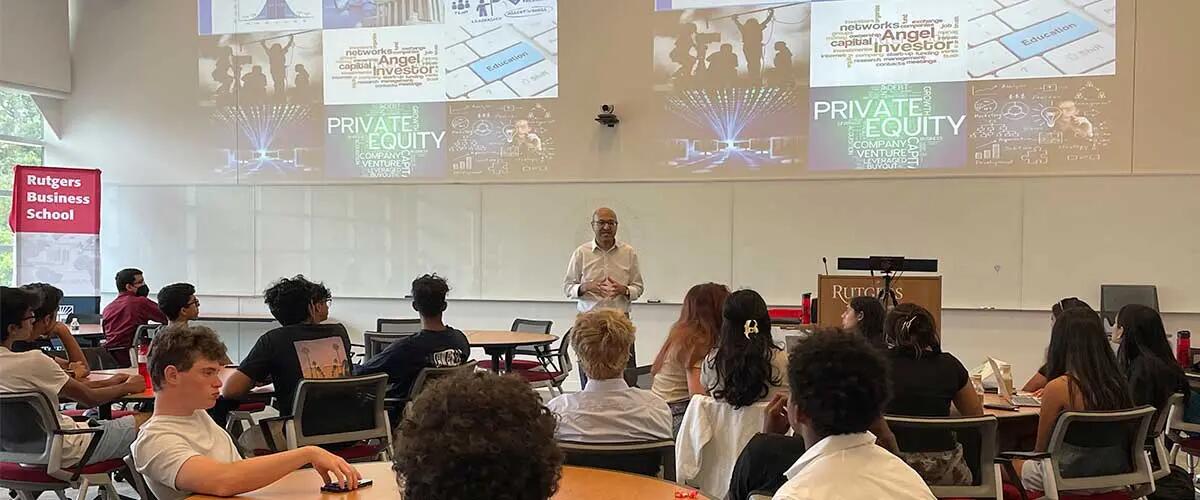 Rutgers Summer Business Camp provides high school students a college experience
After a three-year hiatus due to the pandemic, the Rutgers Summer Business Camp returned, attracting 90 high school students to two week-long sessions.
The students spent a week experiencing college life, living and learning on the Rutgers University – New Brunswick, Livingston Campus in Piscataway. They were introduced to career paths incorporating such business areas as marketing, management, accounting, finance, and supply chain. Rutgers Business School faculty taught the high school students in the RBS classrooms, and executive mentors advised the students.
"I just wanted to say how much fun I had at the camp," a student said. "When I got back home, I wanted to come back. I think the combination of all the different business aspects and the campus life was amazing, and I can't wait to hopefully do it again at Rutgers soon. It was amazing how close the campers got with each other and how close we got with you and the counselors in just a week of being together. So, thank you so much for making the camp so memorable; I will never forget it."
The students visited Johnson & Johnson, AT&T East Region, Syneos Health, Chick-Fil-A, and Bloomberg and learned from presentations by representatives from Deloitte, L'Oréal, and Ethicon. AT&T East Region presented a panel of executives and interns to discuss the internship process and career options.
One of the student campers said, "Overall, I feel this camp is something more than the schedule. It's a week where kids are allowed to be kids, but also a week where kids are able to become young adults in a safe and welcoming environment. The relationships I have built in just one week, I feel, will go beyond what I ever imagined. So, thank you for everything."
Five current RBS student volunteers, Samhitha Padmanabhini, Esha Jain, Varun Bharti, Ruchir Patel, and Kelvin Leung, shared insights for transitioning from high school to college, helped students with their business plans and showed them around the Rutgers-New Brunswick campus and its bus system. They also answered questions about RBS and college generally.
Camp Director Ronald Richter, assistant professor of professional practice, Department of Finance & Economics said, "Over the nine years the Summer Business Camp has taken place in person or virtually, 645 high school students have attended the camp. Six of the ten counselors this summer were campers who currently attend RBS.  Additionally, we had three prior campers, who were prior counselors, come back and mentor this year's campers as business executives."
"Thanks so much for making the business camp program really fun and informative! I really learned a lot and made a lot of connections with people! It actually influenced me to apply to Rutgers the next school year," said one student.
"For the past nine summers, I have been able to assist in mentoring all these high school students and build an eco-system with the RBS Camp," said Richter. "The initial goal of the camp was to give high school students a jump start on thinking about all the various aspects of business and their careers. What has developed over the years is a family of over 100 volunteers that contribute to the campers' growth. When they say it takes a village to raise a child, we have been able to grow our own village: the RBS Summer Business Camp."
Press: For all media inquiries see our Media Kit