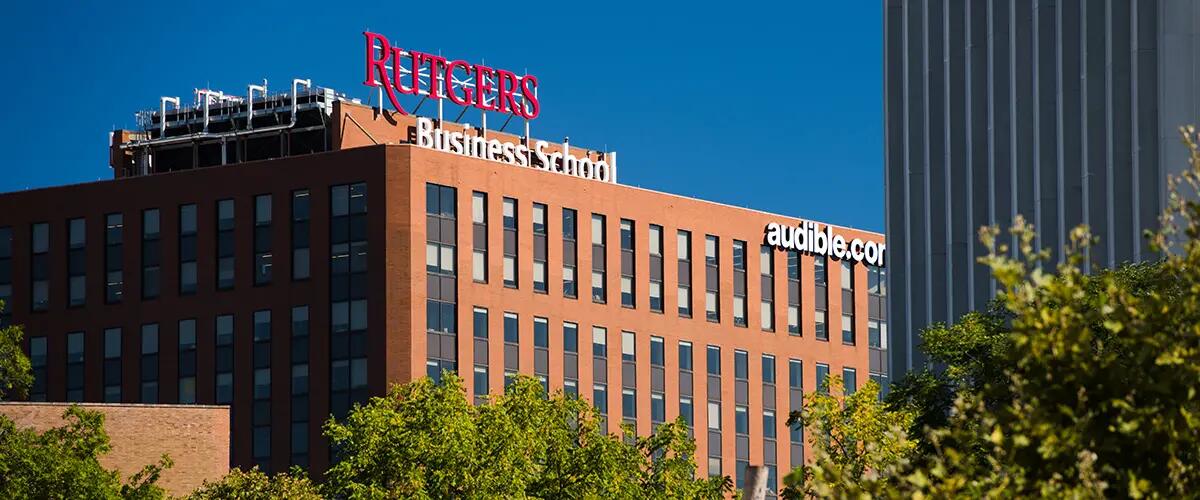 Sarah A. Jeffers (MBA '14): Rutgers gave me the knowledge to feel confident in solving complex problems and approaching senior leadership with ideas and solutions
2014 Distinguished Leadership Award Winner: Sarah A. Jeffers, MBA '14, Rutgers Business School - MBA Program
In 2011, Dean Glenn Shafer initiated the Dean's Distinguished Leadership Award given to one student leader from Newark Undergraduate, New Brunswick Undergraduate, and Graduate Programs of Rutgers Business School, respectively. The award recognized student leaders who demonstrated outstanding academic achievement, service to RBS, and leadership potential. The name of each recipient was engraved onto the Rutgers Business School Bell and will continue in successive years for posterity.
The three Dean's Distinguished Leadership Award recipients, carrying the Rutgers Business School Bell will lead the graduating class procession into High Point Solutions Stadium during Rutgers University Commencement on Sunday, May 18, 2014, at 12:30 p.m.
Sarah A. Jeffers, MBA '14, with a concentration in Finance, is a recipient of this year's award.  After graduation, Ms. Jeffers will be joining Merck as a senior financial analyst.  She and her husband Jonathan are expecting their first child, a baby girl, in July: "We are looking forward to raising a future Rutgers MBA!"
Why did you decide to study business?
"After working a couple of years for a healthcare consulting firm as a financial analyst, I knew that I wanted to bolster my professional experience with a formal business education.  Rutgers' well-regarded Finance and Pharmaceutical Management programs, and impressive career outcomes, made it the perfect fit for me."
In which clubs/activities were you involved at Rutgers Business School?
"During my time at RBS, I was Co-President of the MBA Corporate Finance Club and was a member of the Pharmaceutical Management Club. The MBA student body at Rutgers is incredibly eager to make the most of their MBA experience and club participation is a big part of this. I was thrilled to be able to bring in speakers, many of which were RBS Alumni, who were able to offer MBA students valuable career advice."
Which RBS class was your favorite and why?
"My favorite class was Advanced Financial Management taught by Professor Ivan Brick. Professor Brick did a great job of both teaching challenging material, and presenting students with problems that mimic real world situations. I know that I will continue to apply what I learned in Advanced Financial Management in my career for years to come."
What do you think the program has done to prepare you for your future?
"The Rutgers MBA program has given me a well-rounded experience and perspective that has catapulted my career trajectory and advancement. My Professors have given me the knowledge to feel confident in solving complex problems and approaching senior leadership with ideas and solutions. The MBA Office of Career Management has given me the tools to market myself to recruiters, and the guidance to take ownership of my career development. OCM's commitment to students is part of what sets Rutgers apart from other top business schools. Finally, our Executive Director, Sharon Lydon, has demonstrated leadership in her wholehearted dedication to the student body and the school. Her leadership has given me the perspective and drive to become a future business leader someday."
What was your favorite "RBS Moment?"
"My favorite RBS Moment was the MBA Gala hosted by Student Services on May 15th of this year. It was a great way to celebrate our accomplishments as a class, and to thank the RBS faculty for all they have done to help us achieve this great milestone.  Though I was sad to say goodbye to my classmates, I am comforted knowing that I have made lifelong friends that will be future leaders in the business world."
Press: For all media inquiries see our Media Kit